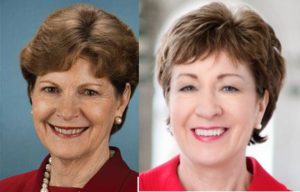 The auto body shops who suffered the largest financial blow from the COVID-19 response could receive a second PPP loan under at least two congressional proposals.
Democrats sponsored one of the two measures we examined, while Republicans floated the other — suggesting that common ground could be found to aid the nation's small businesses. The Trump administration also seems in favor of a second PPP check.
Both bills would generally restrict a second PPP check to businesses experiencing gross receipt declines of more than 50 percent from 2019 in either the first or second quarter.
Senate Bill 4321 from Sen. Marco Rubio, R-Fla., and Susan Collins, R-Maine, would permit businesses down an even 50 percent or more from 2019 to apply, while Senate Bill 4014 from Sens. Christopher Coons, D-Del.; Jeanne Shaheen, D-N.H.: and Robert Casey Jr., D-Pa.; would offer the second loans to businesses down by more than 50 percent in either quarter.
"The Paycheck Protection Program has been a tremendous success. In Maine alone, approximately 3 out of 4 small businesses and 240,000 jobs are supported by the PPP.  Since its launch in early April, it has provided $519 billion in forgivable loans to 4.9 million small employers around the nation," Collins said in a statement Monday. "The bill we are introducing today to allow the hardest-hit small businesses to apply for a second forgivable PPP loan builds on the strong foundation Senators Rubio, Cardin, Shaheen, and I built as members of the Small Business Task Force."
"PPP has been the lifeline that has kept many small businesses from going under," Shaheen said in a statement June 18. "Yet, revenues for many small businesses are still at unsustainable lows and a second loan is needed as soon as possible. The economic fallout from COVID-19 has been an existential threat to our nation's small businesses and Congress cannot letup in its efforts to get them get through this crisis. This legislation prioritizes smaller businesses, particularly those in the restaurant and hospitality industries, which have been hit especially hard in recent months. Every effort must be made to make sure federal relief reaches small businesses that need help the most and this legislation is a vital next step towards that goal."
These second loans would be capped at $2 million. The GOP proposal would also cap businesses seeking their first PPP loan at $2 million instead of $10 million, probably to free up money for businesses coming back to the well again.
Second-quarter repairable appraisals — which would span April-June and hopefully represent the worst of the COVID-19 lockdown-related economy — are down 35 percent over 2019, based on CCC data. Repairable claims were down 9.9 percent in the first quarter, according to LKQ, which also cited CCC data.
Repairable claims are down 23 percent for the first six months of the year, according to CCC.
The Republicans' "Continuing Small Business Recovery and Paycheck Protection Program Act" — part of the GOP's COVID-19 "HEALS" legislative portfolio — is open to businesses with up to 300 employees, while the Democrats' "Prioritized Paycheck Protection Program Act" would limit second PPP loans to companies with up to 100 workers.
"Chairmen Collins and Rubio have designed a sequel to their historic PPP to help prevent more layoffs of American workers," Senate Majority Leader Mitch McConnell, R-Ky., said on the Senate Floor Monday, according to his office.
Treasury Secretary Steven Mnuchin expressed support for allowing businesses to apply for a new PPP loan during a House Small Business Committee hearing July 17 — a potential sign Republican President Donald Trump would sign such legislation.
Committee member Rep. Angie Craig, D-Minn., who co-sponsored a House version of the Democrats' "P4 Act" (House Bill 7241), asked Mnuchin July 17 for his views on giving businesses a second PPP loan.
"We allow a second check," Mnuchin said. (Thanks to Rev's transcript for helping us quickly find quotes.) But those checks would be restricted to certain business sizes and revenue declines, he said.
"I understand your bill," he said. "I think that's a reasonable approach."
Mnuchin said Treasury would have to work with Craig and the Senate to figure out how much of a decline and business size should be permitted, 100 employees or "slightly higher" workforces.
"We have complete agreement," Mnuchin said. "There should be a second check available to the businesses that are hardest hit, and there should be requirements around that."
Mnuchin also said the initiative should try to keep as consistent with possible with the existing PPP rules otherwise. "We have a program that works," he said.
Both the GOP and Democratic bills also would set aside PPP money for companies with up to 10 employees — which is many collision repairers. Rubio and Collins' version would allow at least $25 billion for this, while the Democrats set that amount at a minimum 20 percent of what's left in the PPP kitty or $25 billion, whichever is less.
The Democrats would extend the PPP process to Dec. 31 or "or such later date as the Administrator determines appropriate," while the GOP version would end things on Dec. 31.
Rubio and Collins' version would also bump up the pool of money available for PPP loans to $749 billion from the current $659 billion.
As of 5 p.m. Thursday, 5,459 PPP lenders had approved more than 5.06 million loans for a combined nearly $520.9 billion of the pool disbursed. The average loan was $102,859.
Without additional action by Congress, the PPP program will end Aug. 8. Craig mentioned that community lenders had that week told her the "smallest of smallest businesses" were still receiving PPP loans for the first time, "which is really heartwarming."
"Automotive Body, Paint, and Interior Repair and Maintenance" facilities received between approximately $1.25 billion and $2.06 billion combined in Paycheck Protection Program loans through June 30. The loans to 19,681 auto body-related businesses might have protected more than 133,000 jobs in the industry, based on our analysis of PPP data released by the Small Business Administration.
The average auto body sector PPP loan in that time fell between $63,718.21 and $104,547.35. Seventy-eight auto body companies borrowed $1,000 or less. More than 2,500 auto body sector firms received at least $150,000. Two auto body companies fell into the SBA's $5-$10 million range: A 327-employee company in Newark, N.J., and a 449-employee business in Oklahoma City, Okla.
The average shop had 7.15 employees, though the jobs field was blank for some repairers. The median body, paint or interior shop had four employees. Seven auto body sector companies had 500 employees.
Be heard: Congressional contact information can be found here.
More information:
SBA Paycheck Protection Program website
SBA PPP loan forgiveness application
SBA, June 16, 2020
SBA "EZ" loan forgiveness application
SBA, June 16, 2020
"Oversight of the Small Business Administration and Department of Treasury Pandemic Programs"
U.S. House Small Business Committee YouTube channel, July 17, 2020
"Steve Mnuchin Testifies on Small Business Loan Program Transcript July 17"
Rev, July 17, 2020
"Sens. Coons, Cardin, Shaheen introduce legislation to get capital to small businesses hardest hit by COVID-19"
Sen. Chris Coons' office, June 18, 2020
"Collins, Rubio Introduce Bill to Allow Hardest-Hit Small Businesses to Receive Second Forgivable PPP Loan"
Sen. Susan Collins, office, July 27, 2020
Featured image: From left, Sens. Jeanne Shaheen, D-N.H., and Susan Collins, R-Maine, are shown. (Provided by Congress, Collins' office)
Share This: