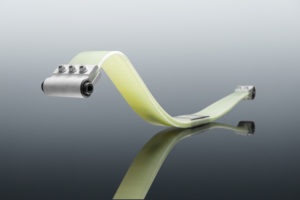 Repairers could be encountering more composite suspension components on future wrecks, based on the winners of the 2020 Altair Enlighten Awards announced Tuesday.
Top honors included a fiberglass leaf spring from Mubea and a Marelli chopped carbon-fiber suspension steering knuckle concept.
Altair on Tuesday announced eight Enlighten Awards winners and runners-up highlighting materials like composites, structural adhesive and ultra-high-strength steel.
Altair global industry verticals Senior Vice President Richard Yen said the contest drew many "high-quality entries." Yen said he thought the 2020 award indicated a trend in sustainability, simulation, electrification and "a lot of mixed material constructions" — particularly involving the applications of composites.
Carla Bailo, CEO of Altair's awards partner the Center for Automotive Research, doubted there'd ever been the kind of "lively discussion" judges experienced this year.
Judges evaluated candidates on parameters including lightweighting, design optimization, neutral or reduced cost, applicability to multiple models, according to Bailo. Contenders were scored on a 1-5 scale, and in some cases, the competitors saw "less than 0.1, 0.2 difference," Bailo said.
"We had so many good entries," Bailo said. The field showed "really innovative ideas."
Next year, the competition might add specific awards for design optimization and sustainability, Bailo said.
"We are proud to offer the automotive industry's only award dedicated to vehicle lightweighting and are thrilled to see how many advancements are made through the use of optimization technologies," Yen said in a statement. "Each year the entries are more and more impressive, making it increasingly difficult to select the winners as entrants are making great strides in lightweighting, and using inventive approaches through simulation and materials."
Full Vehicle Award
The Center for Automotive Research and Altair bestowed Full Vehicle lightweighting honors not on a car but a motorcycle.
Harley-Davidson won for its electric bike Livewire, which grew its energy capacity to mass ratio by 60 percent and "established mass and stiffness design and optimization practices for future motorcycle programs," according to Altair.
"It's beautifully done," Yen said Tuesday.
Harley's Glen Koval said Tuesday the company built 33 prototypes, took them worldwide for two years, and learned range and performance were on consumers' minds.
The company had to add battery capacity and increase the motor's size, which the OEM felt would make the bike heavier, according to Koval. He said Harley had to rethink product development and engineering and optimize it to keep weight "relatively neutral" while enlarging the battery and motor.
Harley had to build the entire bike around the chassis, Koval said. Altair said the Lifewire's chassis stiffness grew 143 percent and 97 percent, respectively, in the two main axis that matter.
However, Harley also reduced rolling mass by more than 5 pounds, according to Altair.  Koval called the chassis, which included aluminum composites, Harley's lightest ever.
Aerodynamics were also a consideration given the impact on range and performance, he said.
And finally, "we have to marry it with the art," Koval said.
The company was now applying the Livewire's tools, views and processes across all product development, he said.
"This has really changed how we think across all of Engineering," he said.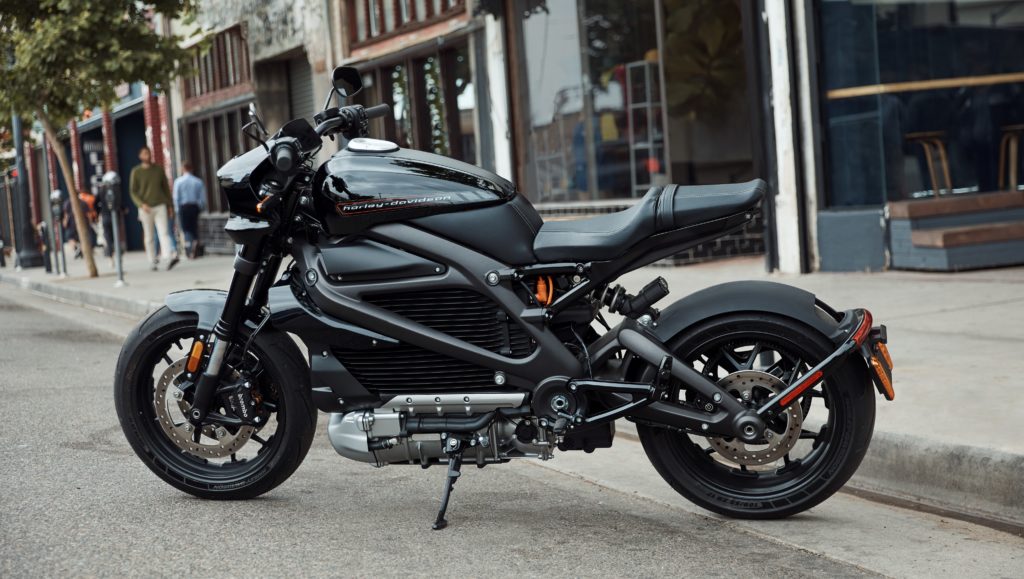 Enabling Technologies
"'I wish I had thought about this,'" Yen recalled a judge remarking about the Enabling Technologies Award winner: Mubea's glass fiber-reinforced polymer tension leaf spring.
Mubea's Ryan Hiligan said Mubea believed it could deliver longitudinal leaf spring composites able to "basically replace" multileaf systems but with significant weight savings. The company's design offers "up to 75 percent" less weight, he said. It also offers NVH, ride and warranty benefits, he said.
"The company used a scripted and automated workflow that begins from a parametrized spring model in which all spring parameters can be adapted," Altair wrote in a news release. A slide from the awards ceremony Tuesday said Mubea's system is single-layered and substitutes "length compensating shackle by characteristic rear shape of the spring as a special design feature."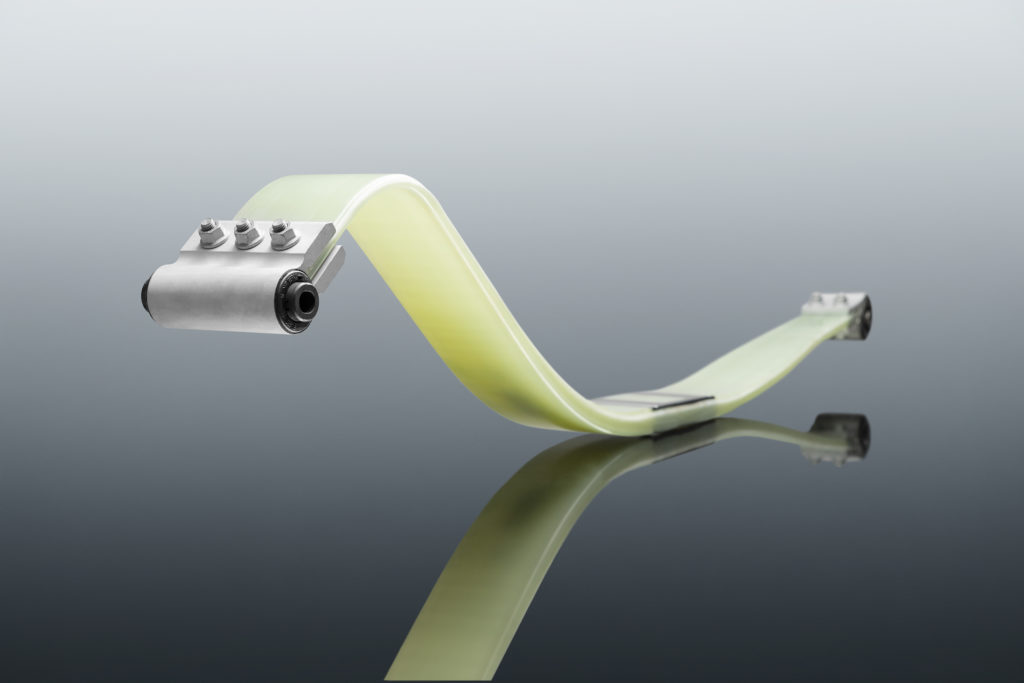 Module
Toyota's Todd Muck called it a "huge honor" for his company and TMNA R&D in Michigan to receive the Module Award for the new Sienna's injection-molded fiber-reinforced thermoplastic third-row seat back.
Muck called it a challenge to lightweight the seat without increasing cost, and he felt the final design delivered "the weight and the cost."
According to Altair, Toyota cut 15 percent cost and 30 percent mass out of the part, increased safety performance by 2X, and cut what had been 15 parts into a single one.
The design was "entirely new for this vehicle segment" and Toyota globally, according to Muck, who predicted it would change the way the OEM handles some interior seating.
"On behalf of myself and the Toyota North American Research and Development team, it is an honor to accept this Altair Enlighten Award for the resin back-frame in the new Toyota Sienna 3rd row seat. We are excited to release this industry-leading seat back that focuses on customer satisfaction with lighter touch and ease of operation," Muck said in a statement. "Strong teamwork and collaboration allowed us to accept the monumental challenge of lightweighting and improved performance while still achieving a lower cost. The final design, which demonstrates a reduction in ​both weight and cost, is a testament to our entire Toyota development team and the invaluable support of our supplier partner, BASF. We turned a dream into reality by creating something entirely new for this vehicle segment."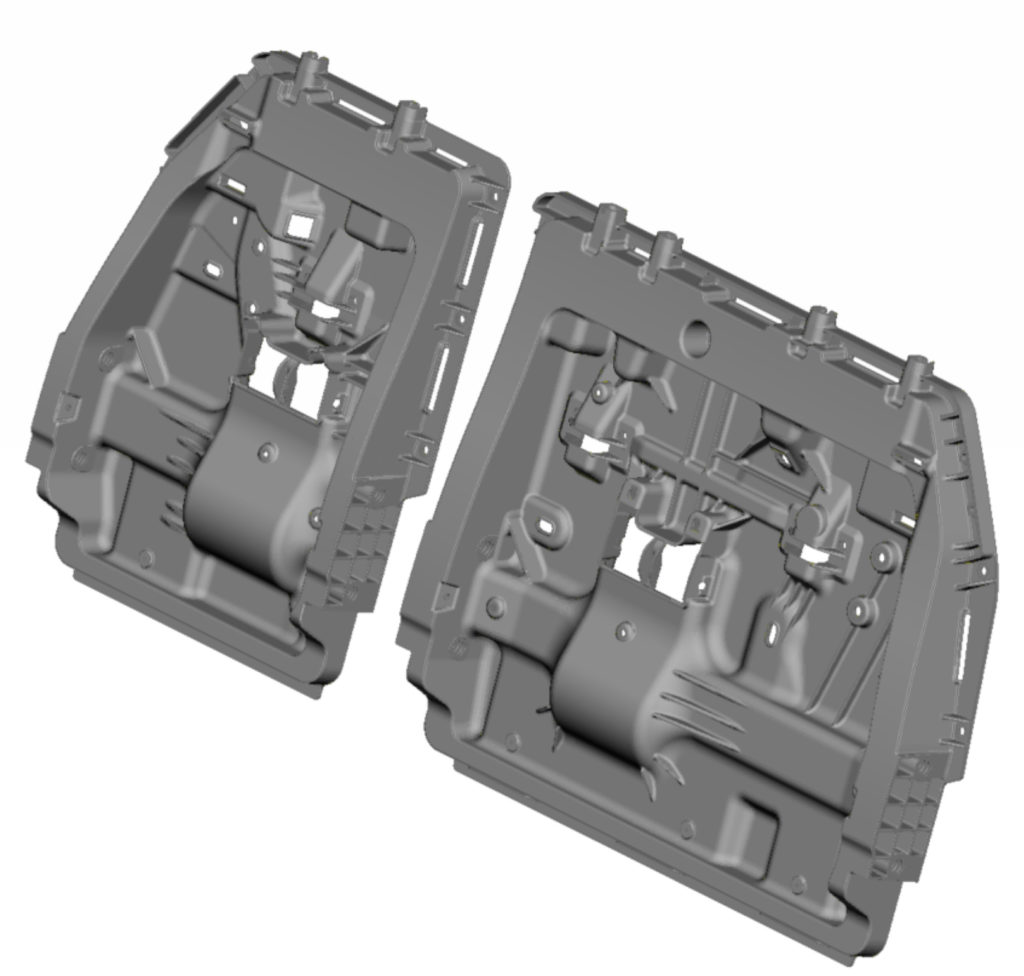 Future of Lightweighting
Marelli won the Future of Lightweighting honor by creating a sheet compression molded suspension steering knuckle. Yen noted that much of the judging discussion surrounded composites applied to load-bearing parts.
Salvatore Sottile of Marelli called the project a "very challenging one." He said it produced a "very complex shape" also containing metal inserts, and did so in one operation, which meant cycle times acceptable for actual auto manufacturing.
"Marelli's Ride Dynamics team has performed extensive testing, analysis and validation to ensure the feasibility of the suspension knuckle and has developed prototypes using a 1500-ton press," Marelli wrote in a news release Tuesday. "By combining chopped carbon fiber with ASMC, complex structural parts that meet performance requirements can be produced in a one-shot, net shape process, resulting in cycle times suitable for automotive production."
The part has delivered a 25 percent mass savings compared to an aluminum knuckle and a 50 percent mass cut compared to a cast-iron version, he said. According to Altair, comparison aluminum and iron knuckles can be found on Jeep Compass models.
"We are honored to receive the 2020 Altair Enlighten Award and would like to thank the judges for recognizing our innovation," Marelli Ride Dynamics Unit CEO Antonio Ferrara said in a statement. "This award is further validation that the combination of lightweight materials with high-volume advanced manufacturing methods can disrupt the industry. Through extensive testing and analysis, our team has proven that significant mass savings can be realized without compromising cost, performance or volume targets."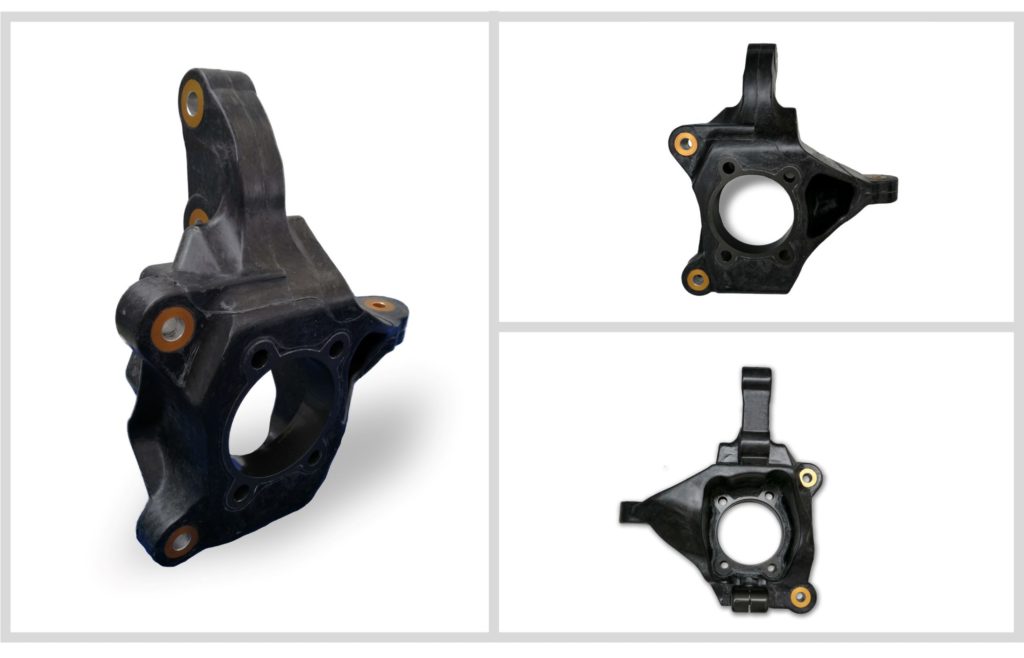 "Altair Announces Winners of 8th Annual Altair Enlighten Awards"
Altair, Aug. 4, 2020
Center for Automotive Research YouTube channel, Aug. 4, 2020
Images:
Mumbea won the 2020 Altair Enabling Technologies Enlighten Award for its glass fiber-reinforced polymer tension leaf spring. (Provided by Altair)
The Harley-Davidson Livewire won Altair's 2020 Full Vehicle Enlighten Award. (Provided by Altair)
Toyota's won the Altair Module Enlighten Award for the new Sienna's injection-molded fiber-reinforced thermopastic third-row seat back. (Provided by Altair)
Marelli won the 2020 Altair Future of Lightweighting Enlighten Award for its sheet compression-molded suspension steering knuckle. (Provided by Marelli)
Share This: