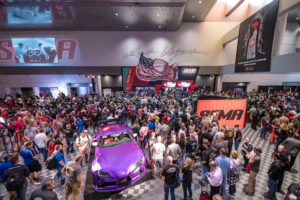 The Specialty Equipment Market Association announced Wednesday the massive automotive aftermarket SEMA Show had been cancelled over variables related to the COVID-19 pandemic
A virtual SEMA Show might yet happen, the organization said.
"While both event organizers and industry members have been working tirelessly to deliver an outstanding SEMA Show in November, mounting uncertainty has rendered continuing with the event inadvisable," SEMA said in a statement Wednesday. "SEMA expects the decision will bring much needed clarity to an uncertain picture and will help exhibitors, attendees and partners plan accordingly."
SEMA also cited "concerns that event facilities and services will be unavailable" as a factor in the cancellation.
"The SEMA Show is committed to furthering businesses in the automotive specialty equipment market, and to providing manufacturers and buyers with the best opportunity to connect, promote new products and discover new trends," SEMA CEO Chris Kersting said in a statement. "We appreciate the spirit, hard work and innovation our industry puts into the SEMA Show each year. While we are disappointed circumstances prevent us from hosting the Show in November, we look forward to getting everyone together in 2021 for another outstanding event."
Last month, the show had been slated to proceed as scheduled for Nov. 3-6. SEMA events Vice President Tom Gattuso told a virtual Society of Collision Repair Specialists open board meeting July 22 that 8,000 buyers had already registered to attend. A few days prior, the show had announced safety precautions including mandatory masks, hand sanitizer every 200 feet, one-way aisles, screening and hourly and nightly sanitization procedures.
SEMA plans to refund booth deposits and registration fees to exhibitors and attendees.
The Society of Collision Repair Specialists board is examining what it will do with its popular Repairer Driven Education series, which had been slated to run Nov. 2-6 alongside SEMA.
A recent survey indicated interest in a virtual SEMA "with related live elements," SEMA said.
"SEMA will be working with industry members to determine interest levels on specific alternatives," it continued.
Continue to check Repairer Driven News for updates.
Gattuso last month said the organization felt it could present a "compelling story" for lawmakers and regulators it wouldn't create a "super-spreader event." However, the state of Nevada has continued blanket restrictions on gatherings, and any reduction
Nevada had posted 52,179 confirmed COVID-19 cases and 862 deaths as of 10 a.m. Tuesday. More than 1,000 people were hospitalized with confirmed or suspected virus cases, and 310 COVID-19 patients were in intensive care units.
Democratic Gov. Steve Sisolak on Friday extended COVID-19 precautions that were scheduled to expire that day.
"This includes continuing statewide standards limiting business occupancy to 50 percent of fire code capacity, and limiting gatherings to no more than 50 people," Sisolak's office wrote in a news release Friday. "As announced Monday, bars, pubs and taverns in certain Nevada counties identified as having an elevated transmission risk will continue to remain closed as set forth in Directive 027 until it is rescinded."
On Monday, Sisolak announced a long-term COVID-19 plan that would involve looking at each county's Elevated Disease Transmission criteria weekly.
Counties showing increased risk will have to create an action plan "which may include implementing certain mitigation levels beyond the statewide baseline, including potentially moving to 25 percent capacity in high-risk settings or reducing public gatherings to slow the spread," according to a copy of prepared Monday remarks by Nevada COVID-19 response director Caleb Cage.
Counties with reduced risk might bet able to drop restrictions. "The State will undertake a similar thoughtful and collaborative approach to ease up restrictions if county data shows improvement," Cage said in the prepared remarks.
On June 28, another massive Las Vegas trade show slated to happen even later than SEMA announced it would drop plans for a live event. CES 2021 — which wouldn't have happened until January 2021 — declared that it would go virtual-only.
"Amid the pandemic and growing global health concerns about the spread of COVID-19, it's just not possible to safely convene tens of thousands of people in Las Vegas in early January 2021 to meet and do business in person," Consumer Technology Association CEO Gary Shapiro said in a statement. "Technology helps us all work, learn and connect during the pandemic – and that innovation will also help us reimagine CES 2021 and bring together the tech community in a meaningful way. By shifting to an all-digital platform for 2021, we can deliver a unique experience that helps our exhibitors connect with existing and new audiences."
More information:
SEMA Show homepage (contains announcement)
Featured image: SEMA 2019 is shown. (Provided by SEMA)
Share This: