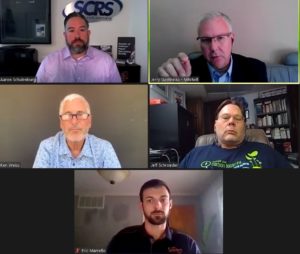 Parts and Materials Committee panelists and other Collision Industry Conference participants divided last month on which organization should resolve the lack of consistency over auto body part definitions.
The committee chaired by Ken Weiss (formerly of SSF Imported Auto Parts) and Aaron Schulenburg (Society of Collision Repair Specialists) educated the July 22 CIC how parts procurement systems APU, Car-Part.com and PartsTrader and estimating systems Audatex, CCC and Mitchell defined concepts like "Surplus OEM," "Aftermarket" and "Remanufactured."
Weiss and Schulenburg also demonstrated how semantic differences between those and other players in the auto body repair ecosystem could mean a part a vendor classifies one way could be designated something different by the time it appears on an estimate handed to the customer.
Weiss said the session established differences between the platforms which "pains all of us" and asked how the industry could be driven to adopt the same definitions.
He asked if the Collision Industry Electronic Commerce Association, the neutral body that develops standards for various industry software to communicate, should be brought into the discussion. Should a recommendation be passed on to CIECA that "they don't have enough pipes built" to classify parts, Weiss asked.
"It's 100 percent CIECA," said panelist Eric Marrello, APU director of sales who also spoke for Solera sister company Audatex.
Car-Part.com CEO Jeff Schroder agreed that parts "need to be defined by CIECA." CIECA had tried earlier and "they weren't able to do it," but "that's the best way," Schroder said.
Most of the parts categories discussed July 22 had CIECA codes, Schroder said. The existence of a code in CIECA and the definition of that code were separate things, he said.
Schulenburg said it could be argued that the industry should develop a definition before assigning a CIECA code to it. It was appropriate to discuss the matter in an industry forum like CIC before letting CIECA establish a code.
Schroder said "it's 2020" and electronic parts communication and purchased has happened for years. "CIECA can't wait" for common definitions, or else "no electronic commerce" would have occurred, he said.
Schroder said the industry should fix inconsistency, but CIECA couldn't wait for an industry that hadn't been able to work out definitions to come up with them.
"Work goes on every day," he said.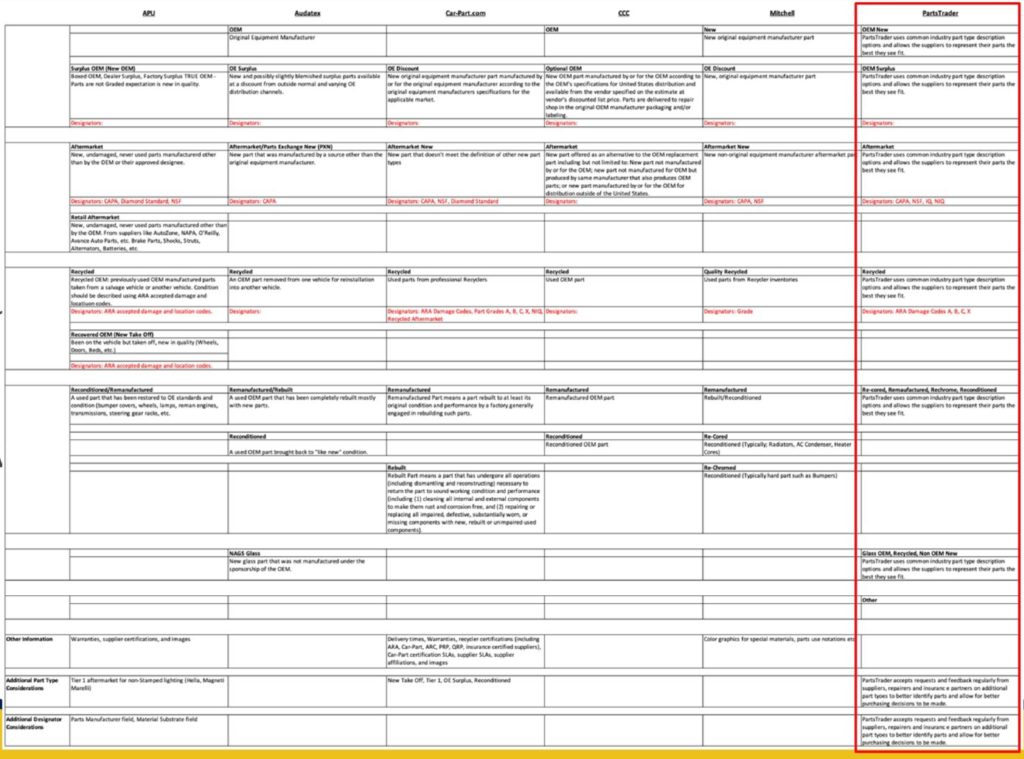 But Mitchell content management senior director Jerry Gastineau said he agreed with Schulenburg. CIC attendees should develop definitions, which would then flow to CIECA and then to the information and parts provider systems to share the accountability for upholding those standards.
Gastineau also called for a balanced discussion to set the definitions. If the only voices or "loudest voices" heard were parts vendors and not OEM parts manufacturers, the results might not be as good for the consumer, he said.
Proponents of CIECA defining parts types might face resistance from CIECA itself.
As Schroder noted, CIECA attempted such a project briefly in 2019, only to conclude the task was out of its purview and drop the idea. And new CIECA Executive Director Paul Barry told CIC on July 22 his organization didn't want that responsibility.
It was the CIC's role to craft definitions, Barry said. "It's not CIECA's role" to do so, he said.
Alejandro Garay, owner of a Land O' Lakes, Fla-based Maaco, proposed a simpler solution. If OEMs don't approve alternative parts, why not eliminate such components entirely from the estimating systems, he asked. This would benefit the industry, he argued.
Schulenburg said opinions differed on that idea. He noted that ultimately, it was up to the industry to choose the parts they felt were best for the customers, he said. A shop could take a stand that it will only use OEM parts, and "you can choose to do that," he said.
But the issue here involved situations where a part is advertised as OEM but the shipped component doesn't fit the repairer's definition of OEM, Schulenburg said. That's the "biggest challenge" the industry should commit to fix, regardless of a shop's business model and parts, he said.
Ask if parts suppliers should instead be the ones to resolve the issue of classification discrepancies, Schulenburg said this could create a loudest-voice scenario like Gastineau mentioned.
"You end up with a very different answer" which might not match the consumer or OEM's views, he said. He said the issue needed to be examined from the perspective of what a consumer would reasonably expect.
Correction: An earlier version of this story misspelled Car-Part.com CEO Jeff Schroder's name. The article has since been corrected to address this.
More information:
Collision Industry Conference Parts and Materials Committee slides with scenarios, IP and parts platform definitions
CIC, July 22, 2020
Images:
Clockwise from top left: Aaron Schulenburg (Society of Collision Repair Specialists), Jerry Gastineau (Mitchell), Jeff Schroder (Car-Part.com), Eric Marrello (APU) and Ken Weiss (formerly of SSF Imported Auto Parts) participate in a CIC Parts and Materials Committee session at the July 22, 2020, Collision Industry Conference. (Screenshot from virtual CIC)
This graphic from the Collision Industry Conference Parts and Materials Committee outlines part category definitions outlined by estimating and part procurement systems. (Provided by Collision Industry Conference)
Share This: