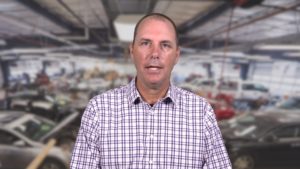 Caliber supply chain strategy and procurement Senior Vice President Dave Smith last month revealed internal research found customers were more satisfied if the shop, not the insurer, handled the estimate.
The data in his slide from Reuters Events' virtual Auto Insurance USA 2020 demonstrated the clout a repairer could have during the estimating process.
The research might also demand a rethinking of the photo estimating concept.
Caliber found that 78 percent of customers were "very" or "extremely" satisfied if they submitted photos to an insurer for an estimate. That's strong — but that proportion reaching those levels of satisfaction grew to 83 percent if the insurer inspected the vehicle in person.
That would seem to throw a little cold water on the notion that customers would rather have digital inspections.
However, a whopping 91 were very or extremely satisfied if they submitted photos to a body shop.
Nevertheless, physical shop inspections still yielded nearly as high marks — and higher satisfaction than either scenario where the insurer wrote the estimate.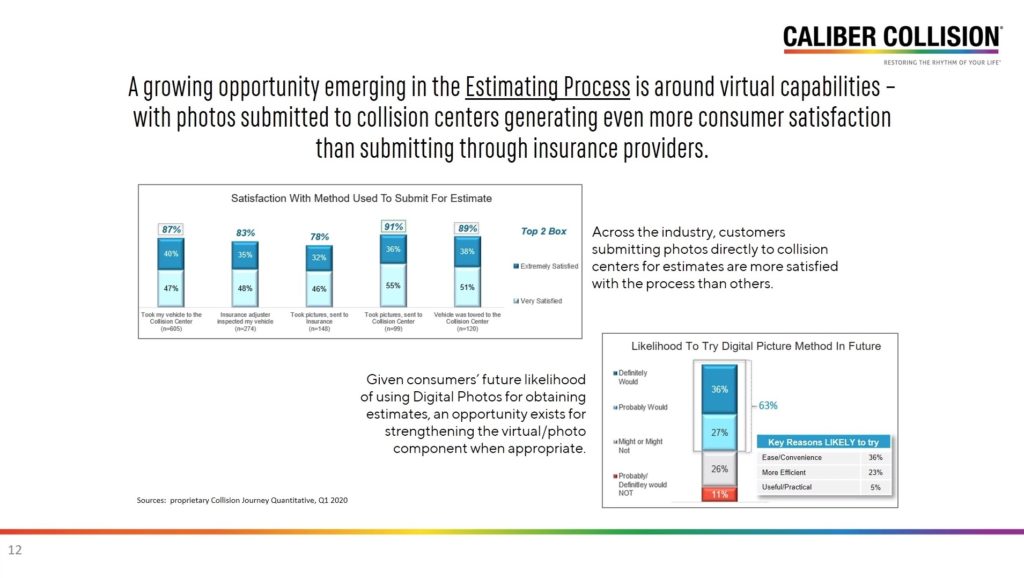 89 percent of customers were extremely or very satisfied if their vehicles were towed to the body shop, and 87 percent of customers who had to drive the vehicle to the body shop themselves for an estimate reached those levels of satisfaction. Photo estimating critics will also note that the two auto body physical inspection/estimate scenarios saw higher levels of "extremely" satisfied folks than if the shop wrote the estimate off photos.
Customers were on board with trying more photo estimating, though. About 63 percent said they definitely or probably would, based on the Caliber slide. The other 37 percent was either indifferent or leaned towards opposing the idea.
As for getting those customers to use your shop in the first place, Caliber found 79 percent of completely out-of-pocket customers and 68 percent of customers receiving insurer reimbursement still did some kind of research, according to another slide.
While OEMs and insurers are 'certainly" influencers, "the repair shop is part of that," Smith said during the event July 28. "… The customer will do their own research."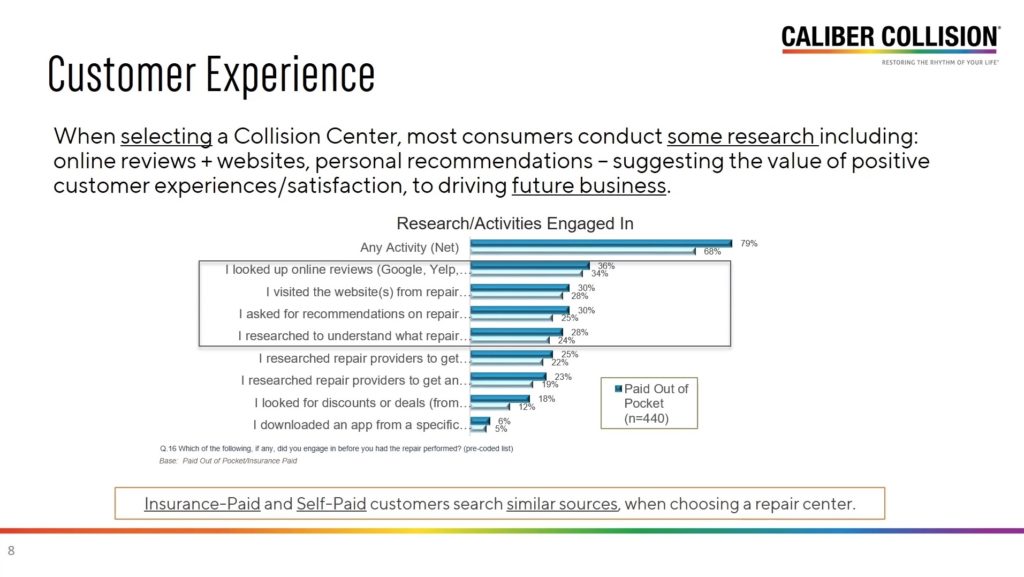 This might involve checking Google or Yelp or asking friends, according to Smith. "We are certainly part of that piece of the pie," he said.
Thus, it seems like repairers on OEM or DRP programs shouldn't assume referred customers are guaranteed, and shops competing with such networks shouldn't underestimate the power of marketing, customer reviews and word-of-mouth to even the playing field.
More information:
"COMPLETING THE JOURNEY, HOW THE REPAIRER FITS INTO THE CONNECTION"
Caliber/Reuters Events' Auto Insurance USA, July 28, 2020
Images:
Caliber supply chain strategy and procurement Senior Vice President Dave Smith speaks to the virtual Auto Insurance USA 2020. (Screenshot from Reuters Events video)
Caliber found that 78 percent of customers were "very" or "extremely" satisfied if they submitted photos to an insurer for an estimate. But customers reached even higher levels of satisfaction if a body shop handled the photo estimating. (Caliber slide from Reuters Events' Auto Insurance USA 2020)
Caliber research found that consumers don't blindly follow an insurer or OEM referral. 68 percent of customers who will be reimbursed by an insurer still conduct some kind of research into a body shop. (Caliber slide from Reuters Events' Auto Insurance USA 2020)
Share This: