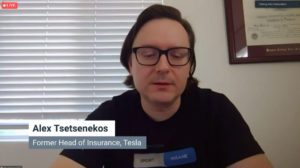 Former Tesla insurance head Alex Tsetsenekos last month demonstrated how an automaker-offered insurance program could throw out much of the expenses driving up premium costs or offset any increased severity from vehicle technology.
Tsetsenekos offered a snapshot of the traditional property and casualty auto premium dollar with a slide during Reuters Events' virtual Auto Insurance USA 2020 conference July 28. Only 65 percent of it actually went towards paying the true loss cost — i.e., doctor and collision repairer bills. Insurers spent 15 percent on loss adjustment costs and administrative costs and another 15 percent on marketing costs and commissions to agents. The insurer was left with a 5 percent margin to invest, save, pay other bills, or return to consumers in the form of lower premiums.
"This cost structure is not sustainable" given increased data analytics and vehicle technology, he said.
"We have to revisit the entire value chain," he said.
Start leveraging telematics, increasing vehicle automation, customer self-service, and direct-to-consumer marketing, and one's margins could rise to 35 percent or higher, the slide argued.
This allows an automaker insurance program to accommodate rising severity from vehicle tech and save the customer money, Tsetsenekos said. The customer might in turn spend this newfound discretionary income on more OEM offerings, such as those made available by a connected car, he said, calling this the "true power" of such a plan.
OEMs participating in insurance could provide better customer experiences and yield more "wallet share," Tsetenekos suggested.
Tsetenekos said the best way to deconstruct and rebuild the insurance cost structure was to participate in it.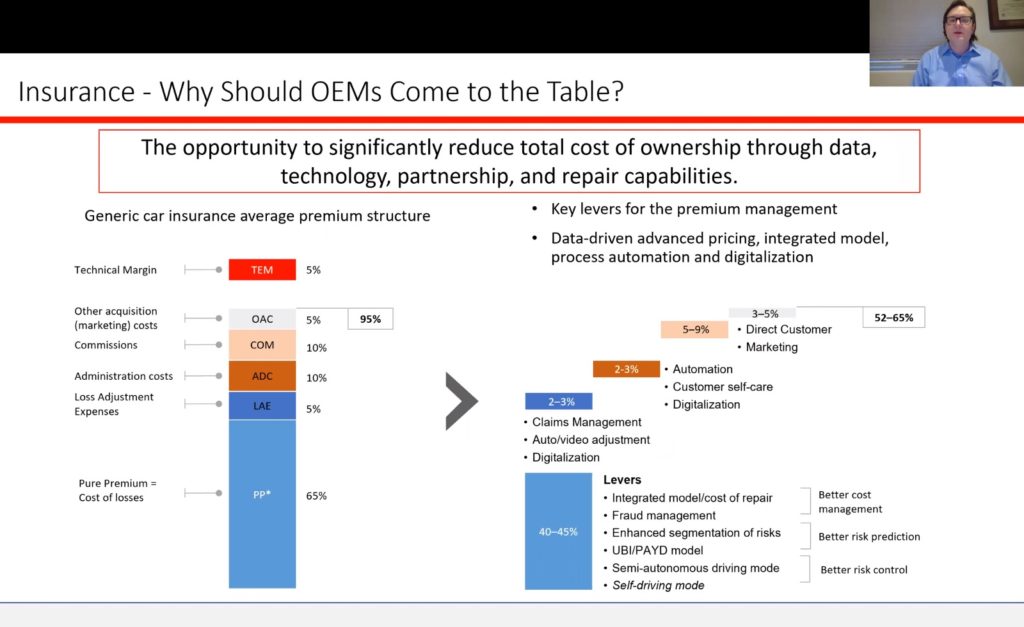 He said Tesla set up a "managing general agency," a structure owned by an OEM but with an insurer or reinsurer serving as the risk-bearing agency.
An OEM still needs insurance experience to handle such an operation, such as with licensing, sales, underwriting and distribution. The overall structure is run by the OEM in partnership with the insurer and third-party claim provider, platform provider or analytics provider.
Tsetenekos also called vehicle repair among the areas "vital" to a successful insurance product. He described this as teaming up with "reputable" shops, "creating a proper direct repair network with the OEM and the insurer in that MGA structure," he said.
Swiss Re Vice President Nate Bunck described a potential hurdle with OEMs getting into the insurance business during a panel the same day. He said the message Swiss Re hears from automakers holds, "'Don't do anything that's gonna screw up my sales.'"
Tsetsenekos said during that panel that the effort to collaborate on insurance saw Tesla "pushing uphill" against the idea of alignment around the customer "versus the functional disciplines" like finance, repair, insurance and vehicle origination. Once such segments are aligned around the consumer, the process can be streamlined, value added, and friction costs excised, he said.
Tsetenekos' analysis of insurance costs makes for a compelling argument that potentially leaves certified auto body shops in the catbird seat.
Sure, OEM-certified shops who follow repair procedures are probably going to produce higher repair bills than shops who overlook operations and don't need to recoup training and equipment costs because they never obtained either.
But if the OEM-turned-insurer can offset rising costs somewhere other than repair quality — which is a crucial driver of automaker brand loyalty — then who cares? The net cost of insurance and therefore vehicle ownership might still be lower — much lower, based on Tsetsenekos' slide.
If the OEM-insurer believes its certified shops' bills are accurate and customer service sound, they can probably throw out a big chunk of administrative and loss adjustment expenses by just letting the repairer take care of business and holding occasional audits and PRIs to keep everyone honest. If the OEM's engineers produced good ADAS, frequency costs will fall. And if the OEM can sell insurance right at the dealership, their marketing costs will plummet.
Tsetsenekos delved into the last of these during the panel. He estimated two major insurers currently were spending $1 billion each to lure customers. But Tesla spend $0 on marketing to sell customers its insurance, he said. People just like the car and concluded, "'I'll try the insurance,'" he said, calling it a "natural connectivity."
More information:
"GETTING TO THE HEART OF CARRIER-OEM COLLABORATION"
Reuters Events' Auto Insurance USA 2020, July 28, 2020
Reuters Events' Auto Insurance USA 2020, July 28, 2020
Images:
Former Tesla insurance head Alex Tsetsenekos participates in a panel during the virtual Auto Insurance USA 2020 on July 28, 2020. (Screenshot from Reuters Events' virtual Auto Insurance USA 2020)
This slide from former Tesla insurance head Alex Tsetsenekos during the virtual Auto Insurance USA 2020 demonstrated how an automaker-offered insurance program could throw out much of the expenses driving up premium costs or offset any increased severity from vehicle technology. (Screenshot from Reuters Events' virtual Auto Insurance USA 2020)
Share This: