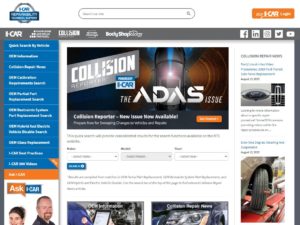 I-CAR announced Wednesday it would let the collision industry access its Repairability Technical Support portal for free through the rest of the year.
During the height of the COVID-19 pandemic, I-CAR announced it would let the industry use the site for free through May 31. It wound up continuing this free access through Wednesday's announcement — and now through Dec. 31. Normally, only Gold Class shops, Platinum technicians and anyone who took at least four I-CAR classes within the past year receive free access.
"We recognize the strong value RTS provides to the industry and have seen a large uptick in use, in particular, during April through July, aiding our decision to extend this important resource free of charge to anyone in the industry throughout the remainder of the year," I-CAR Repairability Technical Support Portal and OEM relations manager Scott VanHulle said in a statement.
The website, which can be accessed at http://rts.i-car.com, teaches repairers how to use OEM procedure websites and includes the "Ask I-CAR" feature. It also features technical guidance like this Wednesday post on steering and suspension measurements, and I-CAR 360 video tours of various vehicles.
VanHulle said the portal drew about 400,000 hits in July, up 23 percent over 2019. He said users showed interest in all of the site's sections.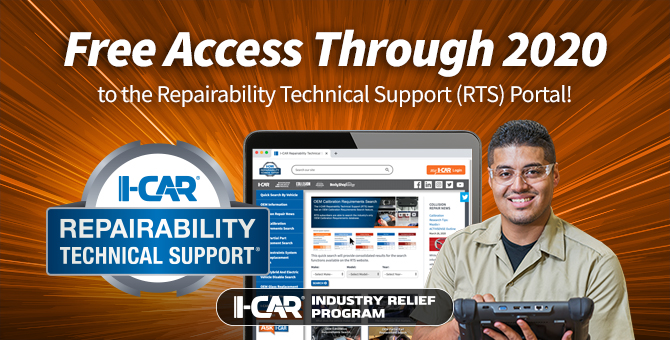 I-CAR specifically highlighted the "Ask I-CAR" feature in the news release, noting that it had recently taken its 28,000th question. The service allows repairers to submit questions regarding missing or confusing OEM repair procedures, and I-CAR will provide an answer or get one from the automaker themselves. The organization tries to respond within two hours if it can.
"We pride ourselves on answering each technical question as quickly and as thoroughly as possible as we understand how important having the right information is for everyone in the industry," VanHulle said in a statement.
He noted that "Ask I-CAR" also shows the educational outlet and OEMs where the industry needs assistance.
"It's a complete win-win, as we then use these insights to further our ongoing work with OEMs to enhance their repair information and procedures," VanHulle said in a statement. "This information also finds it's way into I-CAR training courses and helps to inform where extra focus is needed in a course."
More information:
"I-CAR® TO EXTEND FREE ACCESS OF ITS REPAIRABILITY TECHNICAL SUPPORT™ (RTS) PORTAL THROUGH END OF YEAR"
I-CAR, Aug. 12, 2020
Images:
I-CAR's Repairability Technical Support portal is seen. (Screenshot from http://rts.i-car.com)
A promotional image highlights I-CAR's decision to make the Repairability Technical Support portal free for 2020. (Provided by I-CAR)
Share This: