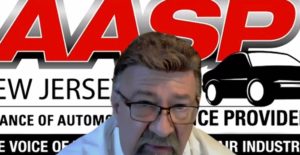 The concept of "betterment" rarely will apply to a claim in New Jersey, Alliance of Automotive Service Providers of New Jersey Executive Director Charles Bryant explained to members Wednesday.
"It's not as prevalent as it used to be," Bryant said of attempts by insurers to pursue betterment. He told an association town hall meeting he had once served as an expert on a class-action lawsuit many years ago that "almost stopped it."
But he said he sometimes hears reports of insurers attempting to collect it on parts like mufflers and suspensions, later noting that insurers often attempt to depreciate for pricey stainless steel mufflers.
However, "it is not allowed" to take betterment, he said.
Bryant referenced a piece of state law on the matter.
"Deductions for betterment and depreciation are permitted only for parts normally subject to repair and replacement during the useful life of the insured motor vehicle," New Jersey Administrative Code 11:3-10.3(i) states. "Deductions for betterment and depreciation shall be limited to the lesser of an amount equal to the proportion that the expired life of the part to be repaired or replaced bears to the normal useful life of that part, or the amount by which the resale value of the vehicle is increased by the repair or replacement. Calculations for betterment, depreciation and normal useful life must be included in the insurer's claim file." (Emphasis added.)
According to Bryant, the important word here is "'lesser.'"
The NJAC concept of an "amount by which the resale value of the vehicle is increased by the repair or replacement" is nearly always going to be $0 or a negative number, as Bryant explained it. This would obviously be lower than the value of the extra part life obtained by replacing a worn part with a new one.
He gave the example of a vehicle with $10,000 worth of damage, including $3,000 to the suspension. The hypothetical collision repair included replacing parts like ball joints and struts.
Those are indeed "wearable parts," according to Bryant. However, "it's not gonna increase the value" of the vehicle itself, he said.
Suppose a person visits a dealership that touts the new suspension of the repaired vehicle The consumer might wonder: Why did it get a new suspension? The answer: "'It had $10,000 worth of damage,'" Bryant said.
"It decreases the value," he said.
It's possible that a repair involving replacing a tattered convertible ragtop with a new one might boost the car's value, but "one new strut would not," Bryant said.
Bryant also highlighted betterment settlements Texas Attorney General's Office reached with insurers two decades ago. According to Insurance Journal, then-Attorney Governor Greg Abbott got 16 insurers to pay back more than $13 millions in refunds to consumers.
"Abbott has successfully settled more than a dozen such cases, alleging that by engaging in betterment, insurance companies have merely increased the value of the replaced part, and not the entire vehicle, as the companies have claimed," the magazine reported in 2004.
More information:
"TEXAS AG SETTLES WITH INSURERS:"
Insurance Journal, May 3, 2004
Featured image: Alliance of Automotive Service Providers of New Jersey Executive Director Charles Bryant speaks to a virtual town hall meeting on Aug. 19, 2020. (Screenshot from AASP-NJ video)
Share This: