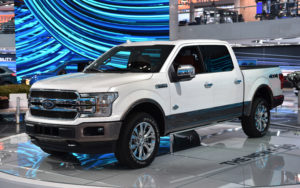 Ford paint and body repair senior engineer Gerry Bonanni on Friday warned the industry not to believe assertions that the current-generation F-150's outer rocker reinforcement can be sectioned, nor to trust aftermarket rivet manufacturers claiming parity.
Bonanni also warned against installing approved Ford rivets in arbitrary locations on the vehicle body.
Don't section
Bonanni pointed out a "complex extrusion" on the F-150 cab. The part contained internal reinforcement vanes that can't be reattached if sectioned, he said.
"There's been some industry experts, I'll call them" claiming the part can be sectioned, Bonanni said.
"I call them out every time," Bonanni said. He'll say, "'You cannot section that part.'" Ford information states as much.
"I don't want bad information getting out there about our truck," Bonanni said. Some people "think that they know better than we do," he said.
The extrusion is a "very critical part" for the small-overlap rigid barrier crash test, he said. It must be replaced as a single part, he said.
"Go with the Ford service information, not what some industry experts are purporting on," Bonanni said.
Rivets
Bonanni also cautioned repairers about rivet usage frowned upon by his OEM.
Bonanni recalled SEMA 2019 conversations between Ford and repairers reporting they installed rivets "wherever they feel like," calling this "very disturbing" and "scary." The rivets must be installed in the order and locations Ford specified, he said.
He likened the action to intentionally performing a cold spot weld or an unsafe weld.
"The science of these comes into play; there's many things that matter here," Bonnani said. The number of stacks of material, the hardness or heat treatment of the aluminum alloy and whether the rivet is piercing an extrusion, stamping or exterior skin all can be considerations, he said.
Ford's "rule of thumb" would be to install the rivets the OEM dictates in the positions it specifies, he said.
Aftermarket rivets are a "particularly concerning" issue surrounding Ford rivets and "another big, big headache," Bonnani said.
"There's clone rivets that people say can be used," he said. But the "only safe rivets" are the authorized Ford/Henrob rivets, he said.
Never substitute an imitation, he said. This too was like intentionally performing a cold spot weld or MIG weld.
"Don't do it with the rivets," Bonanni said. The outcome could be "catastrophic."
Bonanni's rivet guidance echoed a June position statement from Ford.
"All Ford Motor Company vehicles that incorporate aluminum structural and cosmetic body components require the use of OEM Structural repair rivets and the use of approved installation tools when performing body repairs," the OEM wrote. "The use of aftermarket structural rivets, including Self-Piercing, Blind and Solid rivets, is not authorized by Ford. Ford Motor Company considers the use of OEM structural rivets critical to the safety, reliability, and durability of the repaired vehicle."
Ford stressed that self-piercing, blind and solid rivets "are not universal, and placement cannot deviate from the Ford repair procedures." (Emphasis Ford's.)
More information:
"USE OF NON-OEM STRUCTURAL RIVETS ON FORD MOTOR COMPANY VEHICLES" position statement
Ford, June 1, 2020
Images:
A 2018 Ford F-150 is seen Jan. 10, 2017, at the Detroit Auto Show. (Provided by Ford)
Share This: