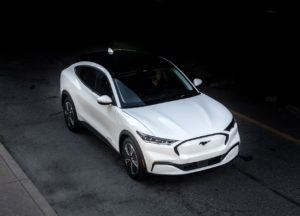 Ford announced Friday it would require all its certified collision centers to obtain electric vehicle training and safety equipment by early next year.
The requirement and January 2021 deadline coincide with the arrival of the fully electric 2021 Mustang Mach-E, according to Ford collision marketing manager Dean Bruce.
Ford in June said the electric muscle car would arrive "near the end of the year." Bruce also noted that Ford's all-electric F-150 truck was planned for in 2022.
"A couple of important and higher-volume vehicles from Ford," he told a joint I-CAR and Ford virtual event on Friday.
Bruce said Ford planned to officially announce the new certified network requirements in early September.
"We're very close to announcing our battery electric vehicle certification path for our network," he said. "… We're fine-tuning everything right now."
Uncertified shops should take note as well. If Ford is saying this education and equipment is necessary to safely and properly repair its vehicles, then any collision repairer fixing electric Fords will need to have it. It's not like a high-voltage Mach-E damaged in a crash is going to be like, "Oh, you're uncertified? Well then, you can totally handle me without PPE. I only electrocute noncompliant certified shops."
Though Ford is still finalizing the plan, Bruce on Friday gave repairers a fairly solid sense of what they could expect.
Ford would require around seven or eight electric vehicle-related classes available through I-CAR, Bruce said. A couple of these would be I-CAR general courses, and the rest would be specific to Ford electrified vehicles, he said.
All these courses will be online, which should be "music to the ears" of certified centers, Bruce said. He said Ford heard "loud and clear" that it's difficult for shops to train staff in an offsite classroom, or even to host an instructor at the shop. The classes will typically run 30-45 minutes, Bruce said.
Bruce said Ford also will require all shops to acquire specific personal protective equipment, a rescue hook and signage.
Except for these safety-related items, all other new certified program requirements will be optional. Repairers can either buy those tools and equipment themselves or sublet the associated operations to a Ford EV-certified dealership, Bruce said.
Bruce explained that the other tools and equipment primarily related to removing a Ford EV battery pack. He said his understanding is that "about 90 percent" of collision repairs on Ford electric vehicles could be done without pulling the battery. In the other 10 percent or fewer cases, a shop will need those tools or else have to rely on the EV-certified dealer to conduct the battery-related repairs, Bruce said.
While subletting to an approved dealer meant "a little extra work," Ford felt it would be "very beneficial" to certified shops that "they won't have to buy some of those tools and equipment if they don't already have them," Bruce said. Giving shops that option was "front and center mind" for his company.
Ford threw repairers another bone on this point as well. Bruce said all of Ford's electric vehicle tool and equipment requirements would be specification-based, not brand-specific. This meant  Ford-certified shops who worked on other OEMs' electric cars might be able to satisfy Ford's requirements with existing tools and equipment, he said. As long as the specs met Ford's thresholds, you'd have the OEM's blessing.
Bruce also said the new electric collision repair network requirements would include OEM repair procedures, but he noted that certified shops already had a free subscription to the site as a perk of membership. So that one was already satisfied.
As for the network itself, Bruce said Ford counted more than 1,700 certified shops and 2,200 enrolled facilities and was "on our way to about 2,500." Ford felt a 2,500-shop tally offered sufficient coverage to consumers, according to Bruce.
More information:
Ford Certified Collision Network webpage
2021 Ford Mustang Mach-E media kit
Featured image: The 2021 Ford Mustang Mach-E is shown. (Provided by Ford)
Share This: