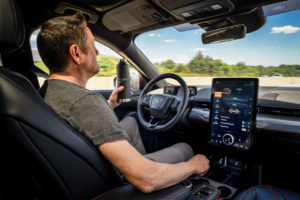 Ford on Thursday announced an optional Active Drive Assist system which would permit "hands-free driving on more than 100,000 miles of divided highways in all 50 states and Canada."
Customers can purchase the system as an unlock for Ford's all-electric 2021 Mustang Mach-E, and the OEM plans to offer it for "select 2021 model year Ford vehicles."
The system is similar to Cadillac's Super Cruise, which allows customers to let the car drive on 200,000 miles of authorized divided roadways. In both cases, the human is still responsible for the vehicle and must continue to monitor the road. Both Ford Active Drive Assist and Super Cruise focus on the driver's gaze rather than hands on the wheel to ensure the motorist pays appropriate attention.
In Ford's case, an infrared driver-facing camera keeps tabs on the owner's eyes and head position "even while wearing most sunglasses."
"Introducing Active Drive Assist with a driver-facing camera makes perfect sense because the vehicle helps relieve the stress and burden of driving but still leaves you fully in control," Ford Chief Product Development and Purchasing Officer Hau Thai-Tang said in a statement. "And if you lose focus on the road ahead, Active Drive Assist will automatically warn and potentially slow the vehicle down until you're ready to focus back up."
The technology also is notable in that it won't be available on the Mach-E at launch. Ford will fit the vehicle with the necessary hardware for the hands-free trips in what it calls the Ford Co-Pilot360 Active 2.0 Prep Package. You'll pay for the Active Drive Assist option "and receive the feature at a Ford dealer or via an over-the-air update expected in the third quarter of 2021."
This would seem to place an even greater impetus on shops to thoroughly and repeatedly research vehicles and repair procedures. The Mach-E goes on sale in "late 2020," according to Ford. If you fix an early adopter's Mach-E right after launch this year and the unlucky customer brings it back to you following another wreck a year later, the car's capability could have radically changed. Before, it couldn't drive itself; now, it can (sort of). At the very least, your shop would have another system to scan and test-drive; perhaps other operations would have changed as well.
And according to Ford, Active Drive Assist includes "the potential for more enhancements in the future."
Ford said it subjected the new hands-free highway driving to a battery of tests:
Ford has put Active Drive Assist through its paces to create a driving experience that customers can be confident in – one that's actually hands-free as long as the driver-facing camera can monitor head position and eye gaze instead of relying only on monitoring driver attention through steering wheel grip, as other systems do.
Ford subjected its Active Drive Assist test vehicles to the Mother of All Road Trips, exposing its sensors to snow, rain, bright sun, dark nights, traffic jams and open roads over hundreds of thousands of miles across the U.S., Canada and Europe in an attempt to expose the sensors to a variety of extremely specific scenarios – or gray areas – so the technology is as ready to handle the array of real-world conditions drivers face daily.
"Our team has aggressively tested Active Drive Assist to bring something to our customers' lives that they can trust," said Justin Teems, Active Drive Assist feature lead. "We go to far-flung places around the U.S. and Canada – from Florida to California, from Quebec to Texas, Wyoming and Idaho – to try to stimulate those rare-case sensor measurements we might not get anywhere else, capturing data in a number of different ways."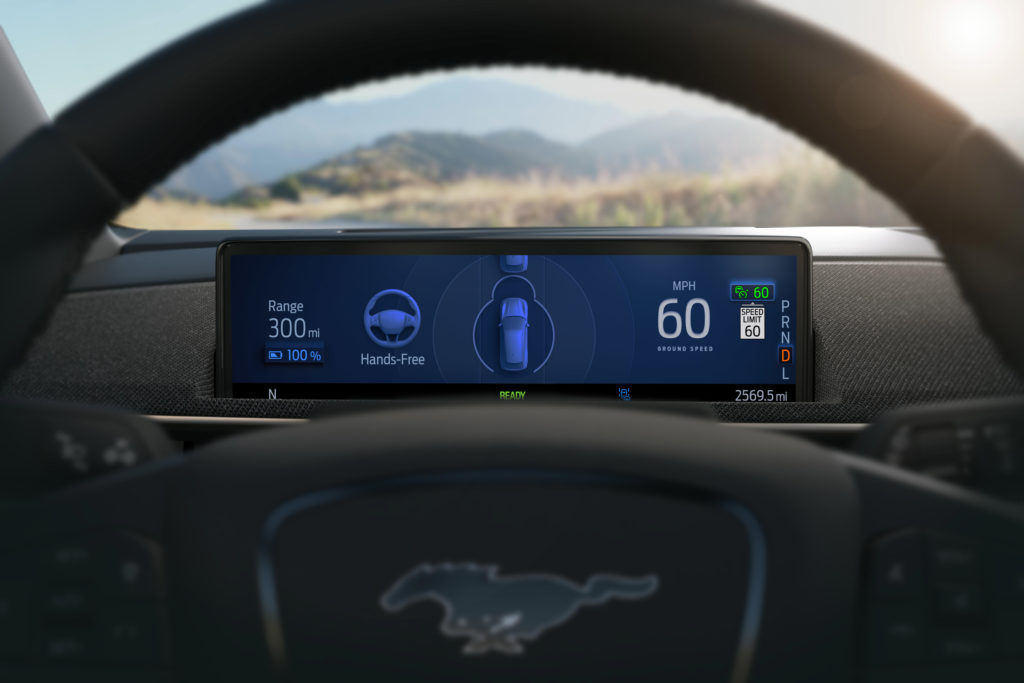 Ford said the Co-Pilot360 Active Prep Package also will include "Active Park Assist 2.0," which lets the car park itself in both parallel and regular parking spaces. "It also offers Park Out Assist with side-sensing capability so drivers can confidently navigate out of a parking spot when someone's parked too close," Ford wrote.
Ford's news release suggests these parking features would be available at launch.
Ford said the standard Co-Pilot360 2.0 on the Mach-E includes a better lane-keeping system. The suite now includes Lane Blind Spot Assist, which "applies a nudge in the vehicle's steering system to help provide caution against an unsafe action" and Road Edge Detection, which is able to sense not just lane lines but also the side of a "road with a clear edge, such as grass or dirt." It appears that both will steer the vehicle away from the hazard if the driver doesn't do so, but the news release isn't entirely clear on this point.
The Co-Pilot360 Assist 2.0 package also upgrades the Co-Pilot Adaptive Cruise Control with Stop and Go, Ford said. The system now lets the vehicle restart itself if stopped for up to 30 seconds, up from just 3 seconds.
Ford said the Mach-E will also possess intersection autobraking.
"Intersection Assist employs the camera and radar sensor technology used by Pre-Collision Assist with Automatic Emergency Braking to detect oncoming traffic while attempting to turn left," Ford wrote. "If there's a risk of a potential collision with an oncoming vehicle, the vehicle can alert the driver and apply the brakes."
More information:
"FORD CO-PILOT360™ TECHNOLOGY ADDS HANDS-FREE DRIVING, OVER-THE-AIR UPDATES AND MORE TO HELP FORD CUSTOMERS FEEL MORE RELAXED AND CONFIDENT"
Ford, June 18, 2020
Images:
2021 Ford Mustang Mach-E engineer John Gilchrist shows Active Drive Assist, an option planned for the electric car. Ford said the driver is still required to monitor the road but can take their hands off the wheel. (Provided by Ford)
A pre-production display of a Ford Active Drive Assist display. (Provided by Ford)
Share This: