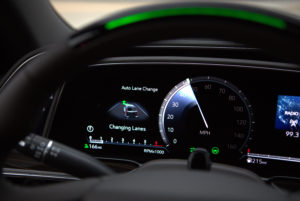 Cadillac said Tuesday the 2021 Cadillac CT4, CT5 and Escalade coming later this year will feature an upgraded version of the hands-free driving system "Super Cruise" able to change lanes by itself upon request.
"This is our most extensive update we've made to Super Cruise since its debut," Super Cruise chief engineer Mario Maiorana said in a statement. "We have made a number of improvements to make Super Cruise more intuitive, better performing and more accessible for our customers. In addition to the automated lane change functionality, we've made improvements to the user interface and hands-free driving dynamics."
Cadillac credited the new General Motors electrical architecture for the OEM's ability to upgrade Super Cruise from the old version that debuted on Cadillac CT6s built Sept. 6, 2017, and later.
Stefan Cross, assistant manager of GM brand and product communications, confirmed that the form of Super Cruise on the CT6 and coming to the 2021 XT6 won't feature the capabilities announced Tuesday. They just weren't built with the new electrical framework.
"These enhancements were made possible using GM's new digital vehicle platform," Cross wrote in an email. "As a result, these enhancements will only be available going forward on vehicles built on that digital platform."
The existing Super Cruise is still pretty impressive. Any car armed with it can drive itself on "more than 200,000 miles of compatible highways" (divided highways) across the U.S. and Canada. However, the driver is required to keep their eyes on the road — the car watches the driver for inattentiveness and pulls over if you're not paying attention — and requested by the car to take over when something like a railroad crossing or traffic signal is near.
The new version does all of that but will change lanes itself if you tap or fully latch the turn signal in the appropriate direction.
"This will prompt the system to look for an acceptable opening in the indicated lane, while also taking time to let other cars know that a lane change is imminent," Cadillac wrote in a news release. "If the system determines that the indicated lane is open, the vehicle will merge into said lane. The driver attention system will continue to require the driver to focus on the surroundings during the lane change."
"In order to add automated lane change and provide our customers with the same level of confidence that they currently have in Super Cruise, we made improvements to both our software and hardware," Maiorana said in a statement. "This included improving rear-facing sensors and advanced software algorithms so that the system can confidently track vehicles approaching from the rear. As a result of these improvements, we are able to ensure that Super Cruise will hold in its current lane and only change when a sufficient gap exists."
We asked if the reference to improved sensors meant different components than what repairers might have already seen on the CT6 or was merely a firmware upware.
"It is actually a new sensor suite," Cross wrote in an email Wednesday. "It uses the same LiDAR, camera, sensor and GPS technology, however, because this is enabled by GM's new digital vehicle platform, these new sensors are able to accommodate more bandwidth and processing power."
The new GM electronics system can handle 4.5 terabytes of data an hour, five times what's possible today. Detroit Free Press columnist Mark Phelan wrote it'd be like having the capability to read a little less than 26 million books every two hours.
A car bearing the framework will be able to quickly talk to itself and to external parties using 100 Mbps, 1GBps and 10 GBps Ethernet, and GM also can upgrade it remotely with over-the-air updates, similar to a Tesla.
Cadillac said the vehicle will tell the driver on the dash what it's thinking, offering messages like "looking for an opening," "changing lanes" or that that the driver needed to handle a particular lane change manually.
Cadillac said the new Enhanced Super Cruise also comes with "richer map information" and better software handling speed and steering.
Automotive News reported Tuesday that about a third of CT6 buyers opted to get Super Cruise — and those who do have it use it about half the time it was possible to activate it. More than 85 percent of CT6 owners would want or demand a vehicle with Super Cruise, Automotive News wrote, citing Maiorana.
Just because the driver retains responsibility for the vehicle while Super Cruise is active doesn't alleviate a body shop's responsibility to deliver the system and car back into proper working order.
SOPs like protecting electronics, ADAS calibrations and returning the dimensions of the vehicle correctly might carry more significance than they already do. You've got to read the OEM repair procedures, even on a "basic" repair and do what GM asks. (For example, here's GM's position statement on bumper covers.)
More information:
"Cadillac To Roll Out Enhanced Super Cruise"
Cadillac, Jan. 28, 2020
Images:
Automatic lane change on the new "Super Cruise" debuting on the 2021 Cadillac CT5, CT4 and Escalade is shown. (Copyright General Motors)
General Motors' new electronics platform will debut on the 2020 Cadillac CT5 and expand to most of GM's vehicles worldwide by 2023. (Copyright General Motors)
Share This: