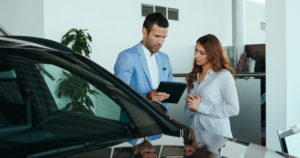 Though he suggested insurers would be smart to defer to OEMs on elements of claims, insurance consultant and former USAA Vice President Jimmy Spears suggested last fall automakers might want to let insurers handle underwriting.
A big question right now involves how Tesla's desire to sell its own insurance will play out, Spears told an Oct. 10, 2019, VeriFacts call.
One of an insurer's strengths involves the industry's ability to determine the risk of whoever they're insuring, Spears said. A desire to write insurance just because someone bought your brand's vehicle can affect your ability to determine their risk, he said.
All of your underwriting talent might get "put on the shelf" because you're trying to please the consumer who bought your product, Spears said.
This could particularly be an issue with nonstandard business, Spears said, referring to the category of insurance handling folks with a lousy driving record or who drive specialized vehicles like sports cars, according to the III.
Customers who buy performance brands will drive the vehicles "completely different" than typical makes, Spears said.
We asked Liberty Mutual, which works with OEMs like Subaru and Volvo to offer automaker-branded insurance, if it had encountered such issues pricing risk for partner automaker customers. It said it couldn't offer any insight.
Spears said he could see "beautiful alliances" arise around sharing data for "behavior-based driving," noting an OEM would have a "completely unfair advantage" on rating based on the information available from a vehicle.
A good risk could get a particularly good deal, but the automaker would need a means of handling poorer drivers while retaining customer satisfaction, Spears said.
Some OEMs have permitted customers to opt in to share driving data with insurers today, and it looks like more of Spears' "beautiful alliances" could be coming.
Metromile product and enterprise Vice President Amrish Singh told Insurance Nexus in its Friday "Connected Auto Insurance 2020" publication that his usage-based insurance company was working hard on the idea.
According to Insurance Nexus, Singh called it crucial "to find opportunities to partner with car companies to get access to their signal data. That is something we have spent a lot of our time and efforts on. We are in discussions with nearly every major auto manufacturer to connect with their car APIs".
AXA Rev big data and AI senior product lead Lorenzo Morganti told Insurance Nexus about research AXA obtained from a consulting firm.
"According to them, by 2022 all European manufacturers will be able to install some OEM equipment to trucks and cars, so you will not need any more black boxes or OBD dongles," Morganti said, according to the Insurance Nexus article, released three months before Auto Insurance USA 2020. "They will already be installed on all European car models. That is why we are trying to strike deals with car manufacturers, which will then be sharing data with us directly from their cars. We do have something in place already. We are testing deals with two large manufacturers, one of the largest in France and the biggest one in Germany. We are then doing some testing and use-cases where we are looking at data from the newest cars they are putting on the market or even ones that they are testing in the labs to understand how we can connect on a solid and robust basis to OEM equipment."
He told Insurance Nexus it "will be the new frontier for us."
More information:
"CASE STUDY: Tracking Through Tags, Pulses and Apps"
Insurance Nexus, Jan. 24, 2020
Featured image: OEMs who want to get into the insurance business might be tempted to throw out underwriting discipline to please customers. (EmirMemedovski/iStock)
Share This: