The Alliance of Automotive Service Providers of New Jersey last week drew attention to a consumer-friendly state requirement that insurers who want to inspect a vehicle must do so in seven working days.
The discussion might educate consumers, insurers and auto body shops in both the Garden State and other jurisdictions with similar language on the books. For example, here's West Virginia (7 days), Minnesota (5 days for nondriveable; 15 for others) and New York (6 days).
Despite the COVID-19 pandemic, New Jersey's seven-working-day rule stands, the Department of Banking and Insurance confirmed Monday.
"The rule remains in effect," DOBI public affairs director Trish Graber wrote of New Jersey Administrative Code 11:3-10.3(a). The rule states:
If the insurer intends to exercise its right to inspect, or cause to be inspected by an independent appraiser, damages prior to repair, the insurer shall have seven working days following receipt of notice of loss to inspect the insured's damaged vehicle, which is available for inspection, at a place and time reasonably convenient to the insured; commence negotiations; and make a good faith offer of settlement.
"That's quite a statement," AASP-NJ Executive Director Charles Bryant said of the New Jersey seven-working-day rule.
A March 19 DOBI bulletin from Commissioner Marlene Caride does encourage insurers to consider "extending timeframes to complete property and automobile inspections" during the COVID-19 pandemic. However, the agency is asking insurers to relax demands upon customers — it's not the other way around. (The document also encourages carriers to show flexibility on due dates and permit premium payment plans, for example.)
Graber confirmed this Monday.
"Bulletin 20-04, issued by the department in March, encourages entities regulated by the department to work with and assist customers who have been adversely affected by COVID-19-related issues," she wrote, also directing us to a March 20 DOBI news release saying the same thing.
Bryant noted on a virtual town hall meeting Aug. 19 that insurers were arguing "'We're not coming out'" due to the coronavirus or "'We don't have any appraisers."
As to the former, Bryant noted that the vehicle could always be placed outside, implying that the appraisers wouldn't need to risk going into a structure.
Many insurers have said they've eliminated appraisers or don't have any available, Bryant said. AASP-NJ President Jerry McNee (Ultimate Collision Repair) told the Wednesday, Aug. 19, audience he's seen two appraisers so far for the entire week, compared to typically 3-5 a day. The world was changing, he said.
An insurer telling the customer to take the vehicle over to the insurer's preferred body shop for the inspection was in error, according to Bryant.
"That's not what you have to do," he said.
He pointed to the New Jersey Administrative Code 11:3-10.3 (a) language requiring inspections "at a place and time reasonably convenient to the insured." (Emphasis ours.)
If this convenient place for the customer is the customer's body shop, then the insurer must inspect it there, according to Bryant.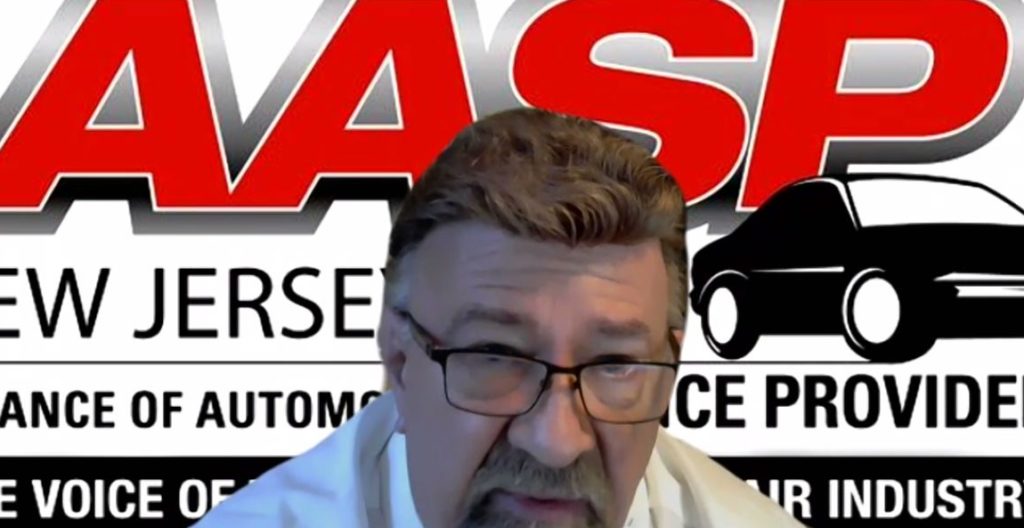 Bryant said he'd been told a lot of insurers were telling body shops to take photos of aspects of the vehicle, such as the VIN, the damage, or the four corners. Or perhaps carriers were asking shops to download an app and take a video.
He said he knew many shops were encountering such requests, and many were wondering why they should do so without payment.
"That's a good point," he said.
AASP-NJ has created a form shops who do wish to charge for the work can use. It explains that the shop would perform such services on behalf of the insurer, but it would bill for them, according to Bryant.
A shop could tell an insurer that if they signed the form and committed to the fee, "'we'll get started right away,'" Bryant said.
Otherwise, the insurer could either "waive the inspection" or follow the regulation and come out to inspect within seven working days, he said.
AASP-NJ President Jerry McNee (Ultimate Collision Repair) observed that auto body licensing laws in New Jersey permit reasonable compensation for services that are part of the claim.
An audience member commented on a chat: "In regards to sending photos to the insurance company, we have been charging 1 Hour of the labor rate to do so. I am seeing if the car is repaired, they won't pay but if the car is a total we collect that from the salvage company."
Bryant called the distinction "really silly. What's the basis for that?" Either way, the shop was taking the pictures, he said. "What's the difference?" he said.
Images:
Some states have rules requiring insurers who want to inspect a vehicle to do so in a specific time limit. (RapidEye/iStock)
Alliance of Automotive Service Providers of New Jersey Executive Director Charles Bryant speaks to a virtual town hall meeting on Aug. 19, 2020. (Screenshot from AASP-NJ video)
Share This: