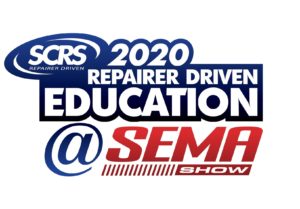 The Society of Collision Repair Specialists announced Friday it would host its popular Repairer Driven Education series online Nov. 2-6, the same week as the virtual "SEMA360."
SEMA had announced Thursday that it would offer an online substitute for the physical SEMA Show, which the organization had canceled Aug. 5 due to the COVID-19 pandemic.
SCRS, now in its eleventh year of collaborating with the Specialty Equipment Market Association on the SEMA Week Repairer Driven Education series, said Friday the auto body repair educational program would go virtual too.
"Education has always been a distinctive highlight of our ongoing partnership, and we are thrilled to see their innovative approach our colleagues at SEMA are taking to addressing the industry's need for connectivity," SCRS Chairman Brett Bailey (A&B) said in a statement. "SCRS has been hard at work with our speakers and subject matter experts in transitioning our program in a way that harnesses the same great value the industry has come to expect from the information in our sessions, but to do so in a way that capitalizes on an exciting opportunity to reach more in our industry from their shop floor, in a way that still feels more elevated than a typical online education program many have become accustomed to over the past several months."
A $375 full-series pass will offer access to the entire Repairer Driven Education event Nov. 2-6 — but with "greater accessibility to all employees within the repair facility," SCRS said. It contrasted that with a typical $375 pass for the in-person Repairer Driven Education, which would only admit a single person.
"Plus, participating businesses will have ongoing access to archived sessions after they have aired," SCRS wrote.
Check www.scrs.com/rde for updates, SCRS said.
For its part, the virtual SEMA360 will provide a means for manufacturers to showcase products and for manufacturers and resellers to conduct "quality business exchange," SEMA said Thursday. It will also still feature "vehicle reveals from world-class builders" and "(i)ndustry-leading education focused on professional development and new strategies."
"Creating a platform where the industry can gather and discover new products and trends has always been a SEMA priority," Specialty Equipment Market Association CEO Chris Kersting said in a statement. "SEMA360 is the ideal solution to bring the industry together, at a time when we've all been kept apart. The platform allows qualified buyers to interact with manufacturers, see innovative new products, check out top SEMA Show builds, and take in industry-leading educational offerings."
For more information about SEMA360, visit www.semashow.com and www.sema360.com.
More information:
"SCRS REPAIRER DRIVEN EDUCATION TO BE DELIVERED WITH THE SEMA360 eMARKETPLACE"
Society of Collision Repair Specialists, Aug. 28, 2020
SCRS Repairer Driven Education webpage
"SEMA Announces eMarketplace Solution to Take Place November 2-6, 2020"
SEMA eNews, Aug. 27, 2020
Featured image: The Society of Collision Repair Specialists announced Aug. 28, 2020, it would host its popular Repairer Driven Education series online Nov. 2-6, 2020, the same week as the virtual "SEMA360." (Provided by SCRS)
Share This: