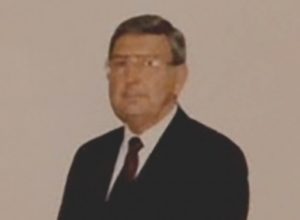 FinishMaster founder Jim White, who started the jobber with a single location and lived to see it grow into a national leader, died last week, the company said Friday. He was 101.
"Jim White was a great man who was a true visionary," FinishMaster Regional Vice President Paul Jones said. "… Jim lived a wonderful life and was always proud of the continued success of FM. The lessons that he taught are the foundation of our company, and me as an individual."
White died Aug. 26 after a long battle with Parkinson's disease and dementia.
"He met these challenges with the same determination he exhibited throughout his 101 years on this earth, including orphanhood, the Great Depression, and the European theater of World War II," an obituary posted on the Metcalf & Jonkhoff Funeral Services website states.
White had a vision of "company similar to existing auto parts stores, delivering leading automotive aftermarket products to collision repair shops," according to a FinishMaster history. The company's first transaction took place April 25, 1968. At this point, the company was known as "Auto Body Supply Company" and headquartered in Grand Rapids, Mich.
In a 2018 video, then-President and Chief Operating Officer Steve Arndt recalled pointing out to White, then 98, that two years would mark FinishMaster's 50th anniversary and White's 100th birthday.
"'You just gave me something to live for,'" White said, according to Arndt. White said he wanted to be 100 and celebrate the company's 50th, Arndt said. "Pretty special," Arndt said, his voice choked with emotion.
White in the video recalled only one other paint specialty store existing in the Grand Rapids area at the time of FinishMaster's founding. "They told me that I could not make it," he said of the competitor. But "we didn't back away from anything."
"Most of all, Jim will be remembered for his larger than life personality and 'never give up, never give in' philosophy, which was an inspiration to his children, grandchildren, and co-workers," FinishMaster wrote.
FinishMaster had a vision of being a large paint supplier, "and that's what we did," he said.
Jim White's son, former FinishMaster President and Chief Operating Officer Ron White, recalled in the video his father's passion for "outstanding customer service" which would bring in business.
"The phrase 'You're Always Right with Jim White' was coined in 1968 and the meaning behind that phrase lives on," FinishMaster wrote Friday. Throughout the years, we have remained dedicated to providing the ultimate customer experience, committing to Jim's dream, carrying out his legacy. It was not about one man being right, it was about a team living behind the commitment they made to each other, their customers, and their partners."
White told the video he was proud that the company gave the customer "what we told them we would do."
"… FinishMaster has been built on the honesty of how we treat the customers and also how we treated our employees'
White sold FinishMaster to Maxco in 1973 out of a desire to grow the company. He "remained an instrumental part of FinishMaster," according to a history posted by the jobber.
The company reached 15 locations in Michigan and Illinois by 1990, followed by expansions into Wisconsin, Indiana, Ohio and Texas — including the 1993 acquisition of Indianapolis, Ind., No. 1 distributor Master Glass & Color.
"FM purchased our little Branch in Pontiac, Michigan in 1986 and although I didn't know it at the time, that event would become the single best day of my career…In 1986 we were a huge company with 9 Branches! It sounds insignificant now but to Jim it was just a small step towards becoming the great company we are today," Jones said."
After growing to 46 locations, FinishMaster held an initial public offering in 1995. An Encyclopedia.com entry states Ernst and Young Magazine and Merrill Lynch named White Michigan Entrepreneur of the Year that same year.
The company, a Uni-Select subsidiary since 2011, has more than 210 locations nationwide today.
"Unfortunately, I never met Jim, but I had the pleasure to speak with his son, Ron," FinishMaster President and COO Joseph McCorry said. "I know one thing for sure, we all have the privilege to work at FinishMaster because of his passion for the organization he built."
White was born Oct. 28, 1918. Other key resume highlights involve graduating from Creston High School and serving in World War II from 1942 to 1945. He was a member of the 158th Field Artillery, served in the European Theater and achieved the rank of first sergeant. "He was a true representative of the greatest generation," his obituary states.
Hobbies included golf — including two holes-in-one, a President's Cup, and a member-guest tournament victory with Ron White at Cascade Hills Country Club.
White is survived by his son, Ron; six grandchildren; "numerous" great-grandchildren; and a great-great-grandchild. He was preceded in death by his wife of more than 73 years, Vivian; son, James; and grandson, Peter.
More information:
"In Memory of Jim White – His Legacy Lives On"
FinishMaster, Aug. 28, 2020
Metcalf & Jonkhoff Funeral Service, August 2020
"FinishMaster – Celebrating 50 Years"
FinishMaster YouTube channel, April 20, 2018
Featured image: FinishMaster founder Jim White is shown. (Provided by FinishMaster)
Share This: