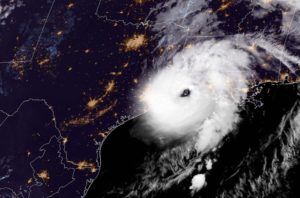 The Collision Industry Foundation on Friday encouraged the industry to donate some of its unneeded travel and trade show funds to support colleagues affected by Hurricane Laura.
CIF, a 501(c)(3) nonprofit, helps people with ties to the collision industry after disasters. Its past work has included buying tools for repairers after Hurricane Katrina and assisting a vo-tech school after Hurricane Harvey.
In June, it announced it had wrapped up a COVID-19 aid effort with more than $250,000 dispersed to those in the auto body ecosystem financially impacted by the pandemic.
On Friday, it asked the industry to redirect unused event spending towards helping even more repairers.
"Many industry events including SEMA have been cancelled in 2020, resulting in a significant reduction in money spent on tradeshow booths, receptions, airfare and hotels. We encourage everyone to consider reallocating some of those cost savings to CIF to help collision repair professionals who have been directly impacted by Hurricane Laura," CIF board member Dan Risley — whose company CCC kicked in $100,000 for the COVID-19 effort — said in a statement. "There is a real need today! And your tax-deductible donation will make a difference in someone else's life."
The collision industry's two largest trade shows — SEMA and NORTHEAST — switched to a virtual format, and other major events have either gone virtual or been cancelled outright as well (or a mix of both, in the case of the quarterly Collision Industry Conferences).
Donate to CIF here. Those in the collision ecosystem who need assistance after a disaster should can seek help on the CIF website here.
Republican Lousiana Gov. John Bel Edwards on Friday reported 10 people in his state had died from the powerful hurricane, which made landfall as a Category 4.
"Hurricane Laura is the fifth strongest storm to make landfall in the United States in recorded history and the first in memory to maintain major hurricane strength as it traveled through Louisiana, bringing catastrophic destruction to many parishes and, sadly, causing the deaths of at least ten people in our state," Edwards said in a statement.
Republican Texas Gov. Greg Abbott on Thursday said in a statement Thursday that "many communities in Southeast Texas have experienced significant damage from this storm."
"We all feel hopeless as we watch the storms come ashore and damage countless individuals' homes and communities. We are asking the industry to dig deep and make donations to CIF so we may assist our brothers and sisters at this time of critical need," CIF Chairman Michael Quinn (AirPro) said in a statement.
The Federal Emergency Management Agency on Friday said Hurricane Laura's impact "stretches from the coastal areas to further inland communities that are experiencing heavy rainfall and flash flooding."
More information:
Donate to the Collision Industry Foundation
Featured image: Hurricane Laura is seen at 2 a.m. ET on Aug. 27, 2020. (Geostationary Operational Environmental Satellite East)
Share This: