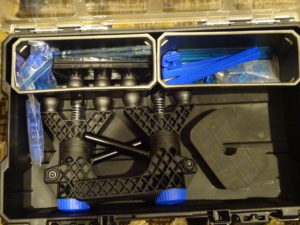 The Database Enhancement Gateway, which allows repairers and insurers to make inquiries and suggestions of the estimating providers at no cost, offers weekly tips for repairers on the Audatex, Mitchell and CCC programs online and through the Society of Collision Repair Specialists' email list.
If you haven't used the free service before to submit questions about estimating collision repair work or just browse responses to other carrier and shop questions, check it out. It's a good way to find information provider best practices and help write the most accurate estimates or appraisals possible.
Here's our latest monthly roundup of areas spotlighted as tip-worthy by the DEG. To receive the tips as soon as the DEG releases them, like/follow the DEG's Facebook and Twitter feeds. (It also posts videos to a YouTube channel sometimes.) Or just browse the nearly 17,000 inquiries and responses in the database and see what else you learn.
Bumper beam footnote fixed in CCC
CCC last month was slated to correct a footnote regarding the aluminum front bumper beam on the 2017 Honda Civic, the Database Enhancement Gateway said in a tip tweeted July 13.
A July 6 DEG inquiry led to the change. The user had wondered about CCC's footnote that the reinforcement couldn't be reused or reinstalled. "This does not seem to be supported on the Honda repair site," the user wrote. "Could this be referring to fasteners rather than the impact bar?"
"Replacement of the reinforcement is NOT needed if the part is not damaged," the DEG agreed. "Please reference up to date repair information from the OEM."
CCC will fix the error, the DEG wrote.
"After review, in the Front Bumper & Grille group(s), Bumper & Components subgroup(s), the footnote applied to the Impact Bar has been updated to state, 'LABOR: Time is after bumper cover is removed. Time not included R&R bumper cover or overhaul,'" CCC replied to the inquiry.
The DEG said users could expect the change on an Aug. 3 release.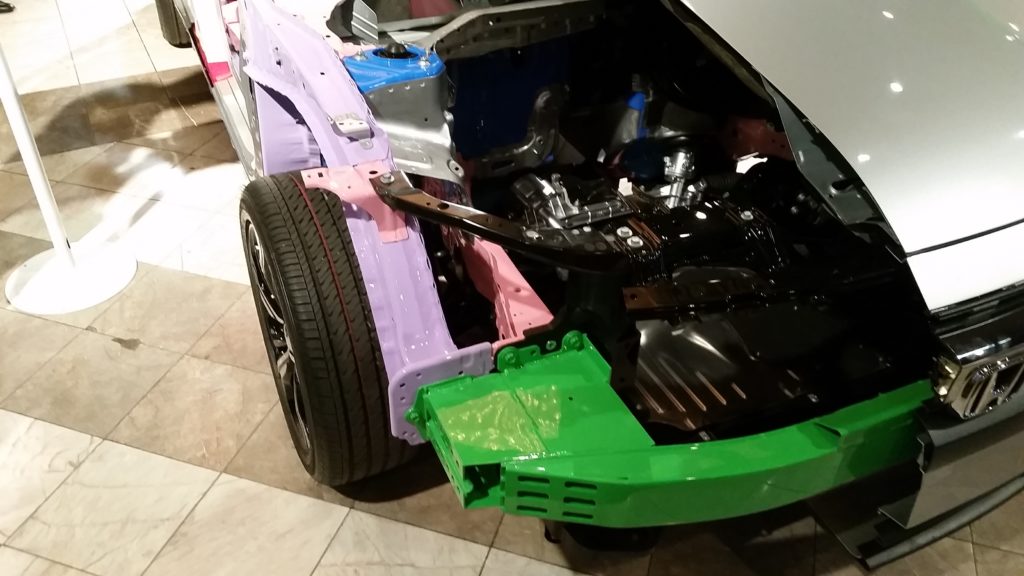 Manual additions on grilles in Audatex
A DEG user July 8 said Audatex didn't account for the need to assemble a replacement grille for a 2019 Ram 1500.
"The Grille is inc in the system," the user wrote. "A new grille from the OEM comes in an (assembly) there is no labor to assemble this (assembly)."
In a response highlighted by the DEG on July 27, Audatex said you'd have to add this labor manually.
"We have reviewed the current OEM service procedures for the GRILLE ASSEMBLY (GN 0028)," Audatex wrote. "Audatex labor times for a grill assembly reflect that it is being serviced as an assembly. It is not possible to determine if an assembly is delivered completely assembled or requiring some assembly. Therefore, parts that are not delivered as an assembly that will require additional labor to bring the part to the assembly condition will require a labor allowance at the discretion of the end user. No change is warranted at this time."
PDR not in CCC
An Aug. 3 DEG tweet drew attention to the absence of paintless dent repair in CCC.
"There is nothing in CCC about PDR," a DEG user asked in a July 17 inquiry on a 2013 Chevrolet Cruze sedan. "Can a shop charge for glue removal on a glue pull dent for PDR?"
"Paintless Dent Repair, PDR, is not an operation included in the MOTOR collision-estimating database and therefore PDR included and not included operations are not part of the MOTOR Guide to Estimating pages," CCC wrote. "A glue pull dent may require an on the spot evaluation."
The DEG said PDR estimating considerations might include:
• Heating the panel for adhesion and to release glue
• Pulling with conventional frame racks or pull towers (Larger Repairs)
• Release solution and cleaning cloths
• Material cost (Glue, Tabs, cleaning agents etc)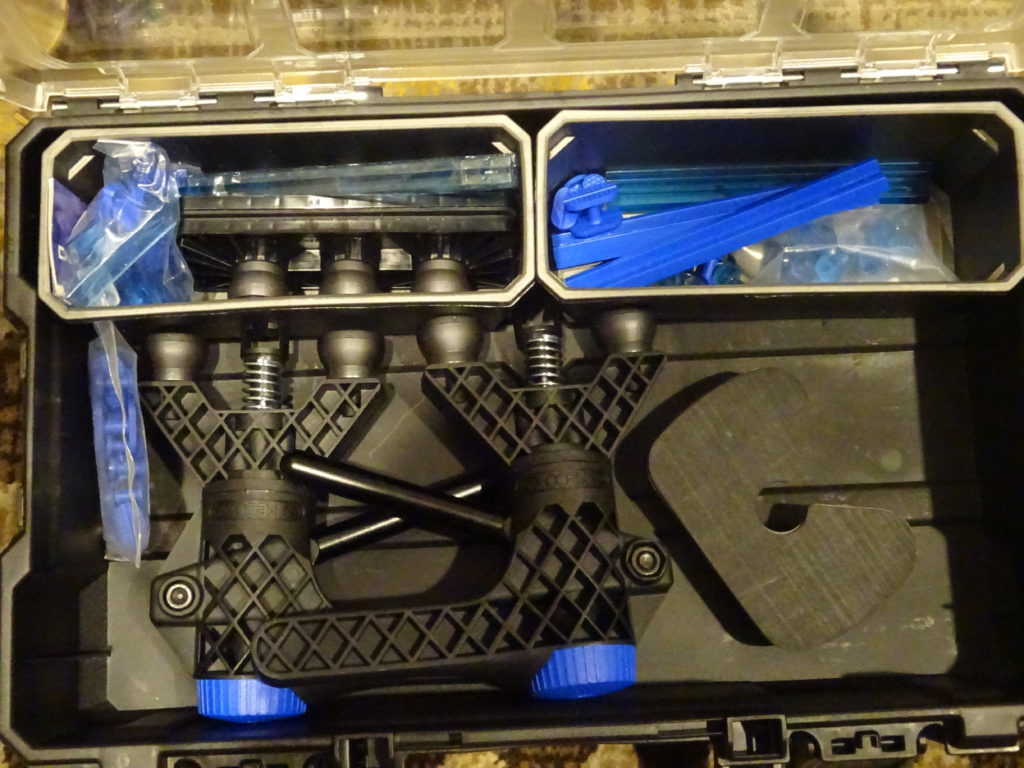 Estimating system logic switches labor to included
The DEG in an Aug. 10 video alerted repairers and insurers to how modifying one operation might further alter an estimate without the user realizing. DEG Administrator Danny Gredinberg, who narrated the video, said the same issue applied in Mitchell and Audatex as well.
Gredinberg said many people might be unaware of this factor.
Gredinberg said a body shop contacted the DEG after noticing that "there might be some issues" with a chain reaction triggered by a single line on an insurer's estimate.
Removing and installing headlights and side supports are sometimes included in a radiator support replacement, according to the DEG. The estimate carried a note to inspect a radiator support after teardown, with the part given a $0 price and 0.0 hours of labor.
The inspection determined "it was fine"; no damage had occurred to the radiator support, Gredinberg said. But when the adjuster received the supplement, the insurer failed to remove the zeroed-out line related to the radiator support. This left the headlight and side support times listed as included — instead of bearing the headlight R&Is and side support replacement labor warranted.
"We replicated the concern here," Gredinberg said, demonstrating it in the video. Sure enough, zeroing out radiator support replacement times found the system unable to distinguish the other operations. "It still includes it," he said. The system doesn't catch that it's an inspection item or similar operation.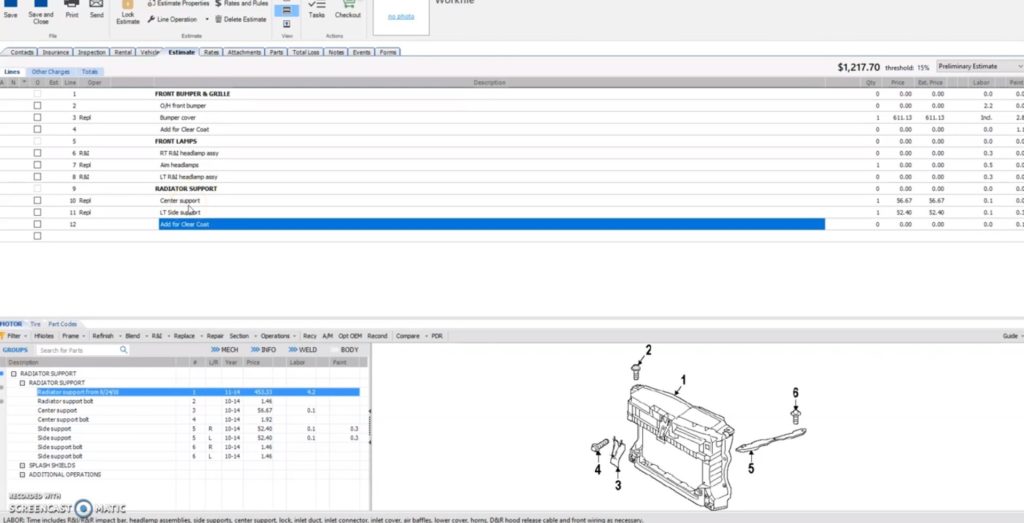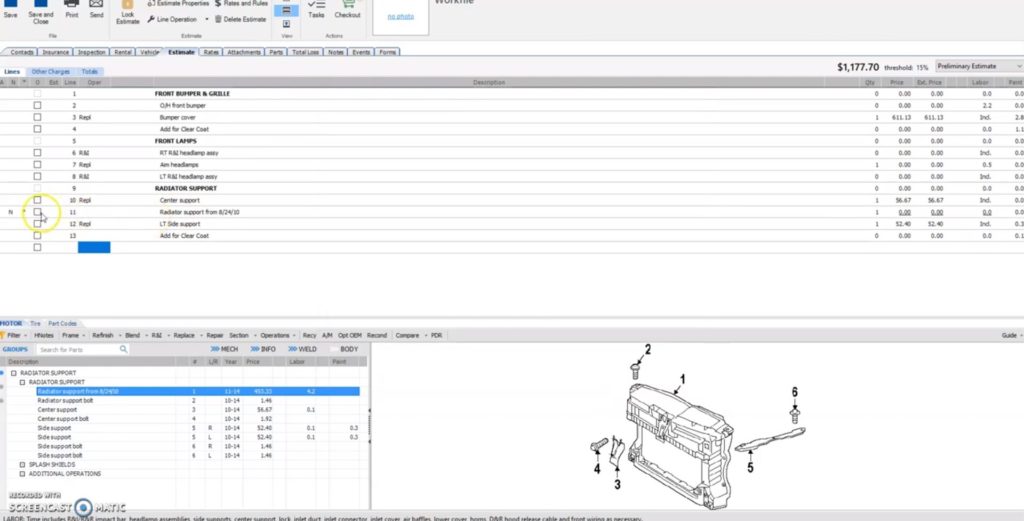 In the test version prepared by the DEG, the zeroed-out radiator support line costs the estimator  0.3 hours for R&Iing the right headlight assembly, 0.3 hours for R&Iing the left headlamp assembly, 0.1 hours for replacing the center support and 0.1 hours for replacing the left side support. All are converted automatically to "Incl." for a loss of 48 minutes of work.
The radiator support line must be deleted to fix the issue and restore the labor, Gredinberg said.
He said the same issue would arise in Mitchell and Audatex.
Gredinberg said he hoped this tip helped viewers understand how related parts might be affected by modifications to a labor line.
Foglamps in CCC
A July 31 inquiry led to CCC planning to add an absent fog lamp operation starting Tuesday.
A user described the problem they encountered with a 2019 Honda CR-V.
"When replacing bumper cover, system automatically allows 'add for foglights' for .3 + 2.0 overhaul," the user wrote. "When repairs are needed, we select O/H Bumper for 2.0 hrs but no 'add for fog light' comes up. (Additional) operations does not list 'add for fog lights' unless you replace the bumper only."
Gredinberg demonstrated the issue on an Aug. 24 video. If you're replacing a bumper cover on a 2019 CR-V EXL with standard foglights, 0.3 hours for foglamps "automatically appears" in CCC on top of the 2.0 overhaul operation.
If you write to overhaul the bumper cover without replacing it, such as for a repair or inspection, CCC again gives 2.0 hours. However, there's "nothing for the foglamps," Gredinberg said.
Even if the user adds to R&I the foglamps, those operations show up as included, Gredinberg said.
CCC determined "there's a coding issue, Gredinberg said.
"We made a change to show the 'add for fog lamp' operation in Additional Operations," CCC wrote in response to the inquiry. "This DI update for chapter ARG4464 specifically will be available beginning 09/01/2020. Other impacted chapters are expected to be available by 10/01/2020 or sooner."
Get forewarned about OEM restrictions in Mitchell
The DEG in a tip tweeted Monday and video posted Sunday showed users how Mitchell might provide a heads-up on position statements and other OEM mandates. However, it warned that the repairer would still have to confirm all of this with the official OEM repair procedure sites.
"Mitchell has made it easier to access helpful OEM information within the estimating system," the DEG wrote in the tip. "This is not a substitute of researching OEM information directly, but rather use as a great starting point to perform safe and proper repairs, all starting at the VIN decode process."
He showed off the "pretty cool feature" in the Sunday video.
The main screen in UltraMate carries new categories reflecting the additional information available to the estimating systems, according to Gredinberg.
Decode a VIN, and you might see new information appear in the Special Cautions section, he said.
He showed how selecting "Seat Belts" within "Special Cautions" for a Ford F-150 Lariat (it appeared to be a 2019 model) displays Ford guidance on seat belts.
"Ford recommends that all seat belt assemblies in use during a collision be replaced unless the collision was minor & a qualified technician finds that the belts show no damage & continue to operate properly," Mitchell states in an UltraMate center column. "Seat belt assemblies not in use should also be inspected & replaced if damage or improper operation is noted."
"This is a really good tip right here," Gredinberg said. The repair planner can then check Ford's actual OEM repair procedures to confirm these operations are needed.
"This helps the repair planner do some forward thinking" to determine what might be needed for a correct repair, he said.
Gredinberg said he also often gets asked where in Mitchell to find fasteners used for operations related to parts like bedsides or outer structural skins. He showed how a "Fasteners" selection in Mitchell brought up information about components like rivets and adhesives. While the shop would still need to check the parts in the OEM repair procedures, Mitchell's capability might "alleviate having to perform those manual entries or the common '900-500' operation of doing a manual line."
Gredinberg also said "Mitchell made it pretty easy" for the painters unable to find a vehicle paint code. If the OEM has verified the information, the Mitchell user can use the "Paint Code Location" selection to reveal the hiding spot. For example, the F-150 Lariat carried the paint code on the "left front door frame," according to Mitchell.
Finally, Mitchell also included some OEM position statements within an "OEM Position Statements" tab in the right hand side of UltraMate, Gredinberg said.
Have a question?
Have a question about AudaExplore, Mitchell or CCC? Submit inquiries to the DEG here. Inquiries, like answers, are free.
More information:
"Modifying labor operations effects"
Database Enhancement Gateway YouTube channel, Aug. 10, 2020
"CCC add for fog lamps function."
Database Enhancement Gateway YouTube channel, Aug. 24, 2020
"How to access Special Cautions/ OEM Position statements within Mitchell Ultramate"
Database Enhancement Gateway YouTube channel, Aug. 30, 2020
Images:
The KECO Robo Crease Killer kit is shown. (John Huetter/Repairer Driven News)
The aluminum bumper beam of a 2016 Honda Civic is shown in green. The 2017 version is of the same design generation and also has an aluminum bumper. (John Huetter/Repairer Driven News)
Adding a zeroed-out radiator support operation in CCC can cause work on headlights and side supports to switch to included. (CCC screenshot provided by Database Enhancement Gateway)
Share This: