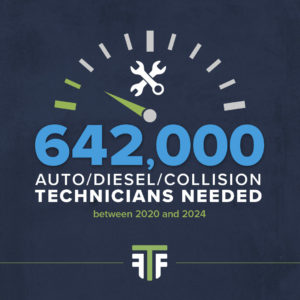 The TechForce Foundation said Monday an analysis of new Bureau of Labor Statistics data found the combined automotive, collision and diesel technician shortage "increasing in severity."
"Although demand is strong, with 642,000 auto/diesel/collision techs needed between 2020 and 2024, the shortage continues to worsen. The good news is these careers have been deemed essential by the government, and the transportation industry is organizing to do something about the shortage," TechForce CEO Jennifer Maher said in a statement. "TechForce's campaigns are leveraging the industry's collective voice to inspire the next generation of technicians and address the root causes of the shortage."
Integrated Postsecondary Education Data System statistics presented by TechForce found postsecondary graduations/completions down in automotive and collision programs for 2018. Even diesel completions fell from 12,807 to 12,112.
"Diesel completions reversed the upward trend that has been in place since 2012," TechForce wrote in the study.
A couple of points are worth noting: The data focuses on new technician supply, which means that shops skilled at retaining or recruiting existing staffers might still thrive in this shortage. And TechForce's use of 2018 BLS and graduation data obviously doesn't take into account the COVID-19 job market of 2020.
"On a positive note, we are seeing indications of increased interest in technical program enrollments," TechForce wrote in the report. "This aligns with historical trends. When unemployment is high, we see more enrollments in transportation technical training and other skilled-trades programs. Critical factors in future training capacity relate to how successful educational institutions are in implementing eLearning, as well as meeting the CDC guidelines for social distancing in classrooms and workshops. With our next report at year end, we expect to be able to provide further insight into industry trends related to COVID 19."
"Despite record rates of unemployment, there continues to be strong demand for our graduates," Universal Technical Institute CEO Jerome Grant said in a statement. "Employers need skilled technicians to fill essential jobs and, as many in our nation look for new paths to prosperity, we're seeing growing interest in our programs and in technical careers."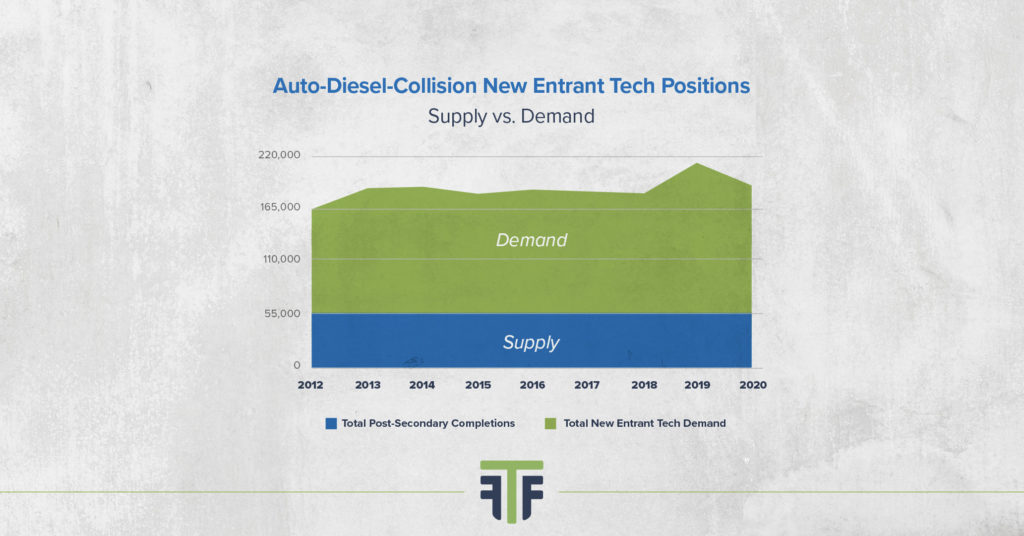 Collision completions dropped from 5,564 in 2017 to 5,426 in 2018. As with an earlier TechForce study examining 2016 completions, public two-year collision programs proved the most popular by far, with 3,553 students graduating from one in 2017-18.
Private two-year for-profit programs produced the next largest contingent of collision graduates at 956. The educational segment also ranked No. 2 in TechForce's earlier study of 2016 graduates.
TechForce also reported the 10 specific institutions producing the most collision graduates. Fayetteville Technical Community College, which only opened in 2015 and didn't appear in the 2016 TechForce graduation Top 10, has risen to the top of the list.
At 116 collision completions in 2018, FTCC narrowly edged out Ohio Technical College, which placed second with 115 after ranking eighth in 2016. (However, the Top 10 excluded two Puerto Rico tech schools that would have made the cut by producing 176 graduates combined, the report said.)
Ironically, 2016's most successful program — Wyotech-Blairsville and Wyotech-Laramie, which produced 360 collision students combined — were in 2017 announced targeted for closure. WyoTech still made the 2018 Top 10 with 66 graduates, and the Laramie, Wyo., campus was ultimately preserved.
TechForce reported that BLS data anticipated an increase in collision technician demand.
"The 2018 to 2028 BLS projections for new entrant collision technicians paint a slightly different picture than for automotive," TechForce wrote in the report. "While automotive demand shows a slight reduction, the collision side of the industry is expected to see a 4.1% increase. In 2018, there were 156,800 collision technicians employed in the US. By 2028, that number is expected to be 163,200."
However, the BLS tied most collision demand to repairers needing to replace technicians who were retiring or leaving that shop. Hiring to staff growing businesses represented a far lower percentage of the projected demand.
"The BLS Replacement Rate for collision technicians went up from 9.4% in their 2016 report to 9.6% in the most recent (2018) report, demonstrating that retirements and turnover are on the increase," TechForce wrote.
At the end of the day, a graduate trained in any of the three vehicle repair segments likely has enough general automotive skill and interest to be of use to employers in all three fields. For example, a body shop might be able to put a graduate with a skillset and toolbox geared towards tearing down diesel vehicles to work on collision teardowns. Whatever retraining and new tool purchases are necessary would probably be a less burdensome experience for employer and employee than preparing a random candidate with no formal repair schooling. A similar philosophy has led the Collision Repair Education Foundation to expand its job fairs to "transportation" so employers have a wider pool of prospects.
Thus, it behooves repairers to keep tabs on demand from the sister automotive industries, because they might be pursuing the same techs you are.
As mentioned above, mechanical repairers' demand for new staffers appeared to be leveling out, which might eliminate some competition for employees.
"In 2018, there were 770,100 auto technicians employed in the US, and by 2028, that number is expected to drop to 763,600," TechForce wrote. "This is a 0.8% reduction, so it is not particularly significant, but it does indicate that demand is leveling off. The catch-up demand that the industry has been experiencing since the Great Recession of 2008 has been filled, and demand is now back on a more even keel."
However, diesel tech demand is expected to keep growing at around 2 percent most of the years between 2019 and 2024 after averaging 2.23 percent growth between 2010-18.
Much of this demand is to replace existing jobs, TechForce said. "One key difference, however, is that the diesel sector is the only one of the three that has a demand for new positions attributed to growth over the entire period through 2024," it said.
More information:
"TechForce releases 2020 Technician Supply & Demand Report"
TechForce, Aug. 31, 2020
"Transportation Technician Supply and & Demand" 2020 report
TechForce, Aug. 31, 2020
The TechForce Foundation said Aug. 31, 2020, an analysis of new Bureau of Labor Statistics data found the combined automotive, collision and diesel technician shortage "increasing in severity." Integrated Postsecondary Education Data System data suggests postsecondary institutions aren't producing enough techs to keep up. (Provided by TechForce)
Share This: