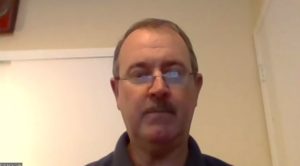 Drew Technologies technical systems manager Bob Pattengale this summer promoted adherence to OEM calibration repair procedures and minimizing variables like thrust angle and uneven wear that could throw off results.
A key question involves whether the repairer even has the equipment to conduct the calibration, according to Pattengale.
"If you don't, there's nothing wrong with that," he told the July 23 virtual Collision Industry Conference. The repairer would simply have to sublet the work, he said.
Even a shop who wished to take the work in-house might be stymied if they don't plan ahead. Develop a calibration plan, including reviewing if you have a proper scan tool and need targets, according to Pattengale. He said Drew warned technicians and shops that automakers don't keep many targeting systems in stock. If multiple shops attempt to buy a set at once, it might take a few weeks to serve some of them, he said.
"Planning ahead would be important," he said.
Lack of a level floor also could prevent in-house calibration, according to Pattengale. If an OEM requires a truly flat surface "that's what you need to have," Pattengale said.
He gave an example of Honda calibration procedures calling for a floor with no more than a 1 degree slope, calling this "pretty typical" among OEMs. Sometimes, variations might occur, he said, such as an automaker allowing calibration on a floor with a 3-degree downward angle but not a 3-degree upward slope.
"If you're gonna do this job, have a level floor," Pattengale said. "If you don't have a level floor, then find somebody else that's gonna do the calibration for you."
The floor might also need to be spacious as well as level. Pattengale showed a Honda calibration diagram calling for a space of 21.3 feet by 11.5 feet to calibrate LaneWatch. Another set of diagrams indicated a Honda vehicle that needed a clear space 33 feet long, 16 feet wide and 10 feet high in front of it to calibrate radar and cameras. Pattengale said the 33-foot (10-meter) space in front was the longest Drew had seen in OEM procedures; if your shop had that room, you should be "golden" for basically every automaker, he said.
But if your facility lacked that space, "pretty much, you're done." You must sublet the work.
"It would not be right" to calibrate without the correct space, Pattengale said, though "we know some do it."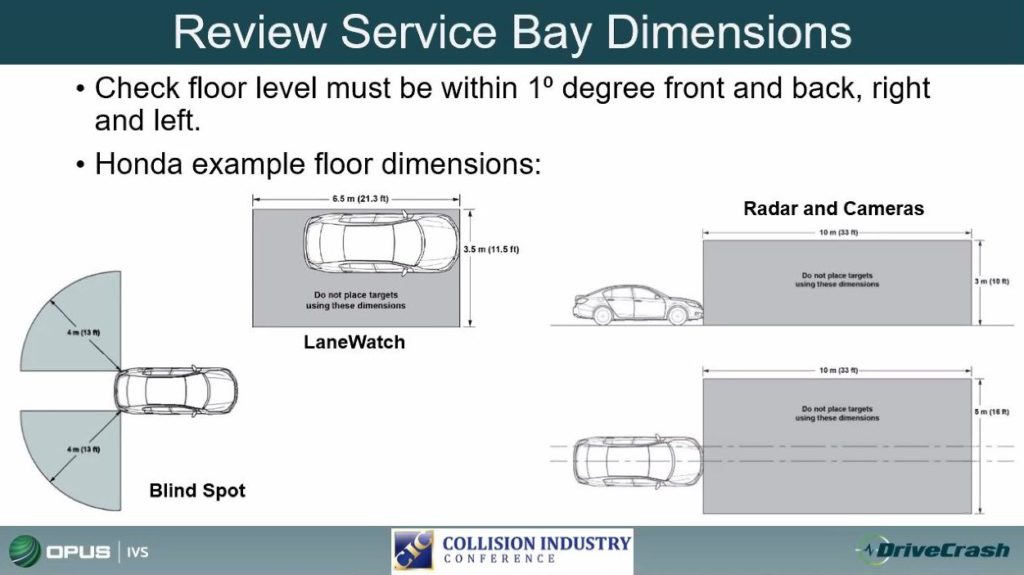 Pattengale also called for using official OEM service information. He argued that while learning the different automaker repair procedure interfaces was challenging, it was the "right thing to do." Not all information made it over to third-party repair manual aggregators, and repairers should particularly consider the OEM service websites for guidance on ADAS safety technology, he said.
As for scan tools, he observed that while Drew sold some with aftermarket features, it only calibrated vehicles in the field with OEM scan devices. This ensured the company executed the operation with as close to "100 percent accuracy" as possible, he said. Pattengale also reminded repairers about J-2534 devices, which allow repairers to rent OEM software and run it on a standardized laptop, calling it "shocking to me" how many repairers are unaware of this option.
Pattengale also described preparing vehicles in a standard configuration. He said he believed alignments should always be performed to ensure that properties like thrust angle are optimized. Not every automaker requires an alignment, but Opus obtains one anyway before calibrating ADAS, according to Pattengale. This confirms the vehicle will travel "straight down the road. That's the key piece of it there," Pattengale said.
Another question surrounded having a full tank of gas. Would an automaker be OK with a calibrator who instead placed equivalent weight in strategic areas instead of filling the tank with actual gasoline, he wondered, recalling one OEM whose vehicles seemed to come off a carrier with out a full tank. The automaker must have compensated somehow, he said.
He showed how Drew replicated the missing gas with sandbags — placing the weight in the gas tank's appropriate location instead of just sticking it all in the trunk. "We try to be as accurate as we possibly can," he said. You should always keep within the "spirit," Pattengale said.
Pattengale said the best advice he could give was to follow the OEM procedures. "If you follow the OE procedure to the letter, than you're as good as you can possibly do it," he said.
Tire condition represented another item of interest lacking complete clarity from automakers, according to Pattengale. He said tires should be matching for a calibration — raising the question of what a shop should do if only one or two tires were damaged and replaced — they won't all be worn evenly.
A "dififcult conversatino" could arise if a shop is uncomfortable calibrating a vehicle using its existing tires, Pattengale said. He said Drew will look to ensure all four tires carry equal wear. (It also documented pressure readings, he mentioned at one point.)
While Drew hadn't yet encountered this issue, he predicted that some automakers would offer parking brake-related instructions for the calibration process. Drew noticed during a recent calibration that a vehicle with the E-brake engaged didn't sag as much when Drew added weight, Pattengale said. Without the parking brake, the vehicle "did settle more," he said.
Asked if the repairer would have to restart the calibration process if a step was missed, Pattengale said "I would agree with that." The system tends to gather information throughout the process, he said.
Mentioning that Drew had experienced scan tools locking up during calibration, Pattengale said, "I would start from the beginning. Absolutely."
Pattengale also encouraged test driving to verify proper calibration function. "Someone should road-test the vehicle," he said.
Drew "regularly" encountered situations in the field where a vehicle's check-in and check-out mileage differed by less than 3 miles, Pattengale said. There's "absolutely no way" it was properly tested, he said.
More information:
NASTF links to official OEM repair procedure websites
Collision Industry Conference, July 23, 2020
Images:
Drew Technologies technical systems manager Bob Pattengale appears at the virtual July 23, 2020, Collision Industry Conference. (Screenshot from virtual CIC)
Drew Technologies technical systems manager Bob Pattengale showed some Honda calibration space requirements during the virtual July 23, 2020, Collision Industry Conference. (Honda images; screenshot from virtual CIC)
Share This: