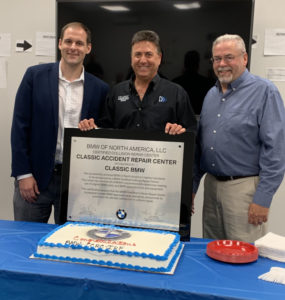 BMW and a newly certified collision center recently offered independent auto body shops a look at the experience of joining the OEM's repair network.
BMW had historically allowed sponsored independent collision repairers to participate in its official auto body repair training, but the OEM limited its certified collision network to shops at least 51 percent owned by a dealership. In 2018, it said it would drop the majority-ownership rule and instead permit each dealership to sponsor up to two collision centers. (It noted, however, that half of its dealers already ran a BMW Certified Collision Center.)
"BMW is definitely a leader in connected cars and the cars of the future," said DCR Systems CEO Michael Giarrizzo, whose company recently announced obtaining BMW certification of its Classic Accident Repair Center.
"Being part of the certified repair program is critical for collision repair facilities that are affiliated with BMW dealerships and repair these vehicles."
BMW as of July 1 had 348 dealerships in the U.S. BMW product and technology communications manager Alexander Schmuck in an email Aug. 31 said they could only sponsor facilities within their markets.
"The BMW Centers alone decide who they wish to sponsor for the BMW CCRC program," he wrote.
DCR Systems has built a collision repair business around what Giarrizzo called "exclusive strategic partnerships with dealerships." However, despite its close ties to Classic Auto Group — the body shop is co-branded with the chain — Classic Accident Repair Center was ineligible to join the certification network until BMW dropped the ownership rule.
Classic Auto Group's Classic BMW dealership sponsored the Mentor, Ohio-based auto body shop.
"BMW is very precise and wants to ensure trained technicians are repairing their vehicles properly according to the manufacturer's specifications the right way the first time," Classic BMW MINI Cooper parts manager Paul Pennington said in a statement July 8. "Classic Accident Repair Center worked hard to meet all of BMW's requirements to become certified."
Schmuck said Thursday the BMW certification program costs $12,000.
"The 2020 requirements are broken down into the following categories: Training Assessment, Tools & Equipment Standards, Administrative Practices, Estimating Practices, Production Practices, LEAN Process and CSI & Reporting," he wrote Aug. 31. "The requirements are reviewed on an annual basis."
Regional wholesale body and paint managers audit the auto body shops, Schmuck wrote.
"Becoming a BMW Certified Collision Repair Center was not an easy certification to obtain," Giarrizzo said in a statement. "However, it is a priority for us to be trained and certified in all brands we represent."
DCR Systems wrote in a July news release that it focused on training, tools and equipment as well as using OEM parts. BMW requires all certified shops to use OEM parts, according to Schmuck.
The MSO described a training process that involved online foundational classes before in-person instruction at BMW South Carolina and New Jersey facilities. DCR Systems said the shop completed much of its training before the COVID-19 coronavirus pandemic and took other courses online after stay-home orders were issued.
"Everyone on the team went through some type of training," DCR Systems national training and support manager Mandy Wynn said in a statement. "The amount of support BMW provided us throughout the process was overwhelming."
DCR Systems said technicians also examined BMW's DealerSpeed procurement platform.
"Although we regularly use many manufacturer's portals, it can be daunting the first time with a lot of detailed information about the vehicles, especially those with so many electronics," Wynn said in a statement. "Our goal was to become familiar with the portal to help us during repair planning as well as the repair process."
Asked about a more specific list of training and equipment requirements, Schmuck said one wasn't available right now. Shops interested in sponsorship should contact their local BMW dealership, he said.
More information:
BMW Certified Collision Repair Centers webpage
Featured image: From left, Classic BMW general manager Mike Southworth, DCR Systems CEO Michael Giarrizzo, and Classic BMW parts manager Paul Pennington pose to commemorate DCR Systems' Classic Accident Repair Center becoming BMW-certified. (Provided by DCR Systems)
Share This: