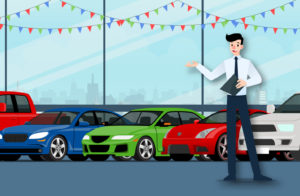 Reduced OEM output of new vehicles and other factors related to COVID-19 might have prompted the current skyrocketing used vehicle costs. However, a CCC analyst earlier this month said the gains might not lead to a flood of vehicles falling below the total loss threshold.
The Bureau of Labor Statistics on Friday reported that the consumer price index for everything rose 0.4 percent in August after a July that posted a 0.6 percent increase over June. The BLS said "a sharp rise in the used cars and trucks index was the largest factor."
Throw out the impact of food and energy, and the BLS said the same proportional increases occurred — 0.4 percent in August after 0.6 percent in July. "The sharp rise in the index for used cars and trucks accounted for over 40 percent of the increase," the agency wrote in a news release Friday.
Used cars and trucks were up 5.4 percent over July 2020 — the "largest monthly increase since March 1969," according to the BLS. Looking year over year, used car and truck prices are up 4 percent over the year ending Aug. 31, 2019.
On Aug. 5, Edmunds reported the average used vehicle rose $21,558 in July, up $708 from June. It reported Aug. 18 that the average trade-in value rose to $14,066, up 16.4 percent from June's $12,083.
"We're seeing evidence of more typical new-car shoppers gravitating toward the used car market than usual during the pandemic due to a combination of factors: Consumers are being more financially responsible, interest rates and CPO offers have been extremely favorable, and inventory has been severely limited on the new side," Edmunds senior insights manger Ivan Drury said in a statement. "Shoppers might be a bit surprised to find that prices are ratcheting up on used vehicles because of significantly increased demand."
On Sept. 3, the car research outfit said the average 2017 model year vehicle rose to $24,287 in August — up $721 from July and nearly $1,500 more than June.
And Cox Automotive reported Tuesday that the Manheim Index found wholesale August used prices grew 3.64 percent over July. "This brought the Manheim Used Vehicle Value Index to 163.7, a 15.8% increase from a year ago and another record high for the Index," it wrote.
Finally, Kelley Blue Book reported Sept. 1 new vehicle prices had risen $72, or 0.2 percent, from July to reach $38,635 in August. However, this was up $1,442, or 3.9 percent, from August 2019.
"New-car transaction prices flattened from last month. It is interesting to note, this is consistent with seasonal trends from 2017 to 2019, despite volatility earlier this year," KBB analyst Sara Richards said in a statement. "Supply and inventory are still expected to be a challenge in high demand segments going into the fall, due to factory shutdowns this past spring. Additionally, a potential second wave of shutdowns during the fall and winter seasons remains a concern."
Total loss levels have been notably up year-over-year, with CCC attributing the gain to sparser roads prompting more speeding and consequently worse wrecks.
Total losses in June 2020 were up to about 21 percent of CCC estimates, compared to 19 percent a year prior, the information provider reported. That's higher than the peaks in the winters of 2016, 2017, 2018 and 2019.
Nondriveable vehicles made up nearly 20 percent of appraisals in June, compared to a little more than 18 percent in June 2019, according to CCC's data.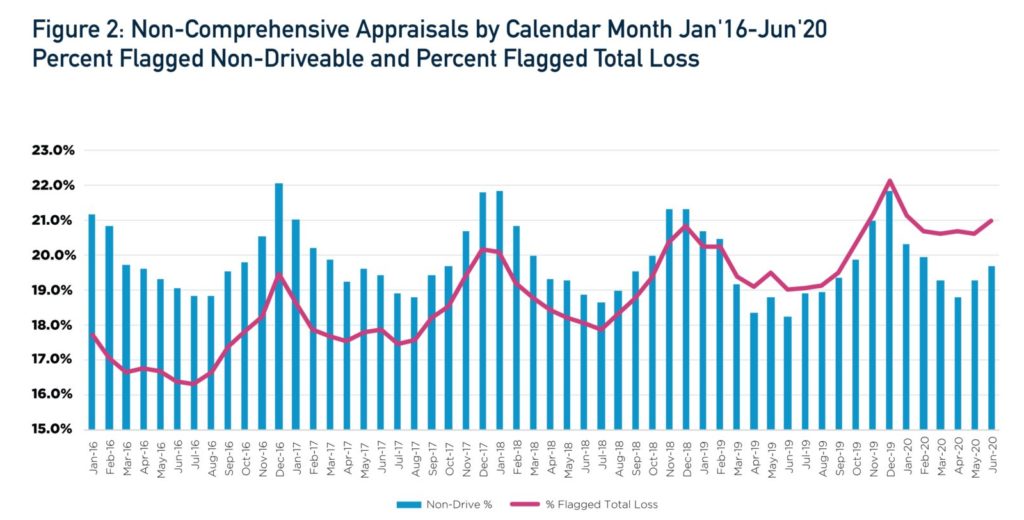 We asked CCC director and industry analyst Susanna Gotsch on Aug. 28 for her thoughts on rising used vehicle prices reducing total loss percentages. Using the example of Edmunds' reported $708 July used-car price increase, we proposed shops and insurers could now squeeze in enough operations to finish a repair before triggering the total loss threshold.
Gotsch said it wasn't that clear-cut.
"You are correct, there have been numerous reports of increases in used vehicle values – especially on the wholesale side (tracked by companies like Manheim and ADESA)," she wrote Sept. 1. "Much of the increase is driven by the mix of vehicles – more current to 3 yrs. of age as rental companies de-fleet. Dealers are anxious to get these vehicles on their lots as there are some shortages of new inventory but also big demand now for nearly new used vehicles."
However, she pointed out total losses from a collision repairer's perspective were older vehicles than a used three-year-old rental. Used cars still might not be appreciating quickly enough to keep up with repair costs, she wrote.
"The average age of a total loss was 9.6 years as of the four quarters ending Q2'20," Gotsch wrote. "Companies like JD Power and NADA that track vehicles 8 years and younger on the retail side are tracking prices up 2-3%. While any increase in vehicle values pushes up the total loss threshold it may not be significant enough to avoid hitting that threshold, particularly since repair costs are also up between 4 and 5 percent."
CCC "Crash Course" data found 19.2 percent of vehicles ultimately deemed totals in 2019. Back in 2013, only 14 percent were tagged for the salvage yard, according to CCC. The average totaled vehicle in 2019 came in at $9,861– up more than $300 from the prior year.
More information:
"Consumer Price Index Summary"
Bureau of Labor Statistics, Sept. 11, 2020
"Used Vehicle Prices Are on the Rise During the Coronavirus Pandemic, According to Edmunds"
Edmunds, Aug. 5, 2020
"Time to Sell: Vehicle Trade-In Values Are Spiking During COVID-19, According to Edmunds"
Edmunds, Aug. 18, 2020
"Average New-Vehicle Prices Jump Nearly 4% Year-Over-Year in August 2020, According to Kelley Blue Book"
Kelley Blue Book, Sept. 1, 2020
Images:
The Bureau of Labor Statistics reported the August 2020 used car and truck price index rose 5.4 percent over July 2020. (Ta4860/iStock)
CCC data suggests roads with traffic reduced by the COVID-19 response are enabling faster speeds and then higher severity. (Provided by CCC)
Share This: