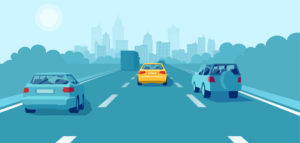 Significant weather events helped keep work coming in to body shops during an August that opened with less traffic on the road, according to CCC.
Overall, repairable auto appraisals last month fell 14.9 percent below their August 2019 levels, based on CCC data.
However, things could have been worse if the weather were milder.
Non-comprehensive repairable estimates were down 20.5 percent over 2019, CCC said. That's an improvement over the 24.7 percent year-over-year decline CCC found for July, but still nowhere near where the industry would probably be without the COVID-19 pandemic.
"Areas hit hardest by the wave of COVID-19 infections in California and Texas have slowed claim count recovery in late July and early August, with areas such as San Francisco, Los Angeles, Dallas, Houston, El Paso still seeing non-comprehensive appraisals down between -27 and -30 percent, while volume in other areas such as NYC, Chicago, Atlanta, Denver and others is down between -15 and -20 percent," CCC director and industry analyst Susanna Gotsch wrote Thursday.
Office of Highway Policy Information data found interstate passenger vehicles miles down 14 percent year-over-year for the first full week of August (Aug. 3-9). Miles driven were also down 14 percent for the week after (Aug. 10-16), the agency said.
But August also saw hail, a derecho and Hurricane Isaias-associated weather damage cars and generate work for shops, according to Gotsch.
"For example, comprehensive losses in Iowa accounted for 70 percent of all total loss valuations and 66 percent of all repairable appraisals," Gotsch wrote.
Repairable claims for the first eight months of the year are down 21.8 percent, but further severe weather and additional claims from California wildfires and Hurricane Laura could turn things around, according to Gotsch. (On a related note, if you're connected to the collision repair industry and have been affected by such disasters, contact the Collision Industry Foundation. The nonprofit's mission is to help in such circumstances.)
"Increases in comprehensive losses overall will help offset the decline in non-comprehensive losses and if September weather is as volatile, could result in claim counts for the year down only about 5 percent," Gotsch wrote.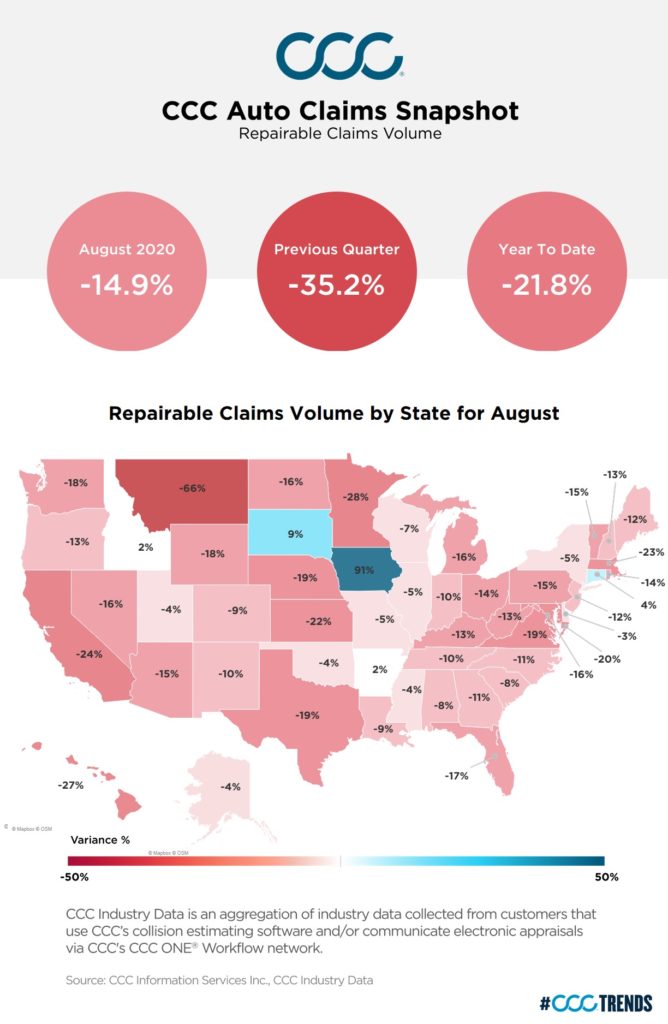 Traffic could remain deflated, and collision and property damage liability claims could close out 2020 down 10-15 percent for the entire year, Gotsch said.
"With the number of COVID-19 cases rising again as many return to school, and the approach of normal flu season, many companies plan to keep at least part of their staff remote through the remainder of the year," Gotsch wrote.
CCC's 2020 "Crash Course" analyzed data from the Insurance Information Institute, American Property Casualty Insurance Association and Casualty Actuarial Society and found that drivers per lane mile, average urban commute time, average rural commute time and "Tort System" stand out as the Top 4 variables predicting collision frequency, with the first two well ahead of Nos. 3-4.
CCC's frequency data seems on par with statistics reported last month by Gerber collision owner Boyd Group Services. The conglomerate — most of whose business comes from Gerber — announced same-store sales fell 33 percent in the second quarter. CCC found repairable claims were down 35.2 percent during those three months. Third-quarter same-store sales had improved to only 14-16 percent below 2019, Boyd said Aug. 12.
COVID-19 speed-severity tie remains
Gotsch wrote in a separate analysis Tuesday that insurer second-quarter results found collision and property damage liability claims down 20-40 percent and severity up 10-20 percent.
Severity can be attributed to coronavirus-thinned traffic enabling motorists to drive faster, Gotsch suggested.
"Even in July, many major metro areas saw travel speeds during morning and evening rush hours still more than 20 percent faster than the pre-COVID baseline," she wrote, citing an Aug. 4 INRIX analysis.
"… With traffic flowing faster and vehicle speeds higher, those vehicle crashes that did occur resulted in more non-driveable and total loss vehicles."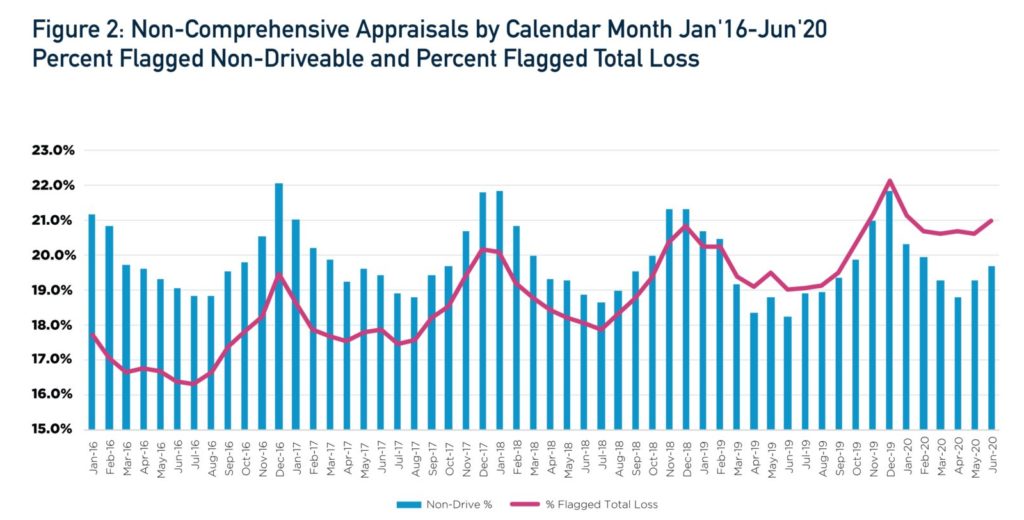 CCC's data also validated the higher severity reported by the insurers.
Total losses in June 2020 were up to about 21 percent, compared to 19 percent a year prior. That's higher than the peaks in the winters of 2016, 2017, 2018 and 2019.
Nondriveable vehicles made up nearly 20 percent of appraisals in June, compared to a little more than 18 percent in June 2019, according to CCC's data.
More information:
"CCC AutoClaims Snapshot – August 2020"
CCC, Sept. 10, 2020
"Frequency Down Yet Repair Costs and Time Remains Up"
CCC, Sept. 8, 2020
Office of Highway Policy Information miles driven data
Images:
Interstate miles driven were down 14 percent each of the first two full weeks of August 2020, according to the Office of Highway Policy Information. (Feodora Chiosea/iStock)
Repairable auto appraisals in August 2020 fell 14.9 percent below their August 2019 levels, based on CCC data reported Sept. 10, 2020. (Provided by CCC)
CCC data suggests roads with traffic reduced by the COVID-19 response are enabling faster speeds and then higher severity. (Provided by CCC)
Share This: