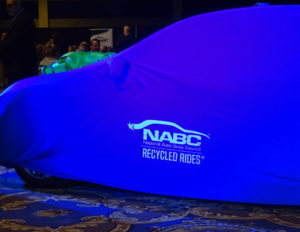 Typically, the National Auto Body Council's Recycled Rides efforts involve collision repairers securing parts for the restoration project from their own connections.
For OEM parts, this would be the local dealership of the vehicle make being repaired.
However, if the repairer's relationship with the dealer fails to produce the component, automakers have been stepping in to help, NABC reported recently.
"I would say the OE's have always been a part of NABC Recycled Rides through the dealerships," CEO Bill Garoutte wrote in an email Friday. "Direct from the OE's through their representatives is somewhat new based on the relationships we have developed."
NABC's Recycled Rides program involves collision repairers fixing damaged salvage vehicles, which are typically donated by insurers, and giving the restored cars to Americans in need of transportation.
Repairers source the parts and materials themselves, but if a shop has difficulty obtaining either, NABC can line up items from partners including dealerships, paint companies and alternative parts suppliers, according to Garoutte.
Automakers themselves don't fully endorse the Recycled Rides program, for NABC doesn't mandate vehicles be fixed to 100 percent OEM standards, according to Garoutte.
NABC encourages shops to repair a vehicle following OEM procedures, but it's "not a mandate," he said last year. Instead, they "expect and recognize … best practices," Garoutte said Thursday.
But individual automakers have nonetheless pitched in to help the program when OEM parts are unavailable from dealerships, Garoutte said.
The OEM Collision Repair Roundtable is an association member of the NABC, and the two organizations have a good relationship, according to Garoutte. This connection has helped NABC and body shops overcome obstacles in individual Recycled Rides efforts.
"If we raise a flag," the automakers are "very responsive," he said.
"Within 24 hours," the problem will be resolved, Garoutte said. "They're Johnny-on-the-spot," he said.
OEMs embrace the idea behind Recycled Rides even if they can't formally support the program, Garoutte said. (However, Garoutte did note that automakers are major supporters of another major NABC initiative, the F.R.E.E. extrication training for first responders.) If asked for help, automakers step up "on every single occasion."
Garoutte recalled an incident where the transmission on a Recycled Rides vehicle failed, a "sizeable repair" that no one expected. As it turned out, that particular make-model-year was prone to such issues. NABC reached out to the automaker, who provided a new transmission in about a week, Garoutte said.
"(T)he manufacturer knew of some inherent problems and when we asked of any issues they stepped up and offered to replace it at one of their dealerships," he wrote.
The automakers don't donate parts for the notoriety, Garoutte said. They do it because they support NABC's work, and "we are very blessed" to have such a relationship, he said.
More information:
National Auto Body Council Recycled Rides FAQ
Featured images: A Recycled Rides vehicle is seen prior to its unveiling at a National Auto Body Council Recycled Rides event on Nov. 6, 2019. (John Huetter/Repairer Driven News)
Share This: