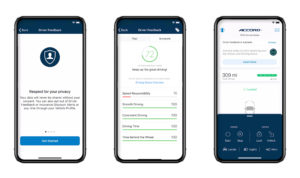 The auto and insurance industries continue to see examples of OEMs opening up connected car data to carriers.
Honda on Aug. 6 announced Honda and Acura owners with HondaLink and AcuraLink connected cars could opt-in to share driving data with Verisk. The data exchange provider would study the data and provide analysis and tips on the motorist's driving through a Driver Feedback app.
Drivers who opted in to the Driver Feedback app might receive offers on insurance from carriers studying the telematics data, according to Honda, who specifically mentioned Nationwide as a possibility.
If you're a good driver, these could potentially be way better deals than you'd get with traditional insurance policies forced to rely on generalizations about a demographic. For example, statistics might suggest that a random teenager applying for a policy would be a lousier driver than a 40-year-old applicant. So an insurer would play the odds and charge the youth higher premiums than the 40-year-old.
But if the insurer can see through telematics that Teenager A is a really safe driver and 40-year-old B is a really bad driver, they might cut the kid a deal and raise rates on the middle-ager.
"According to Verisk's analysis of driving behaviors and insurance risk, the lowest scoring drivers are seven times more likely to be involved in a crash or have an insurance claim than those with the highest scores," Honda wrote.
The Honda announcement came amid similar recent news involving data exchange competitors CCC and LexisNexis.
CCC's offering, announced Aug. 11, teams its CCC X data exchange up with Volkswagen's Car-Net connectivity and DriveView program. LexisNexis' TelematicsOnDemand announced July 24 leverages its LexisNexis Telematics Exchange, which currently receives information from General Motors, Nissan and Mitsubishi. Insurers participating in either exchange could review past data and immediately offer a quote. Telematics insurance startup Root is already confirmed to be using the LexisNexis option.
Meanwhile, two insurers recently announced working directly with Ford on such telematics initiatives.
The startup Metromile has been using its OBD-II dongle "Pulse" to collect telematics data from customers' vehicles. But last week, it announced it would have access to data directly from Ford's connected cars under a new partnership.
State Farm announced Aug. 27 Ford owners could use their vehicle data for the carrier's "Drive Safe and Save" telematics program. The standard "Drive Safe" program has offered premium discounts — up to 50 percent for some, State Farm says — to motorists shown to be good and/or lower-mileage drivers by data collected by a smartphone and Bluetooth beacon combo. The new Ford partnership will let State Farm draw what's likely to be better telematics information right off the car itself.
Honda-Verisk
Honda said vehicles eligible for the Driver Feedback feature date back to certain trims of the 2018 Accord and Odyssey. The pool also includes trims of the 2019-present Insight, Passport and Pilot; all 2019-present Acura RDXs; and any 2020 ILX, TLX, RLX and MDX with at least the technology package option.
It said the offering might help craft better drivers, a conclusion supported by other telematics companies.
"Driver Feedback is designed to educate Honda and Acura owners on ways to improve their driving and encourage greater fuel efficiency," Honda wrote in a news release. "The Driving Score has five components, which, according to Verisk, are among the leading predictive factors of risk: Smooth Driving, Speed Responsibility, Consistent Driving, Driving Time and Time Behind the Wheel. These components are used to produce individualized feedback based upon individual driving patterns to improve users' driving. More than just generic recommendations, these draw upon insurance industry loss data and are designed to promote positive behavior change by focusing on controllable aspects of the driving experience."
Honda said it'll take about three months of driving data before insurers start contacting a customer with deal offers.
Ford-State Farm
State Farm "Drive Safe and Save" customers could patch directly into Ford and Lincoln vehicles starting with the 2020 model year, the insurer said. State Farm already had combined Drive Safe and Save with General Motors' OnStar, based on the insurer's website, though it's unclear if that partnership tracks driving behavior at all or just distance.
"Connected vehicles have the potential to deliver great benefits to Ford customers, including the ability to help lower their car insurance premiums through usage-based insurance," Ford enterprise connectivity executive director Stuart Taylor said in a statement. "We're excited about State Farm's approach of using Ford's built-in connectivity to promote safer driving habits and enable opportunities for our mutual customers to save money. This agreement further builds on our strong relationship with State Farm to continue to deliver value for our mutual customers."
State Farm also mentioned the partnership's ability to coach customers to become better drivers, something also available in the existing "Drive Safe" software.
Ford-Metromile
Metromile emphasized its pay-per-mile business in discussing the Ford partnership.
"Eligible Ford owners can save $741 a year on their car insurance on average because they pay per mile, according to a recent survey of new customers who saved with Metromile," the insurer wrote in a news release.
But CEO Dan Preston seemed to mention the idea of scoring based on driving quality in a Sept. 3 blog post about the Ford deal.
"For us, Ford will help us rapidly evolve how we price insurance, measure real-time risk, and put drivers in control of an individualized pay per mile rate based on how and how much you drive," Preston wrote. "Connected vehicles like Ford's — packed with sensors and safety features — open up myriad opportunities for us to leapfrog ahead in each of these areas."
The news release also said the company sought to "go further and bring drivers more value from their connected vehicles beyond lower usage-based insurance rates."
"Working with Ford is a big step forward in our goal to becoming the first truly connected insurer," Preston said in a statement. "When drivers connect their vehicles directly to their insurance, they will have more opportunities for convenience, customization and savings. Together with Ford, we are now at the forefront of making that a reality."
Metromile's news release also discussed how connected cars could help with claims.
"We are impressed with Ford's commitment to innovation and its role in shaping the future of mobility. Our agreement is particularly timely, as people drive less and look for ways to save money during the COVID-19 pandemic," Metromile Chief Technology Officer Paw Andersen said in a statement. "Moving forward, we expect additional telematics from connected vehicles to create a better experience for customers and resolve complex or difficult to prove claims such as hit-and-run accidents."
The insurer said its claims software AVA already "uses artificial intelligence to verify claims within seconds accurately and guide drivers through filing a claim, including collecting damage photos, finding repair shops, or scheduling a rental car when relevant. Metromile can resolve and pay claims faster because it can reconstruct the scene of an accident as a 'virtual witness,' helping to remove ambiguity from car accidents, disputes or liability concerns."
More information:
"All-New Driver Feedback Feature Designed to Encourage Better, More Fuel-Efficient Driving Techniques"
Honda, Aug. 6, 2020
"State Farm® and Ford Team Up on Usage-based Insurance"
State Farm, Aug. 27, 2020
State Farm "Drive Safe and Save" FAQ
"Metromile and Ford Team up to Bring Highly Personalized Car Insurance to Ford Owners"
Metromile via Business Wire, Sept. 3, 2020
"Metromile and Ford: The Future of Personalized Car Insurance"
CEO Dan Preston on Metromile blog, Sept. 3, 2020
Featured images: From left, two images from HondaLink's Driver Feedback offering and the HondaLink home screen are shown. (Provided by Honda)
Share This: