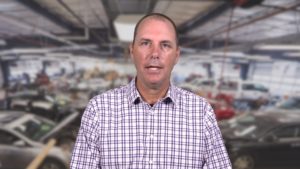 Caliber this summer described a quality control process including OEM procedures, repair planning, "two sets of eyes" on every structural repair and visits from VeriFacts.
"We're happy to share this process with the rest of the industry and everyone here on this call," Caliber supply chain strategy and procurement Senior Vice President Dave Smith told the Reuters Events Auto Insurance USA 2020 conference on July 28.
Smith noted the company gave particular attention to structural repairs — "those are the most vulnerable" — and put "two sets of eyes" on all such work.
He offered the conference an overview of the Caliber QC process.
These broad strokes, like I-CAR's shop quality control lessons, offer the collision repair industry a public QC SOP benchmark to compare itself against and debate.
"We think it's important that every repair shop have a level of quality near to this," Smith said.
One section heading mentioned structural repairs in particular, but multiple processes from the document would seem to translate to cosmetic repairs as well.
We asked Caliber to confirm if the chart shown represented the MSO's thought process on nonstructural work, when applicable. A spokesman wrote that "Caliber does not prefer to make a statement at this time."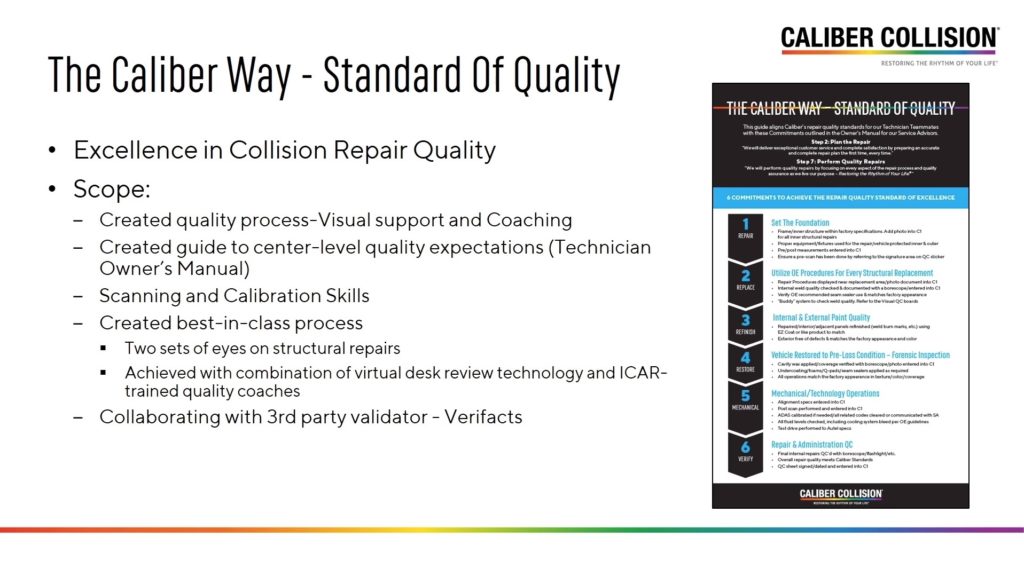 The QC process shown July 28 calls for "preparing an accurate and complete repair plan the first time, every time." Caliber also demands staff "Utilize OE Procedures For Every Structural Replacement," with the procedures "displayed near replacement area."
"We follow the repair procedures," Smith said during another panel that day.
No two crashes are the same, and sometimes procedures developed in a "static environment" must be adapted to the real-world circumstances surrounding a vehicle's condition, according to Smith. But "you start with following the repair procedures" using proper equipment and training so you can "sit assuredly" that the customer will be happy in the vehicle, he said.
Caliber's QC chart described pre- and post repair scanning and "Pre/post measurements" to determine the structure is "within factory specifications." ADAS calibrations, alignment specifications, fluid checks ("including cooling system bled per OE guidelines") and a test drive all can be found there as well.
The MSO requires a "'Buddy'" system to check weld quality and "Visual QC boards" to help that process. It also calls for repeated use of a boroscope, including to check internal welds, confirm cavity wax coverage and during a final internal inspection.
Smith's presentation also serves as a means for shops to educate consumers and insurers when an adjuster challenges certain operations. You're definitely not the "only one"; the No. 1 collision repair chain in the country cares about those processes too.
For example, Caliber calls for factory appearance to be matched, mentioning interior panels and seam sealers specifically and including a general, "All operations match the factory appearance in texture/color/coverage" benchmark.
But insurers have been hesitant to recognize such work. A 2019 "Who Pays for What?" study found 59 percent of the repairers who billed to duplicate seam sealer texture reporting major insurers only covered a shop's invoice "some of the time" or "never." A 2020 study asking about matching OEM texture on chip/gravel/stone guard found similar results, with 57 percent of major insurers at best only reimbursing it "some of the time" when shops charged.
More information:
"COMPLETING THE JOURNEY, HOW THE REPAIRER FITS INTO THE CONNECTION"
Caliber/Reuters Events' Auto Insurance USA, July 28, 2020
Images:
Caliber supply chain strategy and procurement Senior Vice President Dave Smith speaks to the virtual Auto Insurance USA 2020. (Screenshot from Reuters Events Auto Insurance USA video)
Caliber in a July 28, 2020, presentation during Reuters Events' Auto Insurance USA 2020, described a quality control process including OEM procedures, repair planning, "two sets of eyes" on every structural repair and visits from VeriFacts. The repair chain presented this slide about its QC; it's unclear if the applicable processes seen at right would be used on cosmetic repairs as well. (Caliber slide; screenshot from Reuters Events' Auto Insurance USA 2020)
Share This: