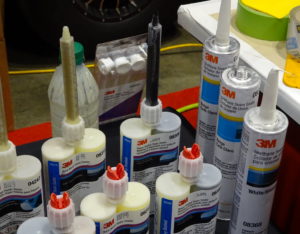 About 41 percent of collision repairers say major insurers have always or predominantly had paid for the labor to match the appearance of factory seam sealer, the latest "Who Pays for What?" survey reported Monday.
The percentage-point increase over April 2018's study was below the 3.5-point margin of error, according to survey authors Collision Advice and CRASH Network. However, Collision Advice CEO Mike Anderson on Monday called the results a win compared to three years ago, according to a news release from the researchers:
A "Who Pays for What?" survey back in 2016 found that just over half of shops had never billed for this. The same survey earlier this year found that had declined, with about 60 percent of shops now having made an effort to collect for this labor.
More importantly, Anderson said, a higher percentage of those seeking to be paid for this procedure when it is done report being paid regularly by the eight largest auto insurers. Back in 2016, only about one-third (34%) of shops said they were paid "always" or "most of the time" when they billed for the labor to duplicate the OEM texture of seam-sealer. That had jumped seven percentage points, to 41%, in this year's survey.
The April 2019 study drew responses from several hundred repairers nationwide.
Matching the OEM seam sealer appearance can be a lengthy process but isn't included within estimating system repair times, according to the news release.
"Although the labor to apply seam sealer on a welded-on or bolted-on part may be included (depending on which estimating system you use), the additional labor required to match the OEM texture or appearance is not-included and can be very time-consuming for the technician," Anderson wrote in the "Who Pays for What?" report.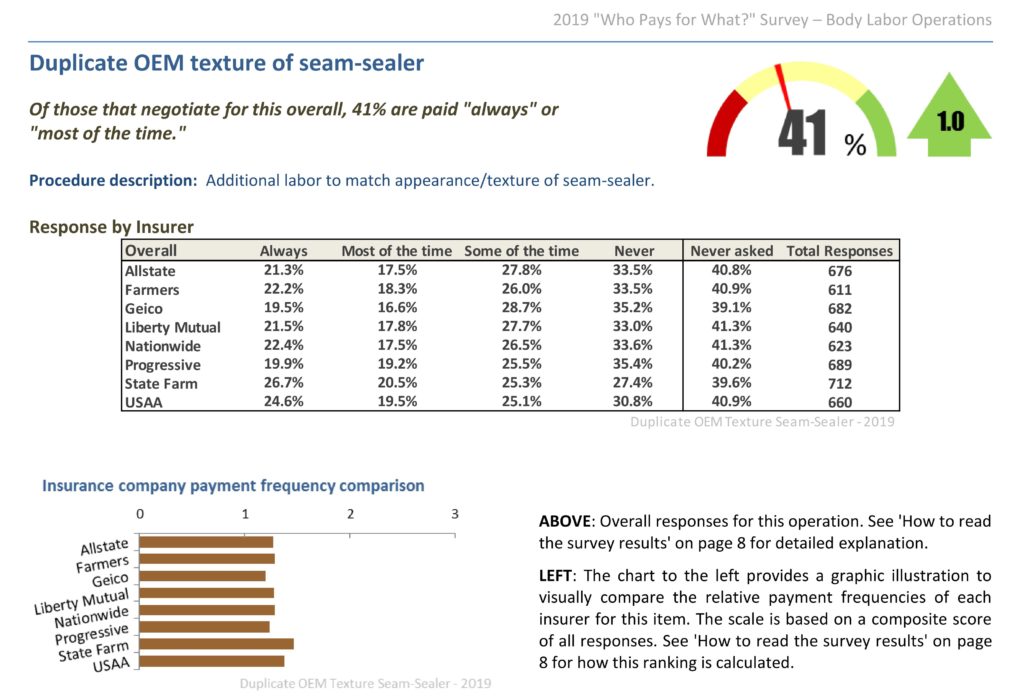 A repairer performing the work would therefore be doing so for free unless the shop manually added the operation to an estimate and requested compensation.
(Technically, a shop bills the vehicle owner, who then pursues reimbursement from the insurer based upon that estimate. The "Who Pays?" studies smooth this process by demonstrating that insurers do in fact "pay for that" and measuring how often they do so.)
"Participating in the surveys can be a reminder of this sort of 'not-included' procedures your shop is doing, and they survey reports include resources and ideas on how to better negotiate to be paid for those procedures," Anderson said in a statement.
Help the industry by taking the current "Who Pays for What?" survey on not-included frame repair operations through July 31. All answers are kept confidential; data is published only in the aggregate.
As generally occurs, State Farm and USAA were the best about paying shops who billed for the work, with around 25 percent of the shops who asked to be compensated "Always" being paid by both carriers and another 20 percent more paying "Most of the time."
Still all eight of the major insurers tracked do pay for the work, based on the results related to both industries' peers.
More information:
"'Who Pays for What?' survey finds growing percentage of shops billing for and being paid to match OEM texture of seam-sealer; latest survey open through July" 
Collision Advice and CRASH Network, July 1, 2019
Take the 2019 frame operations "Who Pays for What?" survey
April 2019 "Who Pays for What?" body operations results
Images:
Seam sealer nozzles can be seen at the 3M booth at NACE 2017. (John Huetter/Repairer Driven News)
About 41 percent of collision repairers responding to the April 2019 "Who Pays for What?" survey say major insurers have always or predominantly paid for the labor to match the appearance of factory seam sealer. (Provided by Collision Advice and CRASH Network)
Share This: