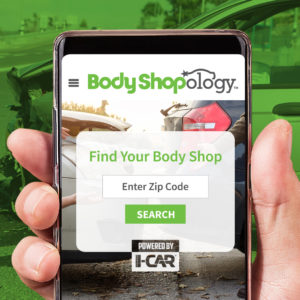 I-CAR on Tuesday announced it rebranded its Gold Class locator "BodyShopology" and would now include information on OEM certifications and insurer affiliations.
The new BodyShopology site is populated with the thousands of I-CAR Gold Class auto body shops, and I-CAR said new Gold Class shops would automatically appear on the site. BodyShopology as of Tuesday also identified Ford-certified and Farmers direct repair program facilities, and users could search for collision repairers based on that criteria too.
No other OEM or insurer information exists on the site, but the webpage promises, "Automakers and insurance partners are being added to the locator on a regular basis."
"If you don't see yours today, consider a Gold Class designated shop that is trained to perform complete, safe and quality repairs," the site adds.
Asked how OEMs and insurers could add their facilities to the site and if any significant affiliation with I-CAR was neceessary, I-CAR director of marketing Stacey Weeselink wrote in an email:
The Ford Motor Company and Farmers Insurance networks are the first collision repair Inter-Industry participants, and we are currently in conversation with more than one dozen other potential participants, adding more value to the locator. The locator is open to all OEMs and insurers that have networks, and there is no cost to any OEM/insurer to participate.

OEMs and insurers both have their own locators and call centers to recommend certified or direct repair program shops. Some systems even merge the two. For example, Volvo's Car Accident Advisor locator powered by CCC's Accident Advisor system carries information about DRP affiliation and Volvo certifications.
But I-CAR said its neutrality would attract consumers to BodyShopology.
"This online power tool is an important resource in unifying the industry for the ultimate benefit of the consumer," I-CAR marketing director Stacey Wesselink said in a statement.
"While there's no shortage of shop locators available, I-CAR's neutrality sets BodyShopology.com apart from the rest, providing an objective and unbiased tool for consumers," Wesselink said.
An image accompanying the news release Tuesday implied some kind of BodyShopology advertising might occur on Spotify, and Wesselink confirmed this was the case.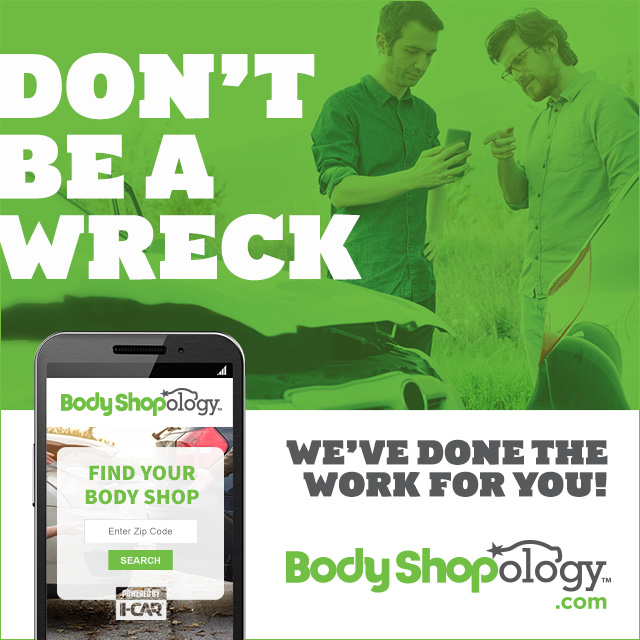 "We have solid marketing muscle behind this, with a fully integrated digital, social and traditional media campaign, and we are promoting this public service through social media advertising, (e.g., Facebook and Instagram, in addition to Spotify and Pandora)," she wrote. "2019 will see a strong rollout to 4-6 major metropolitan markets that have demonstrated tremendous pilot support, including Miami, Los Angeles, Houston and Detroit, with a coast-to-coast/national rollout planned for 2020. We also are building our Facebook and Instagram channels, and encourage readers to join us for the ride."
It'll be interesting to see if I-CAR and other neutral third-party locators indeed successfully capture page views from consumers who don't automatically gravitate to the recommendations and resources directly offered by their OEM and insurer. Particularly as OEMs and insurers can make those suggestions right from the crash scene after detecting a collision with in-vehicle or even smartphone telematics.
In this regard, such locators' biggest competitor might be a consumer instinct to examine sites like Yelp or attempt a Google search. As to the latter, here's a sense from Google Trends of how likely a consumer is to use various search terms. (By the way, if you're not tailoring your website to take into account how the average consumer would search for collision repair providers and topic, it might be time to start tinkering with this aspect of your marketing.)
"There's no shortage of shop locators available on the market, but no one locator reaches 100 percent of the driving public," Wesselink wrote in an email. "BodyShopology.com is truly a consumer locator that complements – not competes with – other locators on the market. I-CAR's neutrality sets BodyShopology apart from the rest, providing an unbiased and objective "power tool" for consumers – we've taken the guesswork out of finding a trained and credentialed shop. Powered by I-CAR, BodyShopology.com is helping to support quality repairs, which ties back to I-CAR's mission of improving the quality and safety of auto collision repair for the ultimate benefits of both the industry and the consumer. BodyShopology.com truly connects this all together, and is the right thing to do for the consumer!"
I-CAR said its locator would also educate consumers.
"Not all body shops are created equal," Wesselink said. "The reality is, approximately 65 percent of the nation's body shops – or 2 out of 3 shops – are not training. That's why we're creating a new consumer conversation that also considers a shop's training or credentials as additional factors in selecting a body shop, contributing to complete, safe and quality repairs.
"Performing repairs properly and adhering to OEM repair procedures makes all of the difference in restoring a vehicle to its pre-loss condition," she said. "BodyShopology.com puts consumers in the driver's seat to identify those shops trained to fix your specific repair needs, close to home."
Two collision repairers featured in the news release Tuesday touted the importance of consumer education.
"Both Helfman Collision and the Houston Autobody Association work tirelessly to make sure repairs are done properly," Houston Auto Body Association Chairman and Helfman Collision Center body shop director Greg Luther said in a statement. "It's crucial that consumers understand the importance of choosing a shop with trained technicians."
"BodyShopology is an invaluable tool, as it can help consumers understand there are other considerations – beyond price – when choosing who to trust your vehicle with," Grand Rapids, Mich.-based Gezon Motors fixed operations manager John Lynch said in a statement.
More information:
"NEW, NEUTRAL SHOP LOCATOR ELEVATES TRAINING VALUE, UNIFIES INDUSTRY FOR ULTIMATE BENEFIT OF CONSUMER"
I-CAR, July 2, 2019
Images:
An I-CAR promotional image for its new BodyShopology shop locator. (Provided by I-CAR)
A default search on I-CAR's new BodyShopology shop locator is shown. (Screenshot from www.bodyshopology.com)
An I-CAR promotional image for its new BodyShopology shop locator. The original I-CAR file name implied it might be used in a Spotify advertisement. (Provided by I-CAR)
Share This: