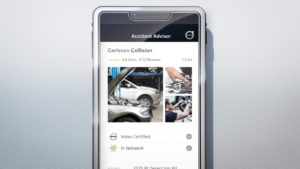 Volvo earlier this month clarified a few points — including the order of body shop recommendations — about its new Volvo Car Accident Advisor system, which will allow the OEM "better manage the overall post-collision process" after telematics detect a crash.
Volvo Car Accident Advisor, which draws upon CCC's Accident Advisor tech, is free for Volvo users and "will be available automatically for model year 2015.5 and newer Volvo Car vehicles via the in-car SOS communications system," Volvo said May 14.
Volvo product and technology communications manager Jim Nichols the next day confirmed that Accident Advisor will truly be free — a subscription to a service like On Call isn't necessary.
Volvo On Call is free for four years when you buy a 2018 Volvo., but elements of the service persist after it expires.
"If you choose not to renew your Volvo On Call subscription, you will still have the in-car access to the SOS and On Call buttons to initiate Roadside Assistance," Volvo tells consumers, and says this refers to "emergency call for life/crash notification.
"Drivers do not need to subscribe, if there is an OnCall button in their vehicle they have access to the service," Nichols wrote in an email May 15.
Nichols explained that the reference to the 2015.5 model year refers to an actual class of Volvo vehicles rather than, say, cars built after June 30, 2015.
"The 2015.5 model year represents a mid-year change and the launch of our first SPA platform vehicles," Nichols said. "We actually did a 2015.5 model year, so it is not a random cut-off date in 2015. With the … (SOS) button, you'll see it in the car in 2015.5 cars."
The Scalable Product Architecture first debuted on the mixed-material 2016 XC90.
Following the detection of a crash, Volvo will ascertain that the customer is OK and then text the customer a link to launch the Web-based Accident Advisor software. (Owners of older Volvos can also receive such a link; they'll just need to call Volvo Car Customer Care to start the process, according to the OEM.)
"Volvo Car Accident Advisor will prompt drivers to capture facts and photos of the accident scene, offer them the option to digitally notify their insurer and to search for collision repair shops, helping to speed claims handling, reduce repair-cycle time, and better manage the overall post-collision process," Volvo wrote in its news release.
"With permission from the customer, the app can deliver all data captured through the Accident Advisor web page (that the driver provides) to the insurer in a claims packet allowing them to proactively start the claim," Nichols wrote.
A Volvo promotional video posted Tuesday showed Volvo Car Accident Advisor providing a locator map to nearby body shops. A detail page for one facility showed a repairer with check marks indicating they were both "Volvo Certified" and "In Network," the latter possibly a reference to a direct repair program.
"All shops are available but in terms of ranking Shops that participate in the Volvo Certified Collision Program and the customer's Insurance DRP (where applicable) will rank first followed by Volvo Certified Collision Shops, Insurance DRP shops, and independents in that order," Nichols explained.
All certified shops must use 100 percent new OEM parts and will be monitored for repair procedure usage, Volvo Certified Collision Program manager Kenneth Park said in November 2018.
Asked if insurers showed interest marrying their DRPs to Volvo-certified shops, Nichols wrote, "We have had some interest from insurers, however, we cannot share more than that at this time."
He said there's no notification of the customer's right to pick their shop, but no facilities are excluded.
"No, there is no pop-up, nor do we limit the ability for any shop to be displayed," he wrote. "All shops are displayed through the app, a customer can choose any shop they want."
CCC spokeswoman Kiley Ribordy of Walker Sands indicated the information provider's core Accident Advisor technology — which is marketed to insurers as well as OEMs — typically will feature such a message.
"Accident Advisor does include notifications that lets the consumer know they may choose any repair shop," she wrote.
The app itself is populated with shops from CCC's user base, according to Ribordy.

"The 26k+ vehicle repair shops that currently use CCC ONE are available in Accident Advisor," Ribordy wrote. "The 'Volvo Certified' and 'In Network' shop labels are provided by Volvo and CCC's insurer partners, respectively, through continuous updates to their respective repair programs. Accident Advisor offers a variety of sorting, filtering and configuration options to enable the consumer to navigate through an optimum selection of shops, at the consumer's discretion."
Volvo is the first OEM to use the Accident Advisor system.
Nichols said certified shops don't receive data on crash severity, another potential application of telematics.
"We are not currently providing additional detail pertaining to crash severity or damaged parts," Nichols wrote.
More information:
"Volvo Car USA Launches Post-Accident Guidance Service"
Volvo, May 14, 2019
Certified Volvo collision program
Featured image: A Volvo promotional video posted May 14, 2019, showed Volvo Car Accident Advisor providing a locator map to nearby body shops. A detail page for one facility showed a repairer with check marks indicating they were both "Volvo Certified" and "In Network," the latter possibly a reference to a direct repair program. (Provided by Volvo)
Share This: