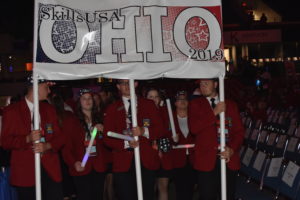 An Ohio high school and Colorado community college showed off the caliber of their collision programs last week as their students clinched dual SkillsUSA collision repair and refinishing golds.
Noah Borer claimed the high school gold in collision repair technology at the national SkillsUSA collision repair technology competition in Kentucky, while Borer's Vanguard-Sentinel Career and Technology Centers  peer Caden Hoover took first in automotive refinishing.
Abagayle Boden of Aims Community College-Windsor took gold in the college collision repair division, while fellow Aims student Kaiden Brier won first place in refinishing.
Borer and Boden took silver and bronze, respectively, last year in the high school division.
Both the Tiffin, Ohio high school and Greely, Colo., college received bronze medals in the second year of the collision damage appraisal competition, but Utah schools brought home the golds there. Trientae Enyart of Dixie Technical College (Saint George, Utah) placed first at the high school level, and 2018 bronze medalist Cayden Bailey of Utah Valley University (Orem, Utah) defeated the other college competitors to win gold this year.
The four gold medalists in the collision repair and refinishing categories will also win $1,250 tool scholarships thanks to the Society of Collision Repair Specialists, March Taylor Memorial Fund and Snap-on.
The appraisal category will spend another year as a what is technically a "Demonstration" category, but SkillsUSA still honors its victors as it would any other. Demo events which "are doing well and have industry support" graduate to become official contests, SkillsUSA public relations manager Karen Kitzel explained in 2018.
The high school collision repair silver medal went to Brian Vanderheiden of Freedom High School (Freedom, Wisc.), and Ethan Webb of Heritage High School (Maryville, Tenn.) took home the bronze. Nicholas White of Salt Lake Community College (Salt Lake City, Utah) and Perry Jones of Dakota County Technical College (Rosemount, Minn.) placed second and third, respectively in the college collision championship.

Over in the paint shop, Cameron Gillis of Career Start (Colorado Springs, Colo.) placed second among high schoolers in automotive refinishing, and Niderah Goldsborough of Delcastle Tech High School (Wilmington, Del.) ranked third. The college refinishing podium saw Arthur Butcher of San Juan College (Farmington, N.M.) and Alex Morales of Automeca Technical College (Ponce, Puerto Rico), take the silver and bronze, respectively.
The next wave of insurer and repairer estimators might include Brent Harris of Northeast Technology Center-Pryor (Prior, Okla.), who won silver at the high school collision damage appraisal competition, and Noah Smith of Vanguard-Sentinel, who took home the high school bronze. Ryan Mayne of Automotive Training Center (Exton, Pa.) placed second in the college estimating challenge, ahead of third-place Michael Kunkle of Aims. Kunkle also won silver last year.
If you're a shop in a region with a high school or college that's producing SkillsUSA medalists, it probably behooves you to find a way to support the campus or at least advertise your brand there. The odds seem good that the school is doing something right and turning out the kind of future technicians, estimators and painters you'd want to recruit.
But SkillsUSA also makes it easy for a shop to recruit more directly than that. The nationals results turn every body shop owner into a D-I coach that's just been given a free a list of 5-star recruits and programs likely to produce more winners. Even if your region's high schools and colleges didn't produce a SkillsUSA national medalist, don't forget to check the list of state and local SkillsUSA winners for other talent to pursue.
Congratulations to all the winners (and those in the sister automotive service technology category)!
More information:
SkillsUSA national and state medalists
Featured images: Images from the 2019 SkillsUSA Nationals in Kentucky. (Craig Moore/SkillsUSA)
Share This: