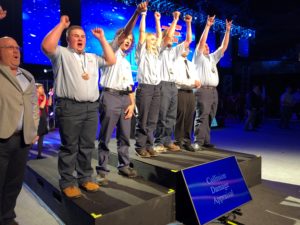 SkillsUSA crowned the latest class of refinishing and collision repair rising stars last week — as well as up-and-comers in a new trial Collision Damage Appraisal category.
The four gold medalists (two high school, two college) in the collision repair and refinishing categories will also win $1,250 tool scholarships thanks to the Society of Collision Repair Specialists, March Taylor Memorial Fund and Snap-on. The trio did not grant scholarships this year in collision appraisal, but may do so in future competitions.
For collison repair, high school competitor Caleb Eyler of Warren, Pa.-based Warren County Career center, and college-level hopeful Johnathan Wolfe of Valdosta, Ga.-based Wiregrass Georgia Tech College took gold medals confirming them as the nation's best.
Elmer Hernandez of Pickens Technical College (Aurora, Colo.) took first in the country in automotive refinishing at the high school level, while Scotty George of Utah Valley University (Orem, Utah) clinched the gold for college-age painters.
The first-ever demo SkillsUSA National Collision Damage Appraisal challenge awarded gold medals to high school contender Lynzi Binder of Carbon Career & Technical Institute (Jim Thorpe, Pa.) and Green Bay, Wisc.-based Northeast Wisconsin Technical College's Joel Taft.
The appraisal competition was developed by a committee featuring representatives from insurers State Farm and GEICO; repairers ABRA, Caliber, Gerber; Service King and Seidner's Collision Centers; Insurance Auto Auctions; Professional Parts Group; the Collision Repair Education Foundation; estimating companies Audatex (and parent Solera) and CCC; Accountable Estimatics; and the ASE. Those interested in learning more or joining the panel can contact Evans at chris.evans.ca1b@statefarm.com.
"The contest will be consistent with the Collision Repair/Refinishing Technician Task List outlined in the guidelines published by the National Institute for Automotive Service Excellence (ASE) and the National Technicians Education Foundation (NATEF), www.natef.org," a contest description states. "Contestants demonstrate their ability to perform jobs and skills based on, but not limited to: handwritten estimating, computerized estimates/appraisals, frontal damage, unibody damage, light mechanical damage, rear damage including quarter panel replacement. The overall accuracy and quality of the finished products, speed and proper safety practices will be judged."
The appraisal category will spend another two years as a what is technically a "Demonstration" category, but SkillsUSA still honors its victors as it would any other, according to Chris Evans (State Farm), chairman of the SkillsUSA Collision Appraisal and Total Loss Evaluation Committee.
Demo events which "are doing well and have industry support" graduate to become official contests, SkillsUSA public relations manager Karen Kitzel explained in an email Monday.
Runners-up in collision repair included high-school silver medalist Noah Borer (Vanguard-Sentinel Career and Technology Centers (Tiffin, Ohio) and bronze medalist Abagayle Boden of Aims Community College-Windsor (Greeley, Colo.). At the college level, Kyle Ray of Omaha, Neb.-based Metropolitan Community College took second, while Texas State Tech College-Waco's Juan Alcala placed third.
Alec Hoover of Tiffen, Ohio-based Vanguard-Sentinel CTC-Sentinel took silver in the high school refinishing category, while Kyle Coombs from Spanish Fork High School (Spanish Fork, Utah) won bronze. Washtenaw Community College (Ann Arbor, Mich.) saw Ashley Carravallah receive college-level silver honors, while Anthony Black of Alfred State College School of Applied Technology (Wellsville, N.Y.) won bronze.
The first-ever collision damage appraisal high school silver went to Jared Arfsten of Colorado Springs, Colo.-based Career Start, and the first bronze was won by Eric Austin of Salem, Ore.-based Career Technical Education Center. Michael Kunkle of Aims Community College-Windsor took the first college silver, and Cayden Bailey of Utah Valley University took third place and the bronze.
Vanguard-Sentinel CTC-Sentinel claims bragging rights at the high school level, with two medalists. Aims Community College and Utah Valley University tied the college medal leaderboard with two each.
In terms of states, Colorado can lord it over the others with four medals, with Utah coming in second at three, and Pennslyvania and Ohio tied for third at two winners. Apparently, if you're going to wreck your car, do it at either the Colorado-Utah or Pennsylvania-Ohio border.
Congratulations to all the winners (and those in the sister automotive service technology category) — and to the body shops and insurers who end up hiring them!
Automotive refinishing co-chairwoman Jessica Crowley (PPG) said it's "100 percent" true that employers headhunt the SkillsUSA winner. She said she tells medalists that the act of placing puts their name in the national spotlight. Crowley herself was a SkillsUSA winner, taking bronze in refinishing in 2012 — and catching the eye of PPG for doing so. "I would not work for PPG" without SkillsUSA, she said.
She said all refinishing competitors return home and send back resumes to her, and she in turn sends them out to sponsors and technical committee members. The six winners' information is sent out separately.
This is a great incentive to help on the technical committee for shops who can't afford to be a sponsor. Crowley said shops "big or small" helping with the event will receive access to the competitor resumes. She said help is "always" needed, and younger technical committee members are "desperately needed" for when some of the 20-year committee veterans step away — calling it "kind of like the skills gap" seen at the shop level in the industry today. SkillsUSA might particularly need new blood in 2021 if Louisville, Ky.-region volunteers don't travel with the show when Nationals moves to Atlanta, Ga., according to Crowley.
Anyone interested in helping with the refinishing technical committee should email Crowley at crowley@ppg.com.
Crowley said the thing that struck her from going to competitor to SkillsUSA organizer was that what seemed to be an "absolutely amazing" well-oiled machine of a show was actually "absolutely chaos" behind the scenes. The refinishing organizers can "set up a body shop in a day in a half" — including equipment like air lines, filtration systems and two spray booths — in what she called a "pretty amazing" process. She said her job at the show involves more sitting than some of her colleagues — and yet she still put in 9.48 miles worth of walking one day at Skills USA.
More information:
SkillsUSA Nationals 2018 winners
SkillsUSA contest descriptions
Images:
Main, Gallery No. 6: SkillsUSA crowned the latest class of refinishing and collision repair rising stars last week — as well as up-and-comers in a new trial Collision Damage Appraisal category (pictured). (Provided by appraisal committee Chairman Chris Evans)
Gallery No. 1: SkillsUSA Automotive Refinishing Technology 2018 winners. (Janet Crowley, committee co-chairwoman)
Gallery No. 2: SkillsUSA Automotive Refinishing Technology 2018 competitors. (Janet Crowley, committee co-chairwoman)
Gallery Nos. 3, 8, 10-14, 16, 18-19, 21-42: The 2018 SkillsUSA Nationals event. (Craig Moore/SkillsUSA)
Gallery No. 4: SkillsUSA Collision Damage Appraisal contestants and the committee members behind the new demo program. (Provided by appraisal committee Chairman Chris Evans)
Gallery No. 5: SkillsUSA Collision Damage Appraisal contestants and advisers are shown. (Provided by appraisal committee Chairman Chris Evans)
Gallery No. 7: Former Society of Collision Repair Specialists Chairman Ron Reichen (Precision Body and Paint) poses at SkillsUSA 2018. (Provided by SCRS)
Gallery No. 9: The four gold medalists (two high school, two college) in the 2018 SkillsUSA collision repair and refinishing categories will also win $1,250 tool scholarships thanks to the Society of Collision Repair Specialists, March Taylor Memorial Fund and Snap-on. An SCRS sign congratulates contestants at the 2018 competition. (Provided by SCRS)
Gallery Nos. 15, 17: A scene from SkillsUSA 2018. (Provided by the Society of Collision Repair Specialists)
Gallery No. 20: A table touts the new demo SkillsUSA Collision Damage Appraisal category. (Provided by appraisal committee Chairman Chris Evans)
Share This: