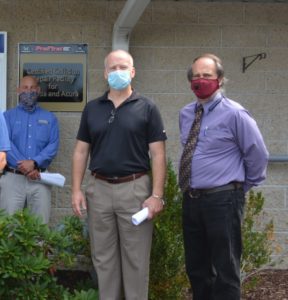 The Alliance of Automotive Service Providers of Massachusetts earlier this month met with multiple lawmakers in support of a bill making significant changes to the state entity overseeing auto appraisers.
Senate Bill 182, sponsored by Senate Majority Whip Michael Rush, D-West Roxbury, and Rep. Paul McMurty, D-Dedham, would move the Auto Damage Appraiser Licensing Board out of the Division of Insurance and into the Division of Professional Licensure. According to an AASP-MA news release Thursday, the latter agency is "where all other professional licenses in the state are maintained."
The trade group said relocating the agency would fit Republican Gov. Charlie Baker's 2016 executive order titled "To ensure proper review of the regulation of professional licensing by independent boards." The order calls on the state director of professional licensure to examine ADALB actions for anticompetitive effects.
The bill would also give the ADLB two new seats appointed by the attorney general and switch the power to appoint the chairman from the Division of Insurance to the Division of Licensure.
"The attorney general shall appoint one representative of her office and shall appoint one additional person, unaffiliated with her office, an auto body shop or an insurance company, to represent consumers," SB 182 would rewrite Massachusetts General Law Chapter 26, Section 8G to state. "The commissioner of the division of professional licensure shall appoint one person who shall not be affiliated with either the auto body industry or the insurance industry and who shall be the chairman of the board."
AASP-MA said Executive Director Evangelos "Lucky" Papageorg told lawmakers "that the bill's passage removes the possibility of 'partisan voting' by the ADALB."
Section 8G today tasks the Division of Insurance with appointing a chairman "who shall not be affiliated with either the auto body industry or the insurance industry." But the trade group suggested this chairman, as well as a nonvoting secretary from the Division of Insurance, would be biased in favor of the insurance industry.
"This creates a situation where there are five individuals representing the insurance industry versus two members of the auto body industry on any issue," AASP-MA wrote. "Papageorg argued that this creates a three-to-two vote setup when considering there are only two collision repair industry representatives appointed by the Governor to serve on the Board."
Massachusetts Division of Insurance officials have not responded to an email seeking comment on AASP-MA's allegation of bias.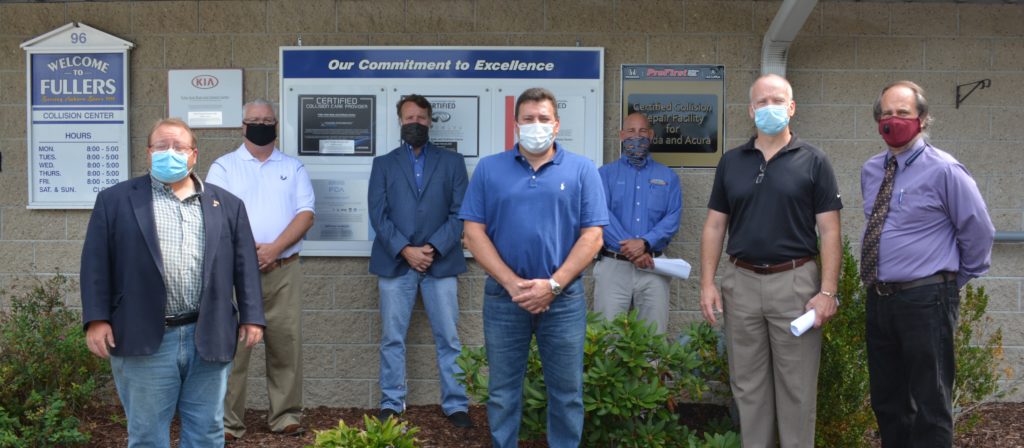 AASP-MA said it also discussed "some of the collision repair industry's more common grievances with the ADALB's current methods for addressing complaints, including the fact that it has at times taken years for them to be heard." The trade group on Thursday also alleged that ADALB had never revoked a license.
"There have been reprimands put in people's files, but there has never been a license revoked – even temporarily – by the Board," Papageorg said in a statement. "I think that speaks volumes, because there have been a lot of issues that have been brought up that should have brought about at least the minimum suspension of a license just to make the point."
Contacted for comment about AASP-MA's assertions and its news release, ADALB counsel Michael Powers wrote in an email Tuesday, "I don't make comments on proposed perennial bills that are filed in the Massachusetts Legislature."
Board members Ray Belsito (Arnie's Auto Body) and Joshua Fuller (Fuller Auto Body) called for a revised ADALB to address issues with used parts and remote photo appraisals, respectively. Fuller "called into question whether some of the individuals doing the negotiating are even licensed in the state," according to the AASP-MA.
The AASP-MA met with state Sen. Michael Moore, D-Millbury, and state Reps. Paul Frost, R-Auburn, and Peter Durant, R-Spencer, on Sept. 9. It also met with state Sen. John F-Keenan, D-Quincy, on Sept. 2.
"Everyone was receptive to the issues we presented," Papageorg said in a statement. "We hope to continue having conversations of this nature as we push for legislation that will ensure a more functional ADALB and better consumer protection for vehicle owners in Massachusetts."
Be heard: Massachusetts lawmaker contact information can be found here.
Images:
From left, Alliance of Automotive Service Providers of Massachusetts board member Joshua Fuller (Fuller Auto Body); state Rep. Peter Durant, R-Spencer; and AASP-MA Executive Director Evangelos "Lucky" Papageorg pose at Fuller Auto Body on Sept. 9, 2020. (Provided by AASP-MA)
From left, Massachusetts state Rep. Paul Frost, R-Auburn; Joe Bostek, Fuller Auto Body chief financial officer; state Sen. Michael Moore, D-Millbury; Alliance of Automotive Service Providers of Massachusetts board member Ray Belsito (Arnie's Auto Body); AASP-MA board member Joshua Fuller (Fuller Auto Body); state Rep. Peter Durant, R-Spencer; and AASP-MA Executive Director Evangelos "Lucky" Papageorg pose at Fuller Auto Body on Sept. 9, 2020. (Provided by AASP-MA)
Share This: