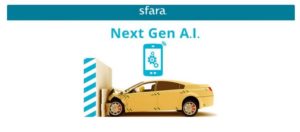 Smartphone telematics provider Sfara this summer announced it and Mercedes parent company Daimler had spent months testing phone-based crash detection.
Sfara said it would provide its technology to the OEM "for an as yet undisclosed program currently under development" under a strategic engagement announced July 29.
Neither Sfara nor U.S. Daimler media contacts have replied to a recent request for further details.
"At Sfara, we built our solutions from the ground up to suit enterprise needs. Our leadership hails from enterprise, so we understand the unique challenges and rigors of working in that world." Sfara CEO Erik Goldman said in a statement. "We delivered the best to the inventor of the automobile and we're demonstrating to them and others in the industry, that sfara will continue to accelerate and extend our superiority in mobile-based life-saving technologies."
The news is interesting in that Daimler has already offered connected vehicles and automatic collision notification for years, based on Mercedes news releases. In fact, Mercedes says it even has the capability to detect if a car was struck while unoccupied.
But Daimler clearly has something in mind, based on what Sfara described as a rigorous testing program.
"More than a year ago, the leader in luxury vehicles began a rigorous evaluation and testing program of mobile solution providers in the market, seeking a technology that stands up to its exacting standards," Sfara wrote.
Sfara said Daimler spent months testing competitors before picking it out of "a reduced field of four players."
The two companies then conducted beta testing using more than 1,000 vehicle owners who collectively drove more than 10 million miles over nearly a half-year. Sfara said its system delivered "successful results."
Finally, they crash-tested multiple vehicles at Daimler's Stuttgart facility with Sfara's technology active.
"We conducted all imaginable live collision tests in the front, rear, and offset positions, plus against immovable objects," Sfara founder and Chief Science Officer Sascha Simon said in a statement. "The technology performed even better than we could have hoped for."
Sfara said its Guardian crash detection program compares data from a smartphone sensor "against nearly 1,000 real-world and NHTSA-certified test crashes we've performed." It says it's smart enough to distinguish between a dropped or thrown phone and a car crash.
The company in 2019 also announced a "breakthrough" in preventing false positives:
Sfara successfully started detecting crashes in 2013, at speeds well below the point where airbag sensors deploy. However, some challenges remained. "The problem with detecting crashes in the lower speed bands is that the forces at work are weak and occur in a noisy sensor environment," said Erik Goldman, CEO of Sfara.
Sfara has addressed this industry problem by developing a second layer to its AI that is specifically trained to eliminate false positives. This revolutionary second-layer AI starts performing its work milliseconds after a crash has been detected by the first layer and is designed to suppress false positives across all speed bands. …
Sfara's tech and similar offerings are worth watching. They open up the ability for OEMs to equip older, unconnected vehicle with a connected car perk — without either the OEM or consumer buying a separate data plan. Sfara also suggested its technology could be more attractive than existing OEM telematics solutions.
"Other collision detection services are based on airbag deployment or need to track, batch and send user data to the cloud for processing," Sfara's website pitches OEMs.
"Sfara is completely different. By using our artificially intelligent algorithms, we can make detections right on the device and pass event data only when necessary."
"Through rigorous third-party testing Sfara has been proven to deliver the best crash detection capability available at lower speeds than previously possible."
The tech might make it easier for OEMs to manage the process after a collision — or unlock an option for insurers who don't wish to go through an OEM middleman to detect a loss. Either scenario has significant ramifications for certified, direct repair program, and unaffiliated collision repairers.
"Because of our reliable collision detection, your service departments get FNOL for incidents that would have been missed by other solutions, giving them a proactive opportunity to be the first to respond," Sfara's website tells OEMs. (Emphasis Sfara's.)
"With Sfara's patented technology, industry participants, including auto makers, insurers, fleet operators and families will receive industry-leading crash detection with higher accuracy at speeds never before possible," the company wrote in 2019.
"This breakthrough also opens entirely new opportunities for First Notice of Loss (FNOL) and white glove customer service."
More information:
"Major German Car Manufacturer Selects Sfara as Foundation for Smartphone-based Crash Detection AI"
Sfara, July 29, 2020
Featured image: Sfara in 2019 announced a "breakthrough" in preventing its crash detection artificial intelligence from registering false positives. (Provided by Sfara)
Share This: