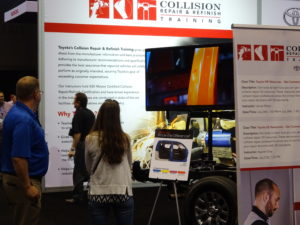 A Toyota collision representative this week described pride in the new virtual management training the OEM created for collision repairers following the COVID-19 pandemic.
However, the OEM also had to temporarily restrict its training to all but certified facilities because of a decreased capacity, Toyota collision operations manager Eric Mendoza said Wednesday.
Though Toyota only allows shops partly owned by a dealership to join its certified network, it typically permits other independent repairers with dealer sponsorship to train as well. But the supply-and-demand issue led the OEM to halt all training — both live and virtual — of uncertified independents as well as uncertified dealer-owned shops, according to Mendoza. (The OEM has made an exception for shops who've applied for certification.)
Mendoza pointed to such priority as an example of why a dealership would wish to operate a certified collision center.
"Training is a huge part of that value," Mendoza said of becoming certified.
Mendoza wrote in an email that "we extend grace" on certification training deadlines given the current supply-and-demand issue.
Toyota national manager for service and collision operations George Irving Jr. described the new training format for classes the OEM felt could go virtual. It offers some interesting lessons for educating an industry that I-CAR before the pandemic suggested might like interactive courses.
Irving said Toyota didn't just convert its normal training to two four-hour courses.
"We made it interactive," he said.
The OEM brought in consultants for aid in developing the class and talked to parties like the National Automobile Dealers Association, Irving said.
"We learned a few things from them," Irving said. He said Toyota was proud of what it had developed for virtual management training.
While hands-on technical training was "not gonna work" virtually, all required estimator and management courses have been revamped into that format, Mendoza said. Work continues on elective courses, he said.
Mendoza said it took about three months to record instructors, "really reformat" entire classes and teach instructors virtual facilitation skills.
Mendoza said Toyota requires a student to do something about every three slides, such as answering a question or clicking on something. Instructors also keep an eye out for students showing little participation.
We asked about the virtual estimating courses, noting that some estimating work is hands-on.
"They're a little bit more challenging," Mendoza said. He said those classes would take longer. Instructor Mike Anderson, the CEO of Collision Advice, was using a multistage strategy that involved e-learning modules so he could devote more time to the content that didn't lend itself as easily to a virtual setup.
Mendoza said Toyota has generally realized some activity might be done better virtually, permitting the company and collision centers to be more strategic about travel.
More information:
Toyota Collision Repair & Refinish Training website
Featured image: Toyota promotes Toyota Collision Repair & Refinish Training on its NACE 2017 booth. (John Huetter/Repairer Driven News)
Share This: