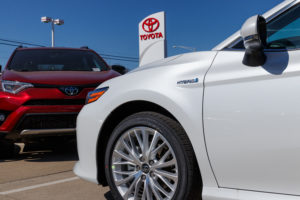 Toyota in August slashed its dealership ownership requirement for certified collision repair facilities from a 51 percent interest to a 15 percent stake, the OEM confirmed this week.
Toyota national manager for service and collision operations George Irving Jr. said Wednesday the OEM always felt "a Toyota dealership needs to be involved" in the process. However, it learned that many different structures scenarios existed in the marketplace, such as a dealer's relative largely owning the collision center associated with the retailer.
"We surveyed the dealers" and hit upon the 15 percent threshold as one that would create significant opportunities for new certified shops while remaining acceptable to Toyota.
The new setup is "in line with the times," Irving said.
Other automakers have created programs open to independent collision repairers, a policy that has been suggested as necessary to deliver sufficient coverage nationwide. Asked about this, Irving said the company had "relatively good coverage."
"I'd always rather have one less than one more," Irving said. Toyota wanted to drive business to its certified shops. he said.
There was "at least several years worth of work" before any criteria might need to be changed further, he said.
Irving told the April IBIS USA that Toyota has learned that collision work makes a huge impact upon brand loyalty. Yet as of the April 2 event, Toyota had about 215 certified body shops fixing about 19,000 vehicles a month, according to Irving. (It had a similar shop count as of our Wednesday interview, Toyota collision operations and guest experience and retention manager Eric Mendoza said. He said this could be taken as a sort of pre-expansion baseline given the ownership rule only changed last month.)
"We know that's not enough," Irving said. He presented a slide that estimated 222,000 Toyotas need collision service every month.
"We need more," Irving said Wednesday. But many automakers rack up more certified shops than they have sales, he said.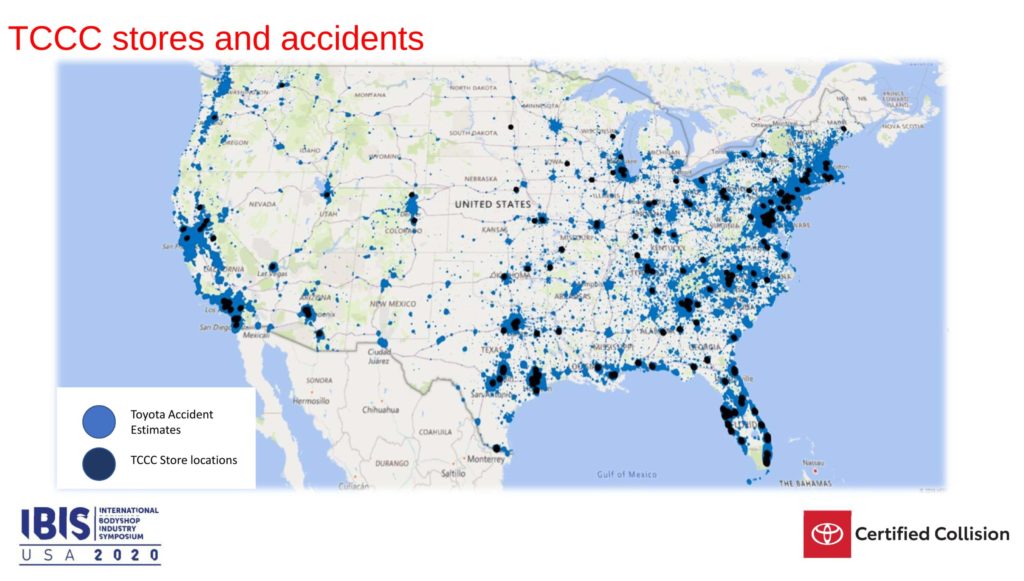 "I fail to find the need for more outlets than we have sales outlets," he said in a statement. "… We want to grow this thing properly."
"It's about brand retention," Mendoza said Wednesday. An independent shop isn't invested in the entire ownership cycle, he said.
"That's the key differentiator" for the OEM, Mendoza said. A dealer-owned collision center will hold that business accountable and keep customers coming back.
"I'm OK that we're different," Irving said.
Irving said Toyota wouldn't grant certified collision center status to an intake center — a storefront which received customers' cars but sent them to an offsite collision center for an actual work — owned 15 percent by a dealership.
"We don't care who owns the building," he said. The Toyota dealership must own 15 percent of the business operations, he said.
Irving in April described Toyota's target as its dealers who own less than 51 percent of a body shop, rather than a body shop selling off 15 percent of their company to a dealership. But connecting good collision repairers with dealers in growth markets would be a "bonus for us."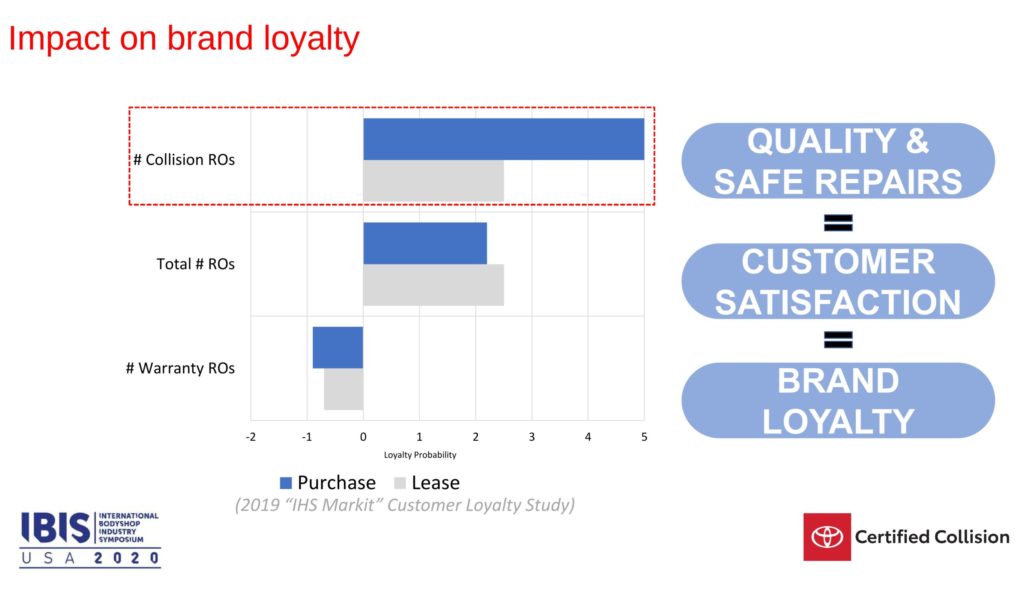 As to what kind of national coverage the OEM sought, Irving said Wednesday "there is no target." Toyota would make sure everyone eligible had an opportunity to certify a shop, he said.
But Mendoza said dealers have collision exclusivity within the same marketing areas granted for their retail operations.
Toyota also will use a new certification signage initiative to head off customers mistaking a Toyota dealer's uncertified collision center as part of the OEM's certified network. They can't "leverage that equity," Mendoza said in a statement. If a dealership's auto body shop isn't Toyota-certified, it can't purchase or lease the new signs, he said.
"That's a new point too," Irving said. The dealership could still use its own brand name on the body shop, he said.
"It will take time to flush the system," Irving said. The branding distinction between certified and uncertified Toyota dealer body shops will arise as the new interior and exterior network signage spreads across the country.
"We're just rolling that out now," Irving said.
This new branding might benefit the certified shops by presenting what Mendoza described as cohesion with the broader Toyota brand. He likened it to Target — when you see something branded by the company, "it looks Target."
Toyota is ensuring its brand "bleeds" into its collision network so "it inherently has that brand reputation" at first sight, according to Mendoza.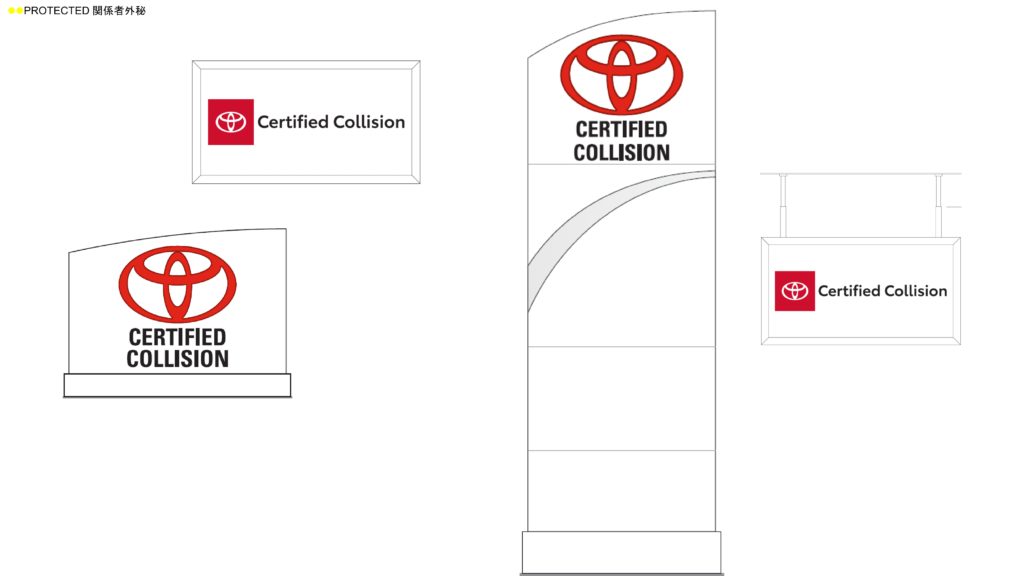 Irving noted that Toyota had offered a certified collision program for 24 years, calling such longevity rare among the OEM's initiatives.
"Dealers obviously see value in what we're offering to them," he said. "… We're just trying to keep up with the times."
We asked if many Toyota dealerships would be left with uncertified collision centers after the change. "I certainly hope not," Irving said.
"It certainly opens up the opportunity," Mendoza said. "… It's much easier to get in to the business." A dealer could buy a piece of the collision center already receiving the retailer's referrals, he said.
Mendoza said Toyota support would offer another incentive for a dealership to open a certified center. When an entrepreneur qualifies to open a dealership, Toyota provides the support to run a service center successfully, he said.
"We don't want you to fail," he said.
If the dealer comes back in a year and says they'd like to open a collision center, the "only opportunity" to obtain that Toyota support similar to the service center would be through the certified collision center program, according to Mendoza.
Toyota offers its certified shops business intelligence like reporting and consultation services, according to Mendoza, who said Toyota also viewed the annual audit of certified shops more like a consultation. He described an industry professional sitting down with the certified shop's staff and offering guidance so that the manager says, "'This is the best program ever.'"
Irving said Toyota will help certified shops analyze their business and find opportunities, and it wants the program to drive business to a shop to have a "very profitable collision center."
Collision repairers who join the program will have a huge marketing advantage. By 2023, Toyota would have more than 7 million connected vehicles on the road — allowing the OEM to know whenever a crash occurs.
"First notice of loss will come from the car," Irving said in April. "… The car will help direct the actual collision process."
He noted Wednesday that connectivity also permits an interesting partnership with Avis allowing a rented Toyota to carry the user's normal radio stations and operate the vehicle without picking up new keys from the vendor.
Toyota had "a lot of cool things coming down the road," he said.
Irving said Wednesday that Toyota's own insurance — now available in about 40 states — would also promote certified shops.
Between connected cars and Toyota's insurance, there would be a "great advantage to be a certified shop," he said.
Images:
A Toyota sign rises over a dealership in 2018. (jetcityimage/iStock)
Toyota doesn't yet have enough certified auto body shops to cover the potential demand. However, the OEM recently cut its dealer ownership requirement to a 15 percent in a certified shop, which might boost supply. (Provided by Toyota)
This Toyota slide shows results from a Toyota-IHS Markit August 2019 study into brand loyalty. (Provided by Toyota)
Toyota also will use a new certification signage initiative to head off customers mistaking a Toyota dealer's uncertified collision center as part of the OEM's certified network. An uncertified dealer will be unable to purchase or lease the new signs. (Provided by Toyota)
Share This: