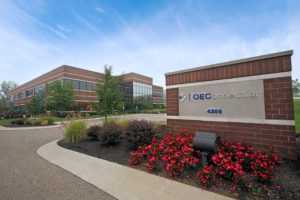 OEConnection on Thursday announced founder and longtime leader Chuck Rotuno would step down as CEO and assume the role of executive chairman, effectively immediately.
Patrick Brown, the former CEO of Innovative Aftermarket Systems, has been named OEConnection's new CEO. OEConnection on Thursday said he "brings extensive experience running high-growth companies in the FinTech, InsurTech and automotive industries."
"We want to thank Chuck for his leadership and look forward to our continued collaboration in his role as Executive Chairman," Genstar Capital director Geoff Miller and managing director Eli Weiss said in a statement. "Over the past 20 years, Chuck and team have successfully established OEC as the leading provider of technology and data solutions to the automotive replacement parts marketplace. As OEC continues its growth trajectory, we are very pleased to welcome Patrick to the team. He is a highly strategic leader who is very well positioned to build on this momentum."
According to a LinkedIn profile, Brown until June had been the CEO of Innovative Aftermarket Systems, which like OEConnection had been owned by Genstar. The private equity firm announced in May it would sell IAS to iA Financial Group.
Genstar called IAS "the leading provider of automotive warranties, vehicle services contracts (VSC), training, and related software and services." At the time of the sale's announcement, the company did business with more than 4,300 dealers and employed more than 500 people.
"Having spent a great deal of time with Patrick throughout the process, I am convinced he is the right person to lead the next chapter of growth for OEC. He is a seasoned executive with a proven track record of successfully managing high-growth companies," Rotuno said in a statement. "I am incredibly proud of my tenure at OEC and all the team has accomplished, and this is the right time to pass the torch to Patrick."
Rotuno, a senior vice president and general manager of Bell + Howell Automotive (now known as Snap-on Business Solutions), had been recruited to launch OEConnection. Four years after the company's founding in December 2000, Ernst & Young named Rotuno Entrepreneur of the Year. OEC has grown to 1,000 employees and serves 30,000 dealerships and 135,000 wholesale customers worldwide, according to a company biography. The undated bio says OEC has posted double-digit compound annual growth rate over the past five years.
Brown worked at IAS for around four years. Prior to that, he served as senior vice president of payments company Netspend and president of Euronet Payments & Remittance, assuming the latter role after selling a financial services company he co-founded to Euronet World Wide.
He also currently serves on the board of All Web Leads.
"I am very excited to become part of the OEC family," Brown said in a statement. "Chuck and the team have done a tremendous job taking OEC from a joint venture start-up to a leading technology provider in the global automotive space. I look forward to partnering with Genstar and the management team to drive continued growth for OEC."
More information:
"OEC Appoints Patrick C. Brown as its New President and CEO"
OEConnection via PRWeb, Oct. 8, 2020
Featured image: OEConnection's headquarters is shown. (Provided by OEConnection)
Share This: