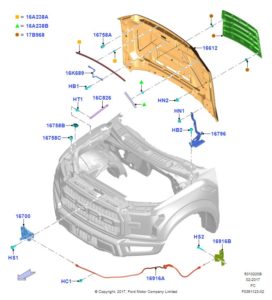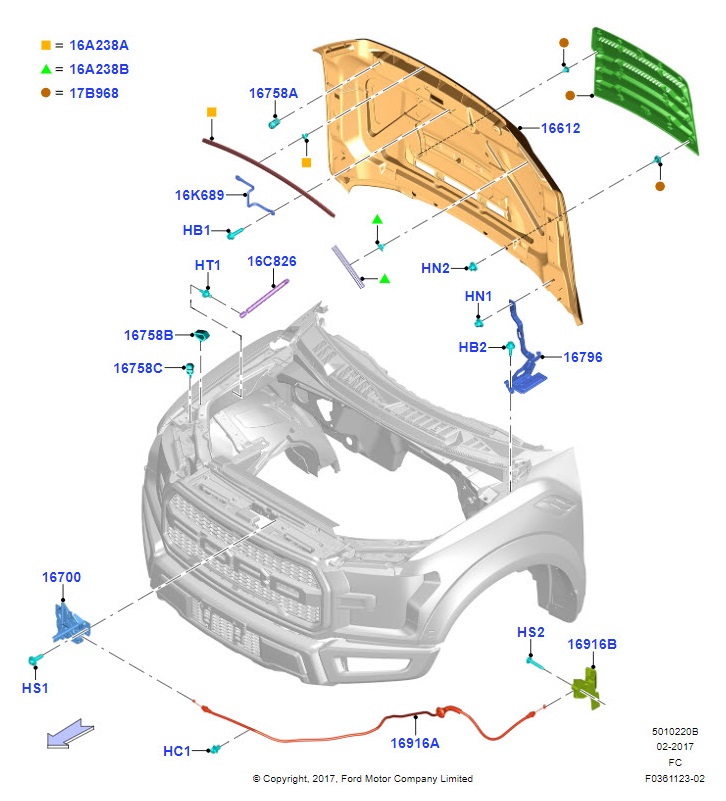 I-CAR and Ford recently highlighted how a collision repair professional could leverage the OEM's free consumer-facing parts website and owner's manuals for valuable information.
I-CAR also reemphasized the value of the free fordcrashparts.com informational portal during the duo's Aug. 21 virtual NORTHEAST presentation.
None of these are substitutes for the actual OEM repair procedures — though I-CAR demonstrated that the owner's manuals might carry information you can't find in the official OEM procedures.
Owner's manuals
I-CAR's Joe Burda recounted how a collision repairer diligent about researching OEM procedures found themselves stumped by the scenario in front of them. What should they do when a rear seat sporting one of Ford's inflatable seat belts carried a child seat?
"They couldn't find it (in the OEM procedures)," Burda said.
The shop asked Ford, and the question reached paint and body repair senior engineer Gerry Bonanni.
Bonanni said he searched for an answer, and "I found it in the owner guide."
The owner's manual is already right there in the vehicle before a shop, and "there's a lot of information in there that you want to take advantage of," Bonanni said.
Burda asked if it was fair to call the owner's manual a "legal extension of the workshop manual."
"It truly is," Bonanni said. He said that document carries Ford's "legal approval" too and was "highly recommended."
Free Ford owner's manuals can be found on the company's consumer website and on the free side of the Ford OEM repair procedure site.  Ford offers static PDFs of that document's current and prior printings (for example, the next-generation 2020 Ford Escape manual is on its third edition) as well as a dynamic HTML version.
The HTML versions of the manuals contain warnings that they contain the latest information and "may also describe content that is not on or operates differently on your vehicle. Please consider the Owner's Manual originally provided with your vehicle as the primary source of information for your vehicle."
However, Ford confirmed Wednesday it would still want repairers to use the dynamic HTML manual rather than the static PDF or print edition, similar to how you'd look up official OEM procedures online each repair to ensure you're getting the freshest version.
"As you know, the workshop manual may be updated from time to time, based on vehicle changes or revisions," Sherrice Gilsbach of Ford dealer and customer service division communications wrote in an email Wednesday. "Because of this, the online version is always the most up to date, vs one printed or viewed before a possible revision.
"The same applies to the Owner Guide.
"We recommend viewing the manuals online before every repair operation, as we reserve the right to make changes and edits as required."
Consumer parts site
Repairers also could benefit by tapping the consumer-facing Ford parts website parts.ford.com, Burda said.
Insurers and collision repairers have their own means of sourcing parts, he said. But creating a free account on the Ford site opens up a "wonderful resource" containing detailed illustrations and breakdowns.
You can see a sort of "X-ray" of a vehicle component, he said. It's a way for damage analysis personnel to know what lies behind a part prior to teardown.
Ford provided us with these examples of what you'd see looking up a 2020 Ford Escape grille and a 2019 Ford F-150 hood.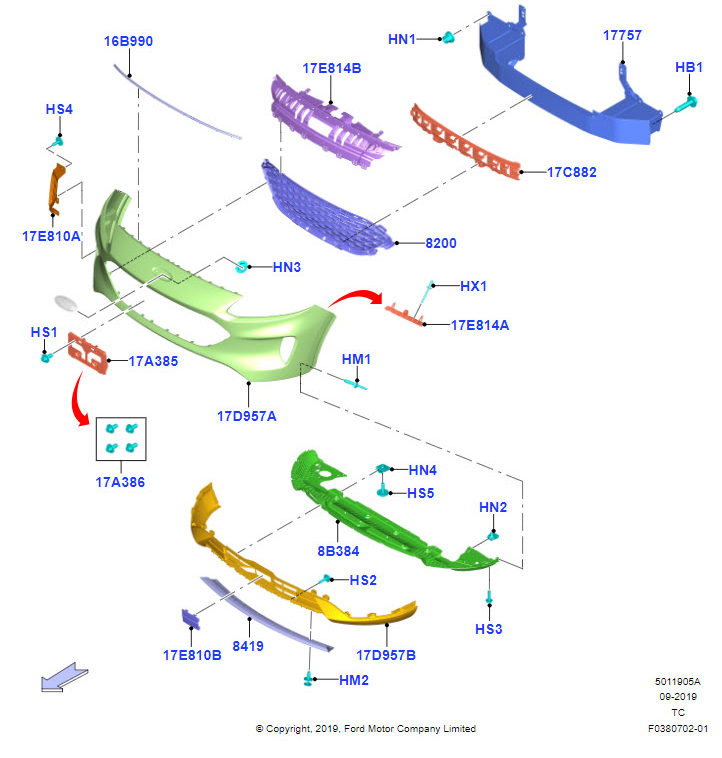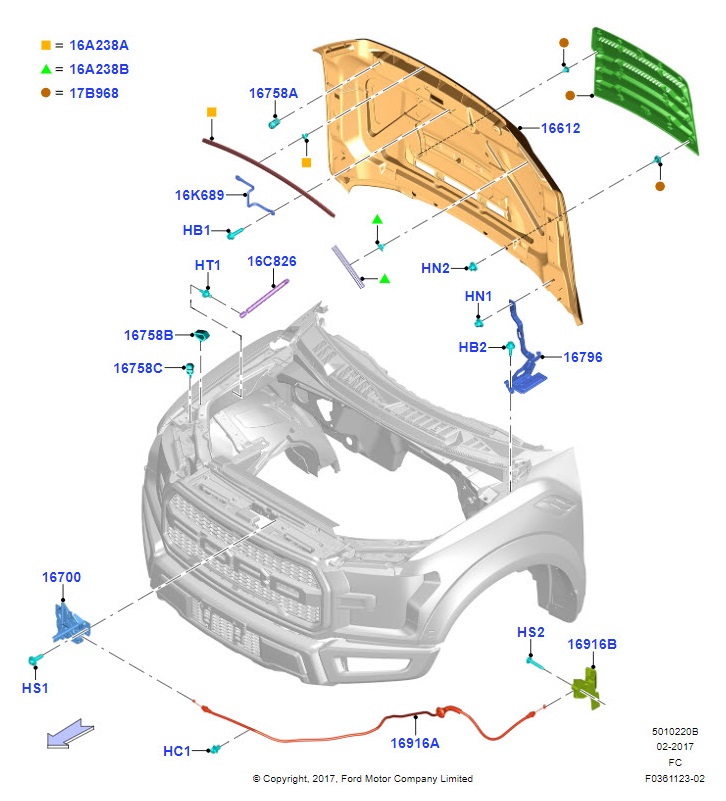 A 2019 DEKRA presentation revealed how a low-speed collision into a trailer hitch could result in far more damage to a vehicle than was visible from the exterior. So diagrams like these might help prevent repairers, insurers and customers from jumping to such mistaken conclusions.
Fordcrashparts.com
Finally, the presentation spent a great deal of time introducing repairers to the free fordcrashparts.com resource for the auto body industry.
Burda showed how the site contained items like videos, position statements, Ford-approved adhesives, paint information for shops, Ford's On Target newsletters and even instructions for cleaning a car during the COVID-19 pandemic.
"I urge you to read through every one of those," he said of the position statements.
He said Ford asked him to revisit its position statement opposing aftermarket parts, which he acknowledged was controversial. But "you need to read this," he said.
Burda highlighted an important paragraph for customers, shops and insurers:
"Furthermore, Ford Red Carpet Lease agreements stipulate that all parts damaged as a result of a collision must be replaced with Genuine Ford Original Equipment Replacement Parts," Ford writes. (Emphasis Ford's.)
He also noted the position statement on clips, directing the audience to message him if they've clipped a vehicle lately — and then laughing.
"Pardon my laughter," Burda said. He said he's old enough to have clipped cars, but he hadn't put on a clip in the "last 40 years."
If the laughter of an I-CAR instructor wasn't enough to convince repairers not to clip Fords, there is indeed a position statement.
"Ford Motor Company does not approve the use of 'clips' to repair collision damage to vehicles," Ford wrote.
"The use of a 'clip' to repair collision damage voids Ford's New Vehicle Limited Warranty and any variety of Ford's Extended Service Plan, as well as Ford's new vehicle service part and corrosion warranties for each part in the 'clip.' Use of a 'clip' also voids any variety of Ford's Extended Service Plan, new vehicle service part warranty and corrosion warranty for any damage to individual components, assemblies or systems on the original vehicle caused by individual components, assemblies or systems in the 'clip.'
"Ford has adopted this position because it cannot be confident 'clip' repair procedures return vehicles to pre-accident condition. Because every 'clip' repair is unique, it is impossible to test whether the repair technique affects the safety, performance or durability of the vehicle."
Burda also pointed out: "These position statements do not replace the workshop manual." A shop can't make a repair decision on position statements, he said; they need to also consult the OEM repair procedures.
More information:
Ford's official OEM procedure site
Free Parts.Ford.com parts resource for consumers
Featured images: The consumer-facing parts.ford.com website contains detailed X-rays any repairer or insurer can see for free. (Provided by Ford)
Share This: