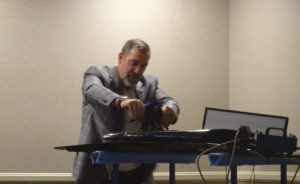 Prior to the COVID-19 pandemic, KECO Body Repair Products had managed to "make some headway" with some automakers on the concept of glue pulling, owner Chris White said Wednesday.
"We're trying to get them to take notice," he said of the uninvasive dent repair method.
Before the shutdown, the company had a meeting with General Motors, and "they were super-excited" about the equipment and process for glue-pulling steeel and aluminum — "particularly aluminum."
Startup electric vehicle manufacturer Rivian "100 percent" would like glue pulling to be a "specified repair method" too, White said.
Such collaborations could give repairers more confidence in the process and avoid unintentional errors. White said glue pulling sometimes has been performed on unrepairable panels by mistake. "We want people to stay within" OEM instructions while glue pulling, he said.
White discussed the otherwise-vehicle-friendly technique with us ahead of his upcoming SCRS' virtual Repairer Education course. "Comprehensive Training in Glue Pull Repair – Advanced Session," featuring White and Gene Fetty of Dent Repair Now, will be released online Nov. 2 and replayable through Aug. 31, 2021. It'll fit what's normally a $700, full-day course into around a two-hour, $75 session. White called it the "same content" despite the compression.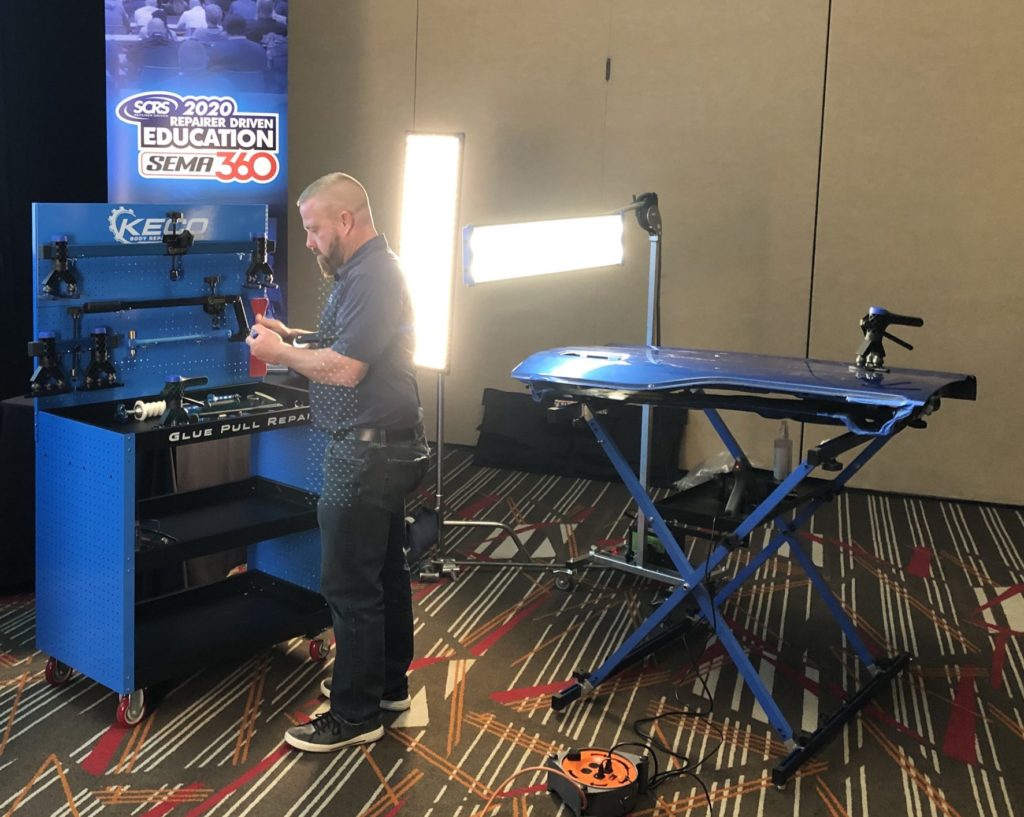 Glue-pulling has been around for "more than 15 years, probably," but no one had put together a detailed process for the work, according to White. "We wrote a process," he said.
Known as the "6 Cs," the system gives a tech with zero glue experience "all they need" to succeed in the operation, White said. It also has improved paintless dent repair technicians who already thought themselves proficient in the technique, he said.
He said KECO has experienced a "ton of success" with both the collision and PDR industries.
KECO has seen "exponentially more growth" in body technicians learning glue pulling instead of welding studs, according to White. He said technicians also have started thinking about the repair differently, such as using glue pulling to reach a point where a PDR tech could finish the repair — and avoiding having to repaint altogether. Or the technician can restore the panel to a place that could be finished by body filler and paint. New opportunities are created for both the collision and PDR industries,
White said the company's direct sales model has allowed him the opportunity to meet technicians online and in person, and he's been impressed by the number of technicians that care about work quality. They see glue-pulling as a means of improving that quality, and "they will spend their own money," he said.
He said he's seen many customers who already owned a stud-pulling system opt instead for glue-pulling out of a desire to avoid damaging the front and back side of a panel.
"They seem to have a passion for doing quality work," he said.
Sign up for White and Fetty's course here. Individual RDE classes are $75 and replayable on-demand through Aug. 31, 2021. SCRS also will offer a $375 full-series pass good for entry to the more than a dozen virtual sessions and the $150 virtual OEM Collision Repair Technology Summit.
More information:
Society of Collision Repair Specialists virtual Repairer Driven Education website
Images:
KECO President Chris White demonstrates the KECO Robo Crease Killer kit during a 2020 "Kool Tools" presentation on Jan. 15, 2020. (John Huetter/Repairer Driven News)
The Society of Collision Repair Specialists in fall 2020 filmed classes for its virtual Repairer Driven Education series scheduled Nov. 2-6, 2020. Gene Fetty of Dent Repair Now is shown during one of the sessions. (Provided by Society of Collision Repair Specialists)
Share This: