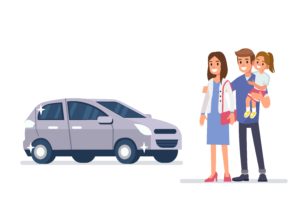 The involvement of a direct repair program auto body shop led to "a significantly higher overall satisfaction score" in J.D. Power's 2020 U.S. Auto Claims Satisfaction Study, the research firm announced Thursday.
Claimants who had body work done at an insurer-affiliated shop averaged an 888 out of 1,000 in overall satisfaction, J.D. Power said. But customers who used a shop outside of the relevant carrier's network only averaged 844 in satisfaction.
"This is driven by quicker cycle times among DRP shops and regular updates on progress," J.D. Power wrote in a news release.
Altogether, customers averaged a record-high satisfaction of 872, J.D. Power said.
The 2020 study ran from November 2019 through September and surveyed 11,055 people who filed a claim within the six months prior to being contacted. (So theoretically, this could include folks the collision industry fixed as far back as May 2019.) J.D. Power didn't count glass-only or stolen-car claims.
In the past, there hadn't been as much differentiation between DRP and non-DRP facilities, according to J.D. Power property and casualty insurance intelligence head Tom Super. Now, they're "more different," he said in an interview Tuesday.
Back in 2017, customers who patronized DRP facilities posted overall satisfaction of 873 out of 1,000, according to J.D. Power data. Non-DRP users produced an 846 satisfaction score. Since then, the spread between DRP and non-DRP shops has widened to the 44 points described above — and non-DRP shops tied to less satisfaction than in the past.
One wonders if some of the blame for diminished non-DRP satisfaction scores rests with the insurer, not the shop.
The latest "Who Pays for What?" poll conducted by Collision Advice and CRASH Network showed a disparity in how likely insurers are to reimburse a repair operation if filed by a DRP shop versus a non-DRP site.
The latest survey finds repeated instances of Top 10 insurers paying bills from non-DRP shops — which means the insurers are effectively refusing to reimburse their own customer or claimant. However, examples of parity or non-DRP shops faring better exist as well.
For example, here's the latest seat belt inspection data collected: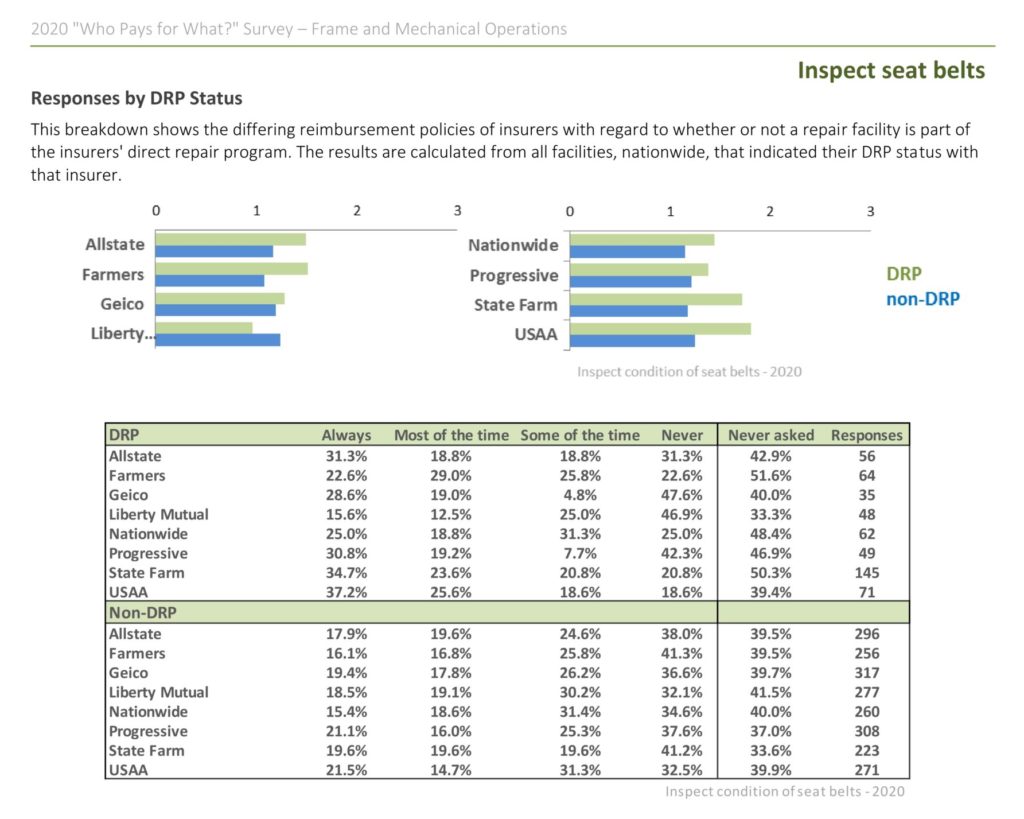 We asked J.D. Power if the research had found any evidence that insurers were treating customers differently for patronizing a non-DRP collision repairer, thereby affecting satisfaction. Super said their study didn't go that deep — such a question "doesn't align with the J.D. Power expertise as much," he said.
The J.D. Power research also found customers non-DRP experiencing longer overall claims and having to make more of an effort during the process. Again, these metrics could arguably capture problems with the insurer's speed and behavior on out-of-network claims as well as a shop's.
Cycle times were "much quicker" for DRP shops, Super said. The average time from first notice of loss to vehicle delivery took 11.6 days for insurer network facilities, compared to 16 days for non-DRP sites, Super said.
And DRPs "did extremely well" on the amount of customer effort required, according to Super. He said both the spread between DRP and non-DRP shops had improved, and DRP shops had increased their own scores as well.
He said 42 percent of DRP customers reported having to do very little, compared to 37 percent of non-DRP customers who could get by with an extremely personal effort.
"That's pretty significant," Super said.
Super said customers gave DRP shops better marks for quality, speed, helpfulness, keeping informed (this one showed "significant improvement" for DRP shops over non-DRP sites, he said) and estimate accuracy. In all of these elements, "DRPs are outperforming non-DRP shops," Super said.
Super noted that it was "very difficult" for the average auto insurer to retain a customer after a crash — the consumer knows their premiums are likely to rise. In addition, the insurance industry was spending $9 billion annually on advertising trying to get consumers to shop for a new carrier.
Anything keeping a consumer within an insurer's book can mean "significant revenue" for carriers, according to Super. Even marginal improvement can be desirable, he suggested.
If body shops can enhance customer service, "there is a direct translation to increased business outcomes," he said.
Super also observed that COVID-19 let insurers create a "test case" around the concept of "enhanced service delivery" to eke out that additional margin. They could try out "white-glove service," he said. And it worked: J.D. Power saw an increase in "service-related metrics" that improved "business outcomes" like customer loyalty and intent to renew a policy, he said.
Overall, the new claims study found 77 percent of customers who used direct repair program facilities were likely to renew their policy, compared to 62 percent for patrons of non-DRP shops, according to Super. He called that a "pretty significant difference."
In other J.D. Power news, here's which insurers it found delivered the greatest satisfaction: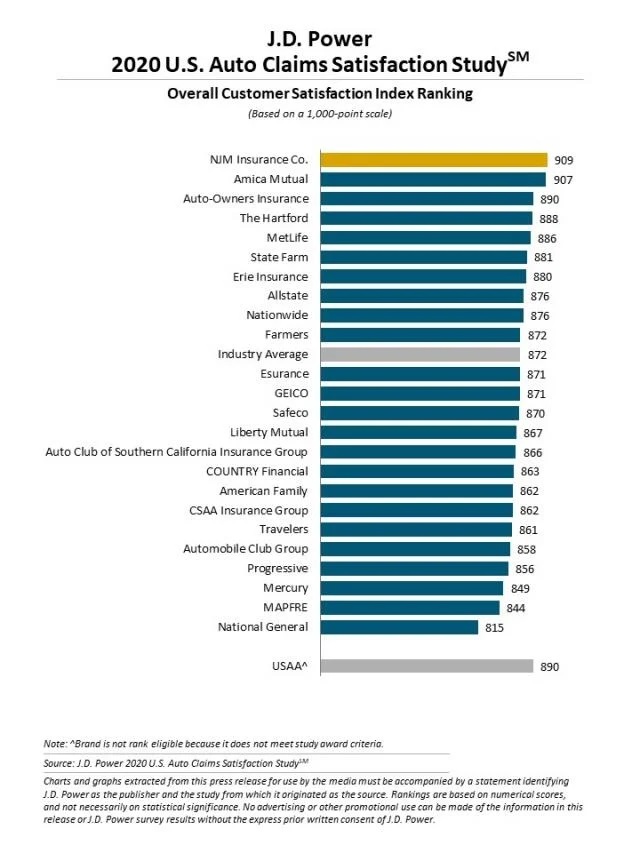 More information:
"Auto Insurance Claims Satisfaction Climbs to Record High as Carriers Refine Customer Experience During Pandemic, J.D. Power Finds"
J.D. Power, Oct. 22, 2020
Images:
Some insurers less consistently reimburse charges for inspecting seat belts from repairers not on their DRP, according to summer 2020 "Who Pays for What?" polling. (Provided by CRASH Network and Collision Advice)
Data from the J.D. Power 2020 U.S. Auto Claims Satisfaction Study is shown. (Provided by J.D. Power)
Share This: