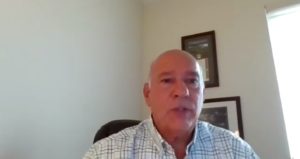 I-CAR sales and marketing Senior Vice President Nick Notte on Tuesday announced his organization would create a role devoted to advanced driver assistance systems work.
Notte said the January Collision Industry Conference included a suggestion for I-CAR to create such a role. "Challenge Accepted," an I-CAR slide declared during Tuesday's virtual CIC.
I-CAR already has a program in place to train a repairer to ProLevel 3 and Platinum status as an electronic/diagnostics technician, and Notte mentioned this training track Tuesday. However, this role is optional; a shop doesn't need such an employee in place to achieve or retain Gold Class status.
In contrast, Notte confirmed that I-CAR plans to eventually require a Gold Class shop to have one of the new ADAS technicians on staff. This position would join I-CAR's other mandatory Gold Class roles of non-structural technician, structural technician, refinish technician and estimator.
"We have to work with the industry on that," he said of I-CAR's vision of an ADAS role being a Gold Class requirement.
An I-CAR slide described the ADAS technician job using an Automotive Service Association definition presented at an earlier CIC:
Automotive Technician skilled in computer functions, advanced diagnostic equipment, and new vehicle technologies. Knowledgeable in OEM repair procedures, having mechanical aptitude and qualifications, with primary focus on (SRS) Supplemental Restrain System and Advanced Driver Assistance Systems.
"I think they did a really good job," Notte said of the definition.
He noted that many shops sublet this work, and "we want to arm the industry" to handle the work in-house. He called it a "big decision" for I-CAR.
I-CAR defines its current electrical/diagnostics Professional Development Program role today as:
An Electrical/Diagnostics Technician follows OEM information for scanning and calibration during the collision repair process. The technician may perform a Pre-Repair Scan/Health Scan to capture codes, a Post-Repair Scan to identify and clear codes, and/or a Post-Repair Calibration/Initialization following the removal, installation, and/or repair of many safety and driver convenience system parts, or if there is damage to the mounting location(s), R&I or R&R of the cameras/sensors/ mounting locations, R&I or R&R of parts in front of, or behind, cameras and/or sensors, or R&R or R&I of closure/trim panels.
He described the new ADAS job as "more involved" than this with a "resounding yes."
We asked if the new ADAS role would replace the electrical/diagnostics PDP job.
"We're talking about including the knowledge and skills related to that role in the new ADAS tech role," Notte wrote in an email Wednesday. "We want the industry to help us with that direction.  That said, the knowledge and skills necessary for that role fit well in the ADAS role.  We're trying to eliminate redundancy and in doing so, could transition the E/D role to the new one."
Notte noted that one of his slides called an ADAS position an "important cornerstone" of I-CAR's Professional Development Program.
"We look at it as that," he said. "… ADAS is a competence and liability game changer."
I-CAR sees all functions related to ADAS systems "as important as proper welding" for a "complete, safe and quality repair," he said.
The lack of standardization among OEM ADAS technology creates a great deal of complexity for technicians, which means "there are safety risks," he said.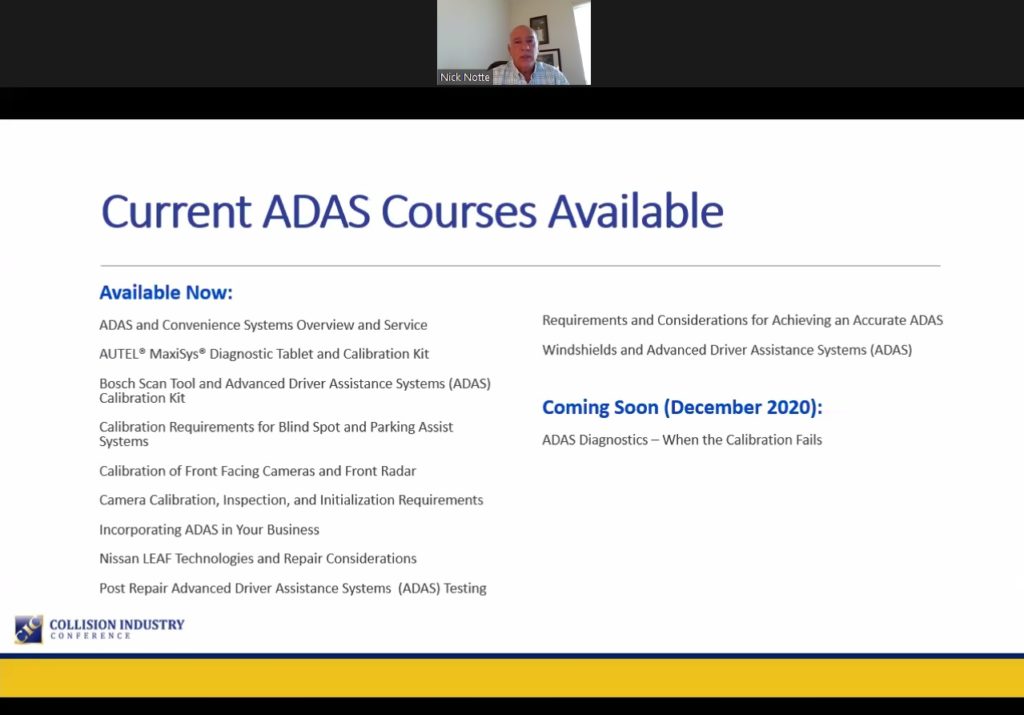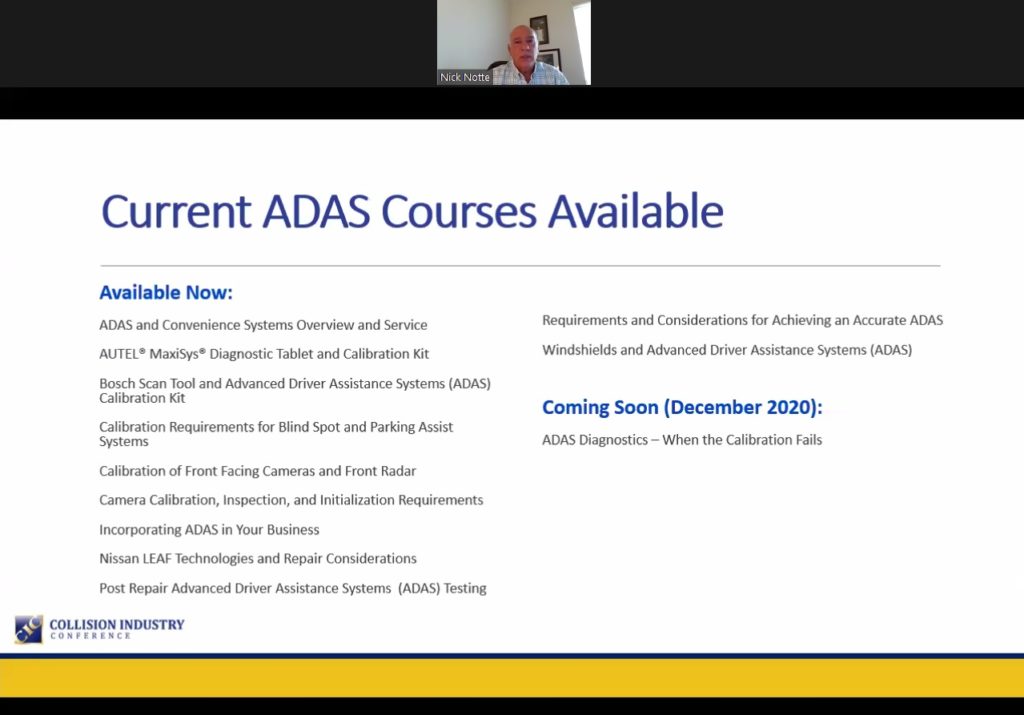 Notte listed the significant amount of other ADAS help I-CAR had already given the industry. This included:
There's a "ton of stuff" accessible through the ADAS Resources button on the I-CAR homepage, including webinars, podcasts, articles and course listings, according to Notte. I-CAR staff also write 2-3 articles, often about ADAS, each week for the Repairability Technology Support website, and I-CAR's Collision Reporter publication has published an ADAS Issue.
I-CAR's Gold Class requirements for 2021 also mandate shop-level training on technical issues including ADAS, Notte said.
"Our Gold Class shops will have responsibility for that training," he said.
The organization already offers 11 ADAS courses now, and another is coming in December. "We're working on more," he said.
And of course, there's the electrical/diagnostics role, which was "something you might want to check out," Notte told the CIC.
The organization also advocates on behalf of repairability to OEMs and suppliers, and it works with automakers on training.
Notte said I-CAR plans to reach out to repairers, OEMs and ADAS designers for input about the new job, and I-CAR hoped to have an update on it for the January 2021 CIC.
More information:
NASTF portal to official OEM collision repair procedure websites
I-CAR electrical/diagnostic role information
I-CAR Collision Reporter ADAS Issue
I-CAR, May 2020
Images:
I-CAR sales and marketing Senior Vice President Nick Notte speaks Nov. 10, 2020, to the virtual Collision Industry Conference. (Screenshot from virtual CIC)
I-CAR sales and marketing Senior Vice President Nick Notte presented this list of current and upcoming I-CAR advanced driver assistance systems courses Nov. 10, 2020, to the virtual Collision Industry Conference. (Screenshot from virtual CIC)
Share This: