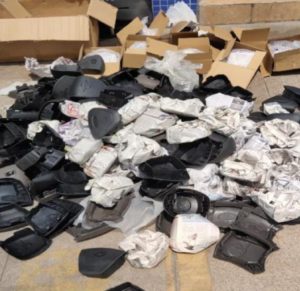 The Automotive Anti-Counterfeiting Council last month published a new white paper alerting consumers and automotive professionals to the risk of counterfeit parts making their way into a repair.
Founded in 2015, the organization represents a joint effort by 10 automaker conglomerates representing nearly 30 makes altogether. It works with law enforcement and online marketplaces and has trained more than 1,000 officers with agencies like Customs and the FBI.
According to the A2C2, the organization has been focusing on mass-market e-commerce marketplaces, not the B2B parts procurement systems used by automotive professionals. But it seems the automotive aftermarket should still be aware of the issue highlighted here. It suggests some due diligence might be in order when a mechanic or body shop encounters a customer who shows up with parts in hand and requests the repairer install them.
"Consumers are most vulnerable to purchasing counterfeits through these e-commerce marketplaces, but there is also concern that some repair shops may be going that route for some of their purchases as well," the A2C2 wrote in an email Nov. 18. "For them, A2C2 emphasizes the importance of knowing and trusting your source and utilizing reputable supply chains."
"Consumers are unaware that some products on online marketplaces are counterfeit," the A2C2 wrote in the white paper. "Many consumers believe that the offerings online are more akin to brick-and-mortar retailers. Many do not realize the lack of regulation of the third-party sellers and thus are unknowingly putting themselves or their customers (in the case of automotive repair shops) at risk."
It's important to note that the A2C2 isn't challenging grey market parts, such as a component an automaker produces for one country that are purchased by a customer in another nation.
(However, importers and suppliers should be sure they can trust their business partners. It's possible counterfeits can work their way into such shipments. "As with all counterfeits, quantifying the problem is difficult, but counterfeit automotive parts have been commingled with legitimate OEM parts coming from foreign markets, such as those considered 'gray market,'" the A2C2 wrote in an email. "A2C2 doesn't deal at all with gray market parts, but law enforcement has discovered counterfeits hidden in such shipments from foreign markets.")
A2C2 also isn't attacking aftermarket parts, which might match an automaker's specifications but are clearly sold under their own third-party brand names — not an OEM's.
Rather, the A2C2 is calling out examples of out-and out fraud: Parts which aren't commissioned or produced by the OEM for any market, but are misrepresented as official OEM products anyway.
For example, the white paper describes an alleged counterfeiting operation which allegedly attached wheel center caps with unauthorized copies of automaker logos to aftermarket wheels. It then allegedly sold the finished products as genuine OEM originals. The A2C2 also mentioned a 2019 China raid which found 163,476 allegedly counterfeit airbags and cited a KTVT report of an allegedly counterfeit Kia airbag assembly Tracy Law Firm attorney Todd Tracy said lacked an airbag.
"According to the FY 2017-2019 U.S. Joint Strategic Plan on Intellectual Property Enforcement, counterfeit automotive parts are wide-ranging," the A2C2 wrote. (Emphasis A2C2's.) "The list of seized parts includes airbags, brake pads, wheels, seat belts, oil and air filters, control arms, windshields, bearings, steering linkages, ignition coils, microchips, spark plugs, solenoids, clutch housings, crankshafts, diagnostic equipment, suspension parts, oil pumps and more."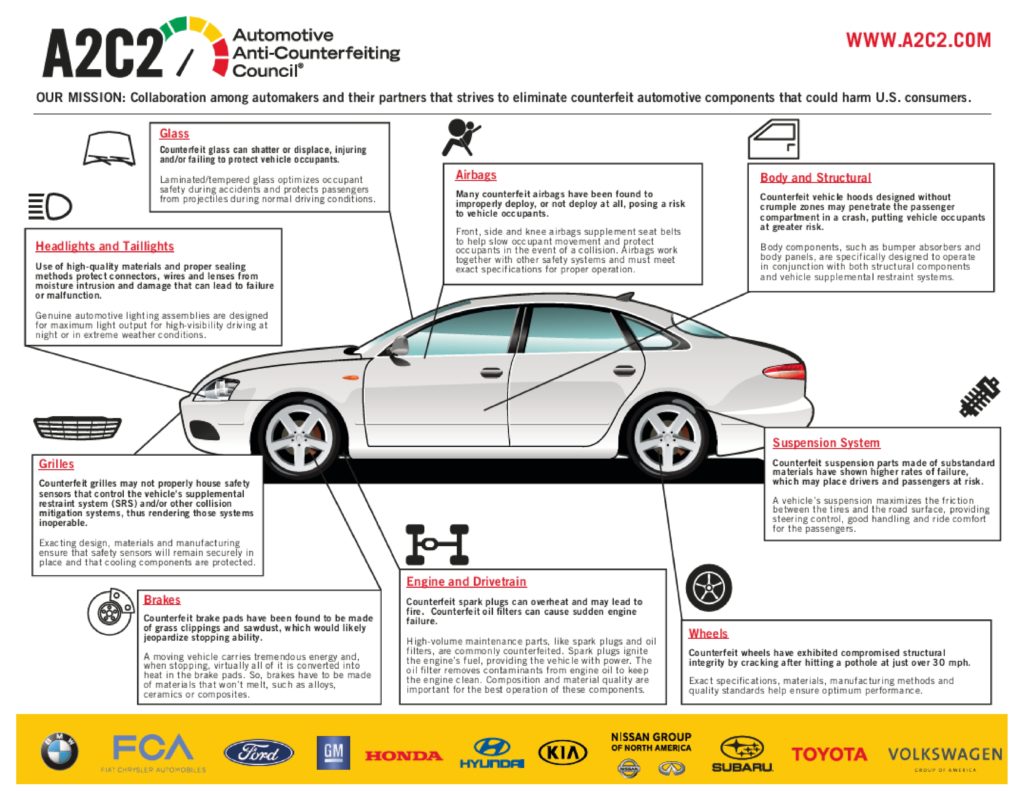 The November 2020 white paper offered a graphic showing potential risks of various common collision repair parts were they to be counterfeits.
"Counterfeit vehicle hoods designed without crumple zones may penetrate the passenger compartment in a crash, putting vehicle occupants at greater risk."
"Counterfeit grilles may not properly house safety sensors that control the vehicle's supplemental restraint system (SRS) and/or other collision mitigation systems, thus rendering those systems inoperable."
"Many counterfeit airbags have been found to improperly deploy, or not deploy at all, posing a risk to vehicle occupants."
"Counterfeit suspension parts made of substandard materials have shown higher rates of failure. which may place drivers and passengers at risk."
"Counterfeit glass can shatter or displace, injuring and/or failing to protect vehicle occupants."
The A2C2 proposed multiple avenues online mass-market consumer marketplaces could use to curb counterfeiters. These included prohibiting airbag sales, requiring a verified importer of record — or holding the marketplace accountable in that role — and indicating which sellers are authorized dealers or resellers of the products they offer.
The organization also suggested better seller verification from marketplaces and cited a couple of interesting points that supported the idea.
"For example, an A2C2 member obtained from one established marketplace the seller data for sellers reported for offering counterfeit goods, the white paper states. "The A2C2 member analyzed the addresses and determined that of 34 sellers with foreign addresses, 24 percent were verifiable, 15 percent were only partially verifiable and the remaining 61 percent were completely unverifiable."
The A2C2 also made the point that "Traditional retailers and nonhobbyists, pursuant to the Internal Revenue Service, must have business licenses and tax identification, but oftentimes online sellers do not."
Another interesting suggestion included a blanket warning to all buyers whenever a counterfeit part was detected in a seller's wares.
"Once a marketplace is aware that a seller has sold counterfeit products, the marketplace should inform all potentially affected consumers that the products they have received may be counterfeit and unsafe," the A2C2 wrote. "Further, the marketplace should investigate other products sold by that seller and, if they are determined to also be counterfeit, notify purchasers of those as well. Finally, the marketplace should replace all counterfeit products with legitimate versions at no cost."
More information:
"A2C2 White Paper Details Problem of Counterfeit Auto Parts Sold Online"
Automotive Anti-Counterfeiting Council, Nov. 5, 2020
"The Online Sale of Counterfeit Automotive Parts" white paper
A2C2, November 2020
Images:
These allegedly counterfeit airbag components were among 163,476 allegedly counterfeit airbag parts found in a May 2019 China raid, according to the Automotive Anti-Counterfeiting Council. (Provided by Automotive Anti-Counterfeiting Council)
The Automotive Anti-Counterfeiting Council released this graphic in a November 2020 white paper. It proposes potential risks of various common collision repair parts were they to be counterfeits. (Provided by Automotive Anti-Counterfeiting Council)
Share This: