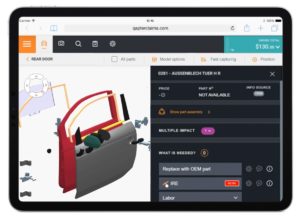 Audatex parent company Solera on Wednesday confirmed it was expanding the Qapter brand to a variety of services, including the Audatex Estimating platform.
Solera has since June highlighted Qapter as an artificial intelligence photo estimating system, most recently with an announcement in October describing the boost Google Cloud has given the project.
But the company has also previously associated the Qapter brand with heavy duty collision repair estimating and as a new name for the traditional Audatex Estimating (ADXE) software.
Solera product marketing Global Vice President Marcos Malzone clarified Wednesday that these are all parts of a modular "end-to-end suite" the company was calling Qapter.
The company was trying to "harmonize" its products globally under the Qapter brand, he said. (However, North America will continue to rely on its own region-specific "local repair science" and labor times within that platform, Malzone said.)
"It's completely modular," Malzone said of Qapter. As he described it, a body shop or insurer subscriber could add on various Solera features a la carte within the Qapter suite, such as heavy-duty vehicle estimating.
Malzone said Audatex Estimating had already been renamed Qapter. Current North American ADXE repairer and insurer customers who upgraded to the current version, now called Qapter, could opt to use an AI photo estimating feature debuting early next year, he said. (Older versions aren't set up with that integration, Malzone said.)
Customers can submit photos and receive an artificial intelligence-generated estimate. The customer will no longer have to indicate the damage on images themselves, he said.
"This is really the next step," he said. He said Solera was piloting this with insurers now.
Malzone noted this wouldn't be "100 percent accurate," and a human would still have to review the output. However, at least an insurer would know more about the vehicle earlier in the process, he said.
Malzone described a couple of other Qapter features available now or soon during the interview Wednesday.
One involved flagging pre-existing "'pre-policy'" damage based on photos submitted of the vehicle prior to the wreck, he said, calling it a means of aiding underwriters with AI as well as reducing claim fraud. The system also was able to detect makes and models for more than 2,000 vehicles based on images alone — no VIN required — which Malzone said also helped prevent fraud.
The company is also working on predictive analytics for internal parts which might also be damage based on the images of the exterior damage location, according to Malzone.
He called this "the next breakthrough" and said Solera might have an announcement in "coming months."
More information:
"Solera Announces Advances In Break-Through A.I. Solution Qapter, In Collaboration With Google Cloud, To Drive Speed, Savings And Scale In Automotive Claims Management"
Solera via PR Newswire, Dec. 3, 2020
Featured image: A screenshot of Solera's AI photo estimating within Qapter is shown. Note: Parts and labor costs are based on European standards and for illustrative purpose only. (Provided by Solera)
Share This: