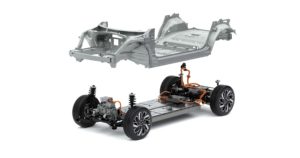 Hyundai last week unveiled its "E-GMP" electric vehicle platform and highlighted some of the structural battery protection elements collision repairers might need to restore.
Hyundai already sells long-range electric vehicles, such as the 258-mile 2019 Kona and 170-mile 2020 Ioniq. However, the "E-GMP" news release Dec. 1 suggested these still relied on a platform designed for an internal combustion engine. The new architecture is tailored specifically for electric vehicles and is all-wheel drive by default, unless a customer orders rear-wheel drive.
"Benefits include increased development flexibility, powerful driving performance, increased driving range, strengthened safety features, and more interior space for occupants and luggage," Hyundai wrote in a news release.
Hyundai called the setup modular and standardized enough to permit "rapid and flexible development" of new sedans, crossovers and SUVs.
Hyundai mounted the battery pack between the front and rear axles in the usual "skateboard" setup. It uses a mix of strong, light steels and aluminum to protect it.
"The platform secures battery safety through a battery support structure made of ultra-high strength steel," Hyundai wrote. "Hot-stamped steel components surround this structure for additional rigidity. Collision energy can be absorbed efficiently thanks to energy-absorbent sections of the body and chassis, effective energy load paths, and a central section of the battery pack tightly bound to the vehicle body."
A video posted Dec. 1 highlights how Hyundai mounted the battery to the vehicle at eight points. Young-Eun Ko, vice president of Hyundai's vehicle architecture integration group, said in the video this was done to "to distribute collision impacts effectively" (Ko's quotes are based upon Hyundai's subtitle translations.)
Ko also said that in addition to extensive hot-stamped steel around the battery "extruded aluminum in the vehicle side sills enhances structural safety."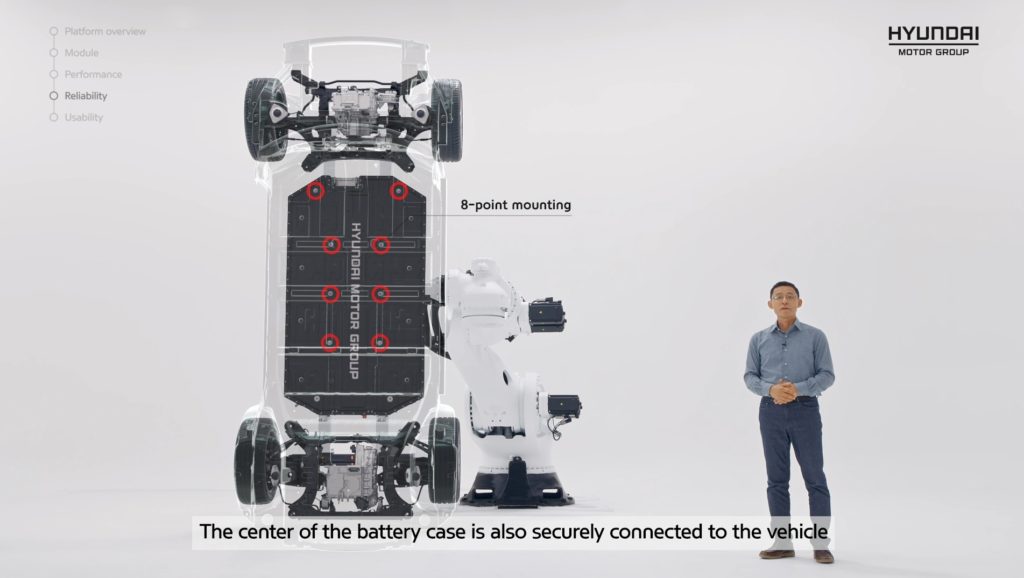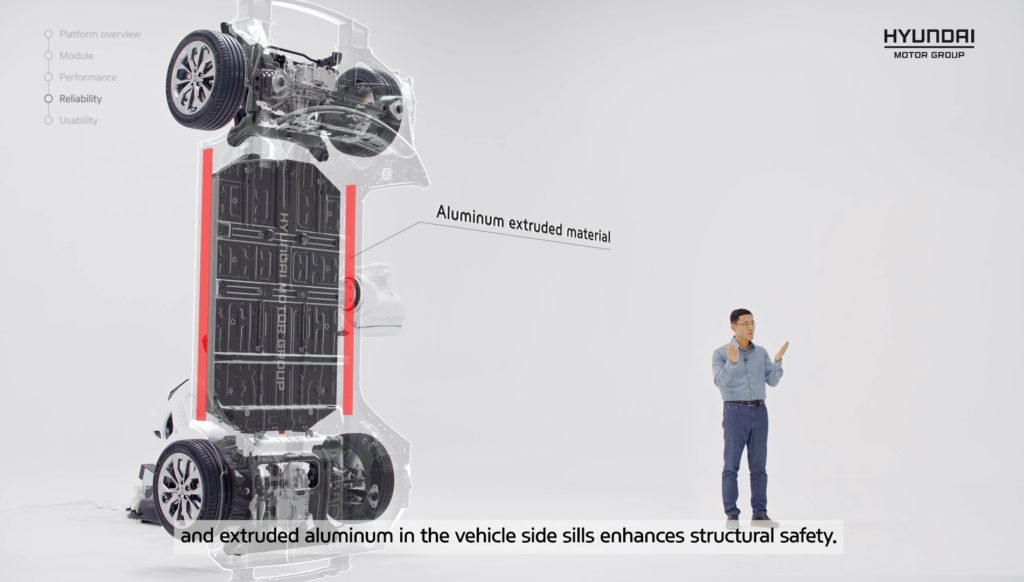 He described significant crash energy management in the vehicle's front end.
"First, in the energy absorption zone from the back beam to the subframe rear mounting the vehicle body, chassis and other structures were built to deform to absorb shocks," Ko said.
"In the lower support section, from the subframe rear mounting to the dashboard impacts are minimized on the PE module and high-voltage battery by adopting a collision avoidance structure. …
"To prevent deformation of the cabin area for passenger protection we created an energy distribution structure around the lower A-pillar and reinforced the linkage between the anterior front subframe and car body fender apron."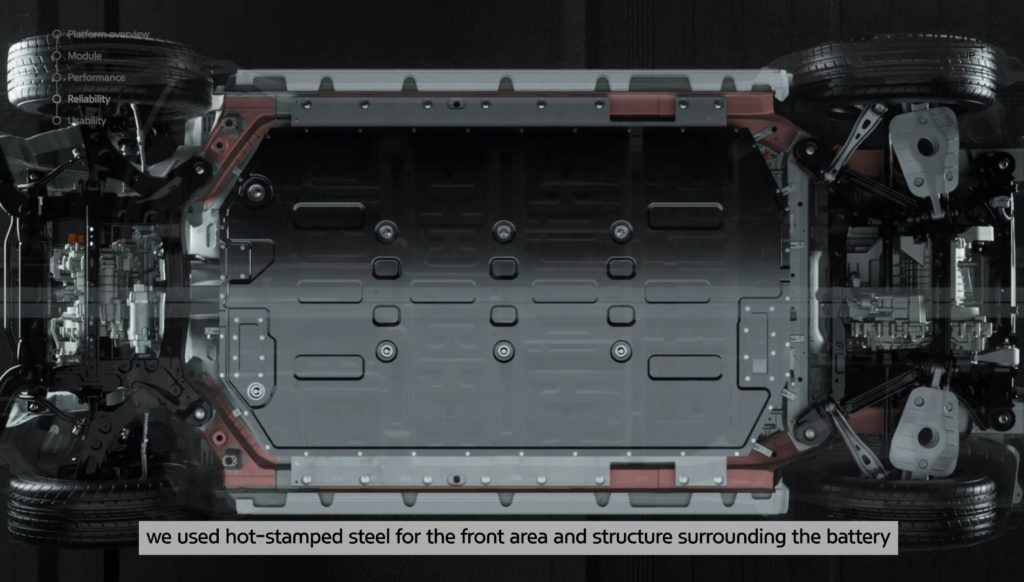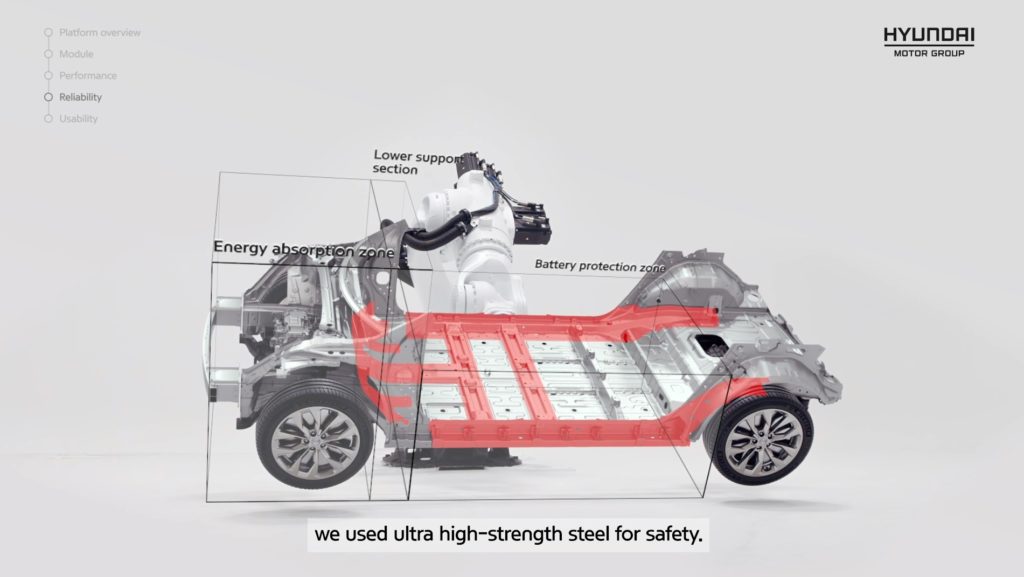 A graphic in the video displayed how the subframe connects to the shotguns with an "Improved joining structure."
Shops will also notice two crossbars in the front of the vehicle, which Ko said helps during small-overlap crashes. He said an E-GMP "vehicle is protected by a crossbar structure that connects left and right sides of the engine bay and a strengthened cross section for the anterior side member."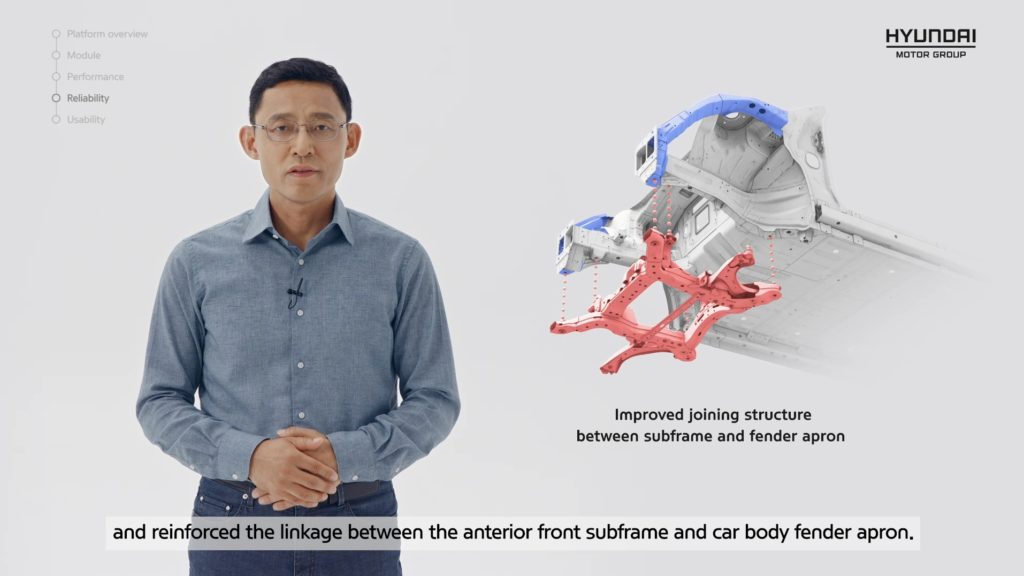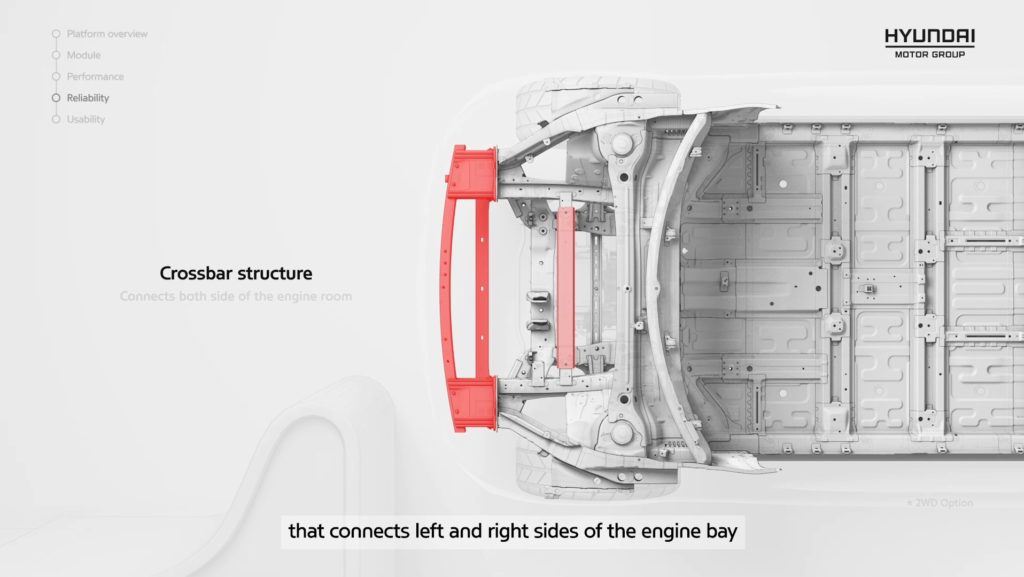 Repairers should note a couple of other chassis elements which might be factors in collision repair. Hyundai said the E-GMP sports a five-link rear suspension "typically used for mid and large sized vehicle segments," and "the world's first integrated drive axle."
Hyundai said the E-GMP's batter would "be the most power-dense system that Hyundai Motor Group has ever created."
"This is partly thanks to its enhanced cooling performance, a result of a new separate cooling block structure which helps make the battery pack more compact," Hyundai continued. "With energy density enhanced by around 10% compared to existing EV battery technology, the battery packs are lighter, can be mounted lower in the body, and liberate more cabin space."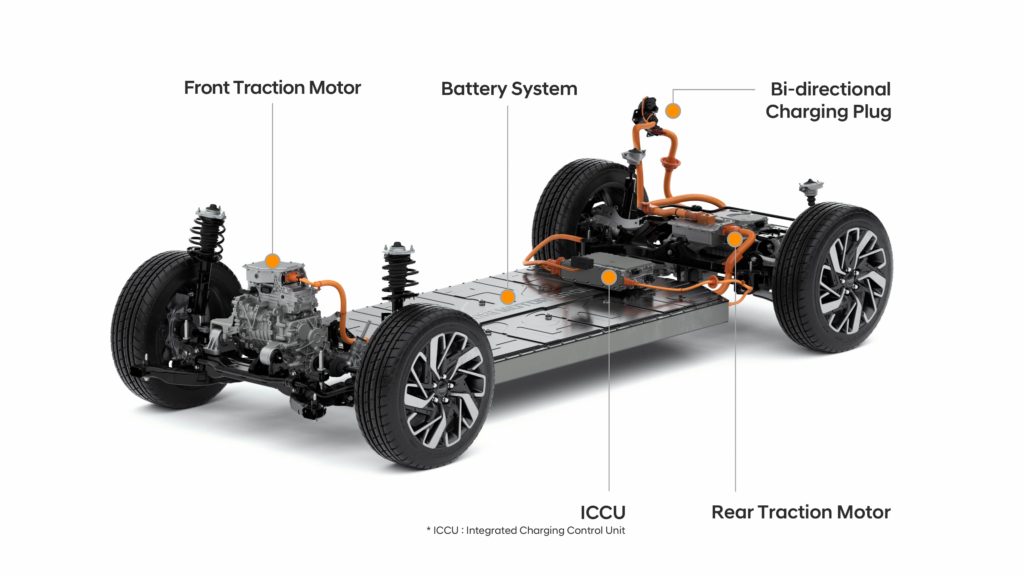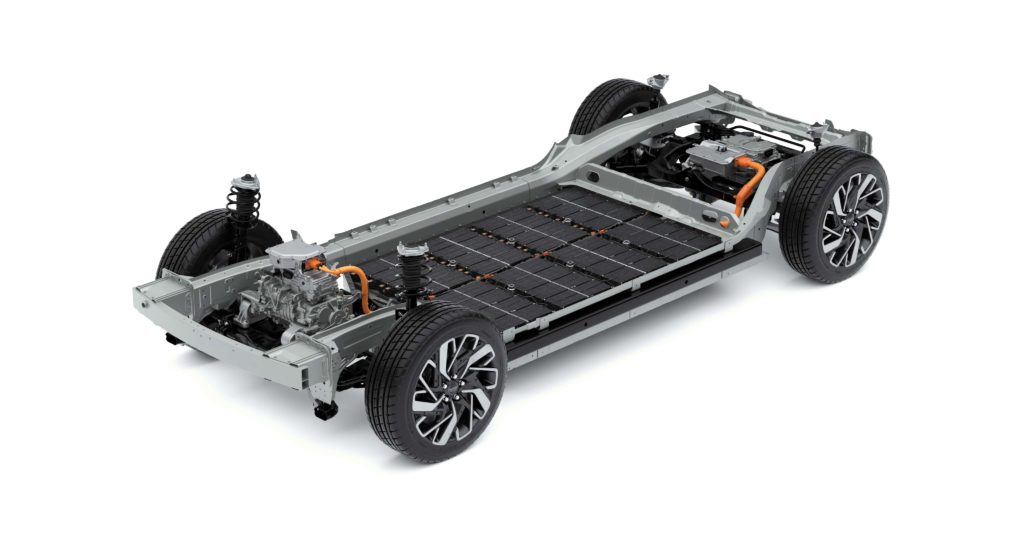 Hyundai estimated the battery could yield nearly 311 miles on a single charge. It can charge at 400 volts or even 800 volts at 350 kiloWatt-hours if the infrastructure exists in the region. (Hyundai said it owns a piece of IONITY, which already has 298 of these high-power charging stations across Europe already and plans to have 400 by 2022.)
With the right charger around, the E-GMP battery can charge to 80 percent in 18 minutes or add more than 62 miles of range in 5 minutes, according to Hyundai.
It also has a vehicle-to-load feature that lets owners run 110-volt or 220-volt machinery using the vehicles' power, which could be helpful for tradesmen on a job site. (Or just for "glamping." Hyundai said the battery could run a mid-size air conditioner and 55-inch TV for a day.) One can even charge another electric vehicle by plugging it into an E-GMP Hyundai, which is sort of like the ultimate jump start.
Hyundai plans to sell 11 dedicated battery-electric vehicles. Kia plans to release seven dedicated BEVs by 2027. Hyundai said the E-GMP platform would begin to appear starting in 2021 for both OEMs.
More information:
"Hyundai Motor Group to Lead Charge into Electric Era with Dedicated EV Platform 'E-GMP'"
Hyundai, Dec. 1, 2020
"Hyundai Motor Group to Lead Charge into Electric Era with Dedicated EV Platform 'E-GMP'" video
Hyundai, Dec. 1, 2020
Images:
Hyundai's E-GMP dedicated electric vehicle platform is seen in this image released Dec. 1, 2020. (Provided by Hyundai)
This screenshot from a Hyundai Dec. 1, 2020, video highlights a structural element of the OEM's E-GMP dedicated electric vehicle platform. (Screenshot from Hyundai video)
Share This: