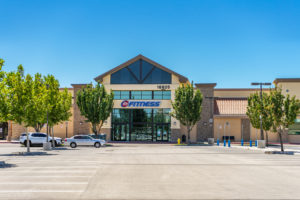 Collision Advice CEO Mike Anderson recently argued that this year's pandemic-related business decline represented the reality shops will face when ADAS saturates the U.S. fleet.
During an Oct. 29 webinar, he called COVID-19 a "wake-up call" for the collision industry.
"We're actually gonna be grateful for it," he said during the Nov. 13 MSO Symposium.
Collision frequency had been declining annually, yet most shops would declare sales to be up. "I think that was misleading," he said Oct. 29. Sales rose because average severity rose, not because of an increase of volume, he said.
During the Nov. 13 MSO Symposium, he referenced the saying, "'Lots of sales cover lots of sins.'"
ADAS is going to take a while to saturate the vehicle fleet with newer, smarter vehicles replacing older ones lacking such collision protection technology. But the pace might be sooner than shops expect.
Anderson demonstrated on the Oct. 29 webinar how CCC, which has already suggested ADAS might be cutting crash statistics, revised its projections between the 2019-20 "Crash Courses" to predict that ADAS will be a greater factor sooner.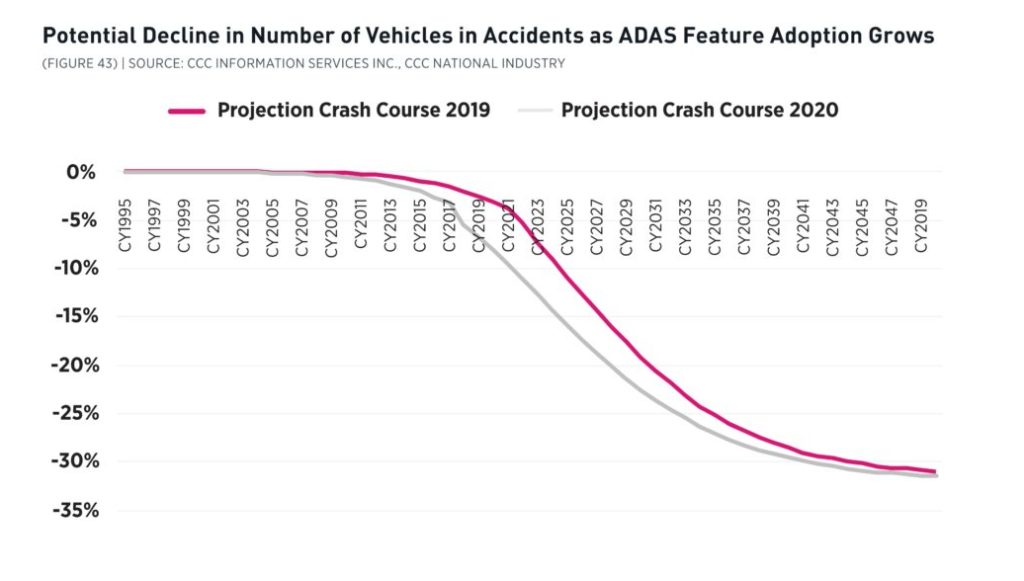 "While research conducted over the last year reached similar conclusions to prior years' research on ADAS efficacies, automakers have ramped up their incorporation of ADAS features like AEB earlier than the MY2022 commitment date, and the predicted rate of adoption was updated from prior years' analysis," CCC wrote in the 2020 "Crash Course." "As a result, our projection this year shows a slightly faster increase in the reduction of vehicles in accidents annually, although decline eventually flattens as ADAS is added to nearly 100 percent of the vehicle fleet. So, while this remains only a high-level estimate, it underscores the inevitable decline in frequency that these systems will have as ADAS market penetration grows."
CCC director and analyst Susanna Gotsch on Monday also crunched the latest OEM progress reports on their 2016 commitment to making autobraking and forward collision warning standard by 2022.
Autobraking is just one of the many forms of ADAS available, but it's a big one for collision repairers. Not only is it guaranteed to be on virtually all vehicles in a couple of year, it works incredibly well. The Insurance Institute for Highway Safety's most recent June 2019 projections find a combination of collision warning and autobraking can cut 50 percent of rear-end crashes. It estimates this combination reduces third-party vehicle damage claims alone by 13 percent. (Which suggests some sort of decline in first party claims too.)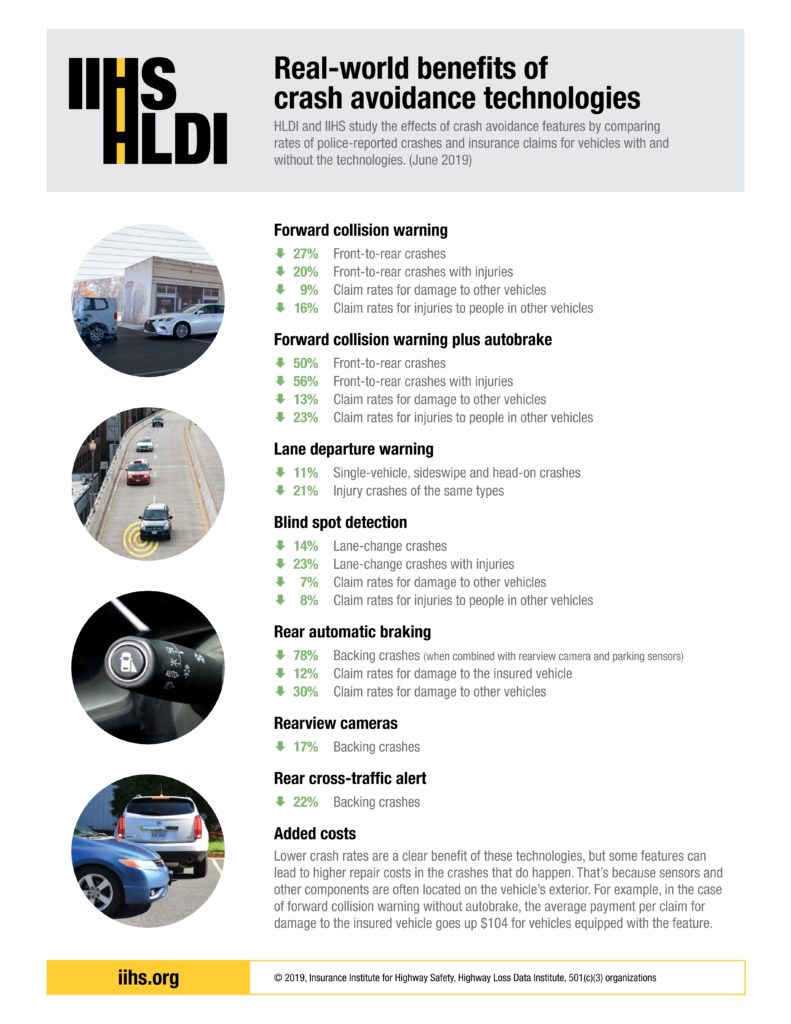 "Nearly three-fourths of all vehicles of curb weight 8500 pounds or less produced and sold in the U.S. between September 1, 2019 and August 31, 2020 included automatic emergency braking (AEB) and frontal crash warning (FCW)," Gotsch wrote Monday.
In September 2016, only 25 percent of new vehicles carried the tech, she said. By 2019, the majority of vehicles — 63 percent — featured autobraking and collision alerts.
Now, 74 percent of every vehicle built between Sept. 1, 2019, and Aug. 31, 2020, has this ADAS, Gotsch wrote.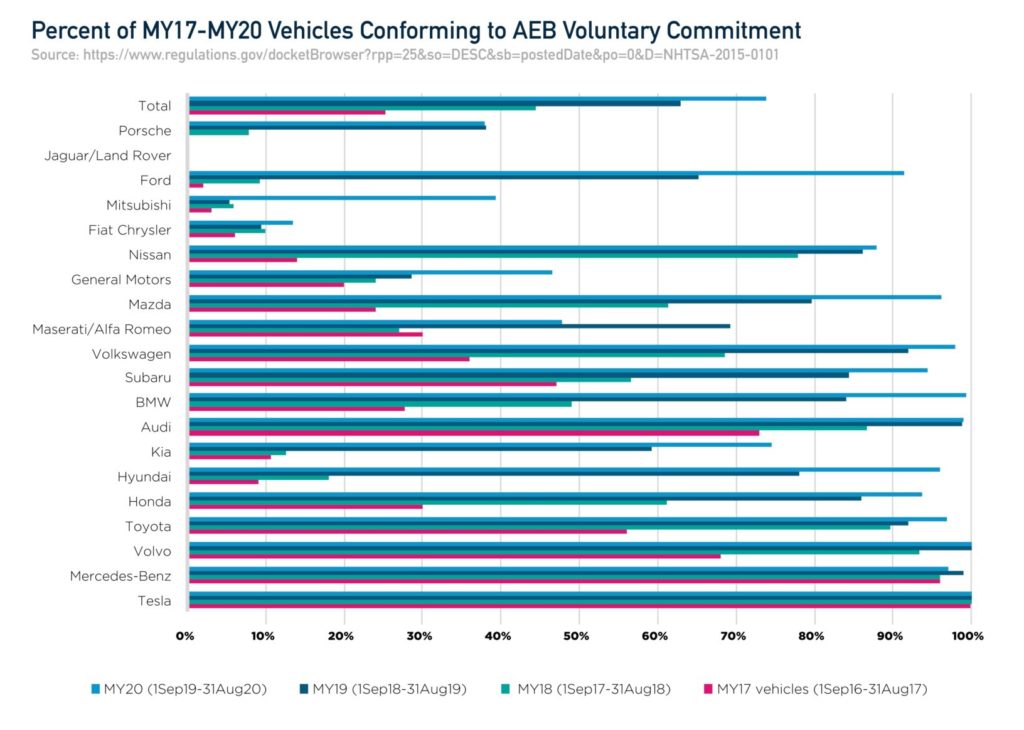 As noted above, that's just two pieces of ADAS. OEMs tend to bundle autobraking with other technologies that might also reduce crashes. For example, Honda rolled out the company's Honda Sensing ADAS suite standard on all trims of the Honda CR-V for the 2020 model year. The technology at the time of the 2019 announcement included not just AEB but also lane and road keeping, traffic sign watching and adaptive cruise control.
Gotsch estimated Monday that more than 15 percent of the entire U.S. fleet has some form of ADAS.
CCC data also shows that collision repairers tend to fix vehicles about 6 years old — far younger than the average vehicle on the road — and lose business to totaling once the vehicle reaches around a decade of life. This means the industry might have higher exposure to the technology.
Gotsch wrote that 31 percent of all claims (including total losses) through the end of November involved vehicles just three years old or younger. It also noted that 50 percent of every vehicle built between Sept. 1, 2016, and Aug. 31, 2020, had autobraking at a minimum.
'Look into the future'
COVID-19's reduced frequency represents a "look into the future," Anderson said in October. The industry will be facing conditions like today in 20 years once ADAS has significantly reduced crash volume, he said.
"Building those best practices for capturing and getting the keys is absolutely critical to us," Anderson said.
CCC in its 2020 "Crash Course" predicted a 20 percent decline in crashes over 1995 levels by around 2028. To Anderson's point, that's also about how much CCC says repairable claims fell in October (-19.6 percent) compared to October 2019.
So if you're in business in 2028, it certainly could feel a little bit like 2020.
Rising severity might not be a panacea for the ADAS-related frequency decline.
During the Oct. 29 webinar, CRASH Network editor John Yoswick presented ISS and Verisk data demonstrating consistent severity increases over time for private passenger physical damage claims. But an adjustment for inflation revealed severity actually peaked in the early 2000s, according to Yoswick. Recent years have shown inflation-adjusted severity actually declining, he said.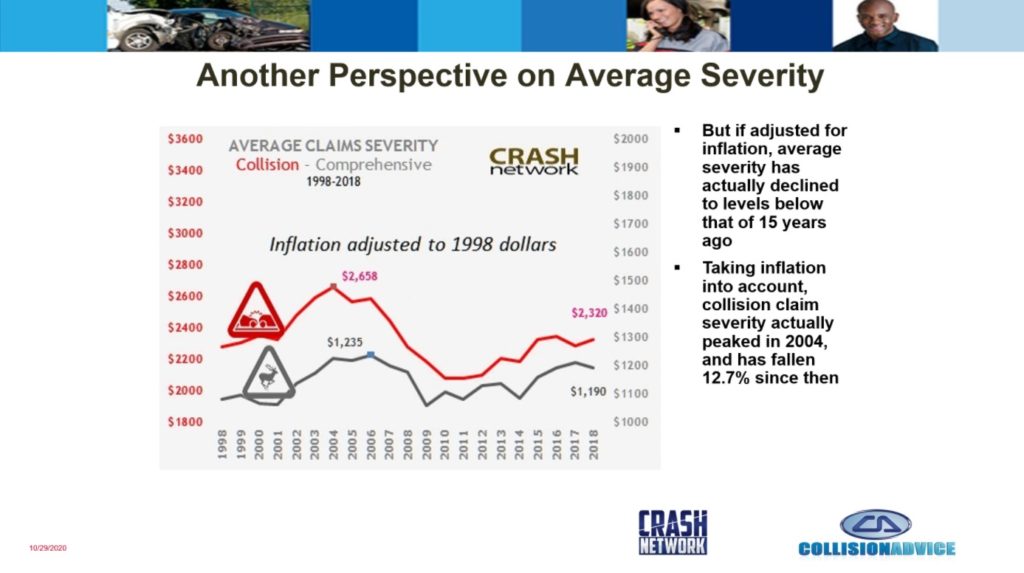 More information:
CCC, Dec. 20, 2020
"Real-world benefits of crash avoidance technologies"
Insurance Institute for Highway Safety, June 2019
Images:
A largely empty parking lot Aug. 8, 2020, in Apple Valley, Calif., during the COVID-19 pandemic. (sanfel/iStock)
CCC's 2019 and 2020 "Crash Course" projections of the impact advanced driver assistance systems would have on collisions. (Provided by CCC)
The Insurance Institute for Highway Safety's June 2019 projections on the success of various advanced driver assistance systems. (Provided by IIHS)
74 percent of every vehicle built between Sept. 1, 2019, and Aug. 31, 2020, has autobraking and forward collision warning standard, CCC director and analyst Susanna Gotsch wrote Dec. 7, 2020, citing OEM reports to the National Highway Traffic Safety Administration. (Provided by CCC)
During an Oct. 29, 2020, webinar, CRASH Network editor John Yoswick presented ISS and Verisk data demonstrating consistent severity increases over time for private passenger physical damage claims. But an adjustment for inflation revealed severity actually peaked in the early 2000s, according to Yoswick. Recent years have shown inflation-adjusted severity actually declining, he said. (Provided by CRASH Network)
Share This: