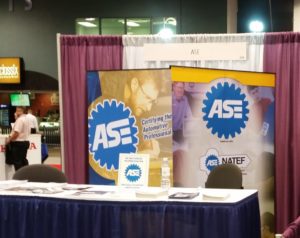 The National Institute for Automotive Service Excellence last week announced it would feature nine Spanish-language versions of ASE certification tests in January 2021.
This bilingual portfolio will include the A1-A8 automobile test lineup and the G1 maintenance and light repair exam.
Light-duty diesel (A9) will remain English-only for now. The course isn't required for Master Technician status.
All ASE tests include a searchable English-to-Spanish technical term glossary, which the ASE said "can be helpful to resolve dialectal differences."
"ASE recognizes that Spanish is a language of many dialects, and we want to present our Spanish translations in a way that is fair to as many test takers as possible," the ASE advises Spanish speaking test candidates, according to a Google Translate translation of its www.ase.com/Spanish webpage. "As part of the translation process, ASE uses a committee of several bilingual technicians who represent a variety of dialects in Spanish including: Mexican, Central American, Puerto Rican, Cuban, and Spanish. As a group, the committee tries to ensure that, within the context of each question, the final edit is understandable to any knowledgeable Spanish-speaking technician, regardless of their background. Additionally, ASE makes the Electronic English to Spanish Glossary available to help you resolve any dialect issues you may have."
The organization also allows anyone for whom English is not a first language to bring a published English-foreign language dictionary along for the test.
Spanish-speakers don't receive additional time on the tests, however.
"One of the hardest things about taking an ASE exam and using the Spanish translation will be managing your time," the ASE advised Spanish speakers, according to Google Translate. "You have the same amount of time to complete the test as all other examinees. If you trust the Spanish translation, we suggest that you display it immediately and answer the question after reading it carefully. Read the question in English only if you need to better understand certain terms or concepts. If you are still having trouble understanding the question, use the "Flag" button at the bottom of the page to flag the question and come back to it later if time allows.
The ASE news release Dec. 1 highlighted the contributions Luis Arboleda of Superior Automotive Training; Rafael de Leon of Automotive Service Institute; Guillermo Martinez of Automotive Technical Center; and Francisco Moreno of ZF Services made to the Spanish-language project.
"As the number of Spanish-speaking professional service technicians continues to grow, we felt it was imperative to take steps to meet their needs when it comes to testing and certification," ASE CEO Tim Zilke said in a statement. "We thank these knowledgeable industry professionals who volunteered their time to help guide the Spanish translation process. Their expertise will allow us to continue to expand our Spanish test-taking options and meet the evolving needs of the industry we serve."
The ASE made four of the nine tests in Spanish available at the beginning of 2020: "Suspension & Steering" (A4), "Brakes" (A5), "Electrical/Electronic Systems" (A6) and the G1 "Auto Maintenance and Light Repair" exam.
The new Spanish tests include "Engine Repair" (A1), "Automatic Transmission/Transaxle" (A2), "Manual Drive Train & Axles" (A3), "Heating & Air Conditioning" (A7) and "Engine Performance" (A8).
"No special registration procedure is needed to access the Spanish translations because they are built into the ASE test delivery screen," the ASE wrote in a news release.
I-CAR was to have translated all Gold Class and vehicle-specific technology coursework into Spanish as part of its 2019 overhaul.
We asked the ASE if the organization has any plans to offer Spanish versions of its collision repair B-Series tests. "No, not at this time," ASE marketing Assistant Vice President Jennifer Holland wrote in an email Tuesday. "We'll see how the A-series goes!"
More information:
Featured image: The National Institute for Automotive Service Excellence (ASE) booth at NACE 2016 is shown. (John Huetter/Repairer Driven News)
Share This: