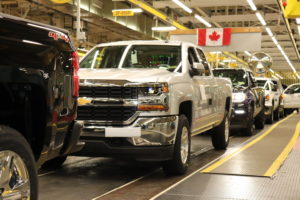 General Motors is taking applicants for a new certified Canadian Collision Repair Network, program manager Mitchell said Thursday.
The certified auto body repair program is taking dealership applications today and will open to the rest of the industry in 2021, according to Mitchell.
"Vehicle complexity has skyrocketed in recent years, necessitating expert knowledge, equipment and tools to do the job right," Bob Rintoul, vice president of the Ontario-based Myers Automotive Group, said in a statement. "With the GM Collision Repair Network, we can be confident we have the resources needed to get vehicle owners back on the road safely. And with the certification, we also have an advantage over the competition."
Mitchell said Canadian body shops will find a program which "closely mirrors" GM's certified U.S. collision repair network.
"Core member requirements—including a list of essential tools and curriculum for technician development—will now be standard throughout North America," Mitchell wrote.
However, GM and Mitchell did prepare its Canadian version of the tool and equipment list with a nod to local conditions.
For example, Canadian body shops are expected to use a welding respirator acceptable under Canadian national standard CSA W117.2:19, "Safety in welding, cutting, and allied processes." U.S. shop respirators instead must meet NIOSH's 42 CFR Part 84.
The Canadian list also only at this point lists GM's official scan tool or an AirPro running GM's official GDS-2 software as acceptable diagnostics devices. The U.S. list includes Drew and Mitchell scan tool options as well, though they too must run the first-party GM GDS-2 program.
Other Canadian requirements include I-CAR ProLevel 2 technician training, using OEM procedures and "Submitting Repair Information," sufficient customer satisfaction and "Pre-Scan / Calibration / Post Scan on all vehicles," Mitchell said.
Canadian body shops will be required to use Mitchell Cloud Estimating to write the repair, and Mitchell will "serve as program administrator, overseeing enrollment and verifying that repair organizations meet high standards for facilities, training, tools and equipment," the information provider said.
GM in 2018 said Mitchell would be able to reflect its current OEM procedures in the U.S. with a reduced lag compared to other third-party aggregators websites, potentially updating in under a week.
Mitchell repair sales and service Vice President Jack Rozint confirmed Thursday that "our GM Canada program will include the same cadence of updates for OEM Repair Procedures in Mitchell Cloud Estimating as our U.S. program."
"We're honored to support GM and its launch of the Canadian GM Collision Repair Network," Mitchell Executive Vice President Debbie Day said in a statement Thursday. "Close collaboration and a joint commitment to proper, safe repair has resulted in a successful program for Network participants throughout the US. Having recently introduced Mitchell Cloud Estimating to the Canadian market, now is the perfect time to expand the program to all of North America."
Initial enrollment costs $2,995 CAD, but GM is offering an introductory deal of $1,695 CAD. It'll charge $3,995 CAD but offer an introductory price of $1,999 CAD for the Specialty designation. "A Specialty facility is able to order certain restricted parts and perform structural repairs on vehicles that require additional tools and equipment (i.e. Corvette C8)," GM explains.
More information:
"GM and Mitchell Launch GM Collision Repair Network in Canada"
Mitchell, Dec. 10, 2020
General Motors Canada Collision Repair Network webpage on Mitchell
GM tool and equipment requirements for certified Canadian shops
Featured image: General Motors' Oshawa, Canada, factory is shown. (Copyright General Motors)
Share This: