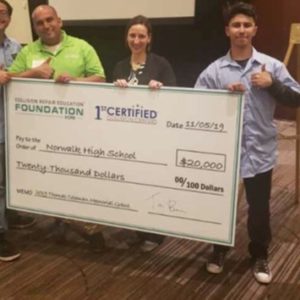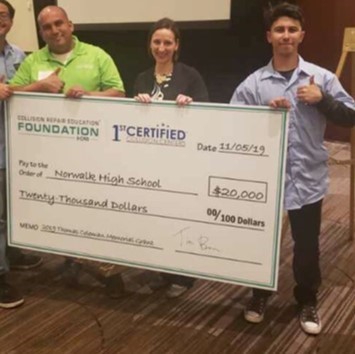 Editor's note: Merry Christmas! This year, we thought we'd bring you a little holiday cheer by reprinting with edits some of the feel-good industry stories the Collision Repair Education Foundation has been sharing this month. The accounts are part of the vo-tech and collision career support organization's "12 Days of CREF-mas" winter donation drive.
Learn more about the nonprofit here and donate here. Your support could help your shop find the technicians it needs and ensure local trade schools can continue to produce quality entry-level collision staff.
Ferman Auto Group: CREF career fairs yield techs
Ferman Auto Group, a large dealership group in Florida, has enjoyed a lot of successful recruitment since starting to attend the Tampa Bay Career Fairs hosted by CREF over the past couple years.
According to Ferman's Collision Director Chris Shrewsbury, "CREF's Career Fairs are very impressive and organized. Each year we've attended, there have been hundreds of students to talk with, and between our collision and service departments, Ferman has hired over a dozen students from the last two years' events."
Through CREF's Career Fairs, Ferman has offered an automotive or collision repair career to over a dozen students.
"One of our early hires from HCC is now a full body technician as is a tech at our Brandon location," Shrewsbury says. "We have a painter helper who is really progressing on the path to becoming a successful collision repair painter. Two body techs at our Clearwater shop are doing great and so are several hires in the service department. We've retained at least half of the employees we've hired through the Foundation's 2018 and 2019 Career Fairs."
Involvement with HCC led Shrewsbury to realize the potential value of CREF's Career Fairs for connecting with students eager to enter the industry. In 2018, Ferman Auto Group attended its first CREF event, where they distributed applications and flyers about their organization, touching base with nearly 100 students. A couple days after the Career Fair, Ferman hosted an open house to invite some of the students to tour their facility and participate in one-on-one interviews.
"We all know that there's a shortage of technicians in the field, and that shortage is only going to get worse as many seasons techs reach the age of retirement," Shrewsbury adds. "CREF's Career Fairs help address that by providing a great forum for employers to connect with students that are interested in pursuing a career in collision repair. Students can meet potential employers and see how many opportunities are available in the industry. We all need to do our part to support the schools training these future technicians, and hopefully, that support will allow them to enhance and grow their programs so they can supply more high-quality techs to the industry."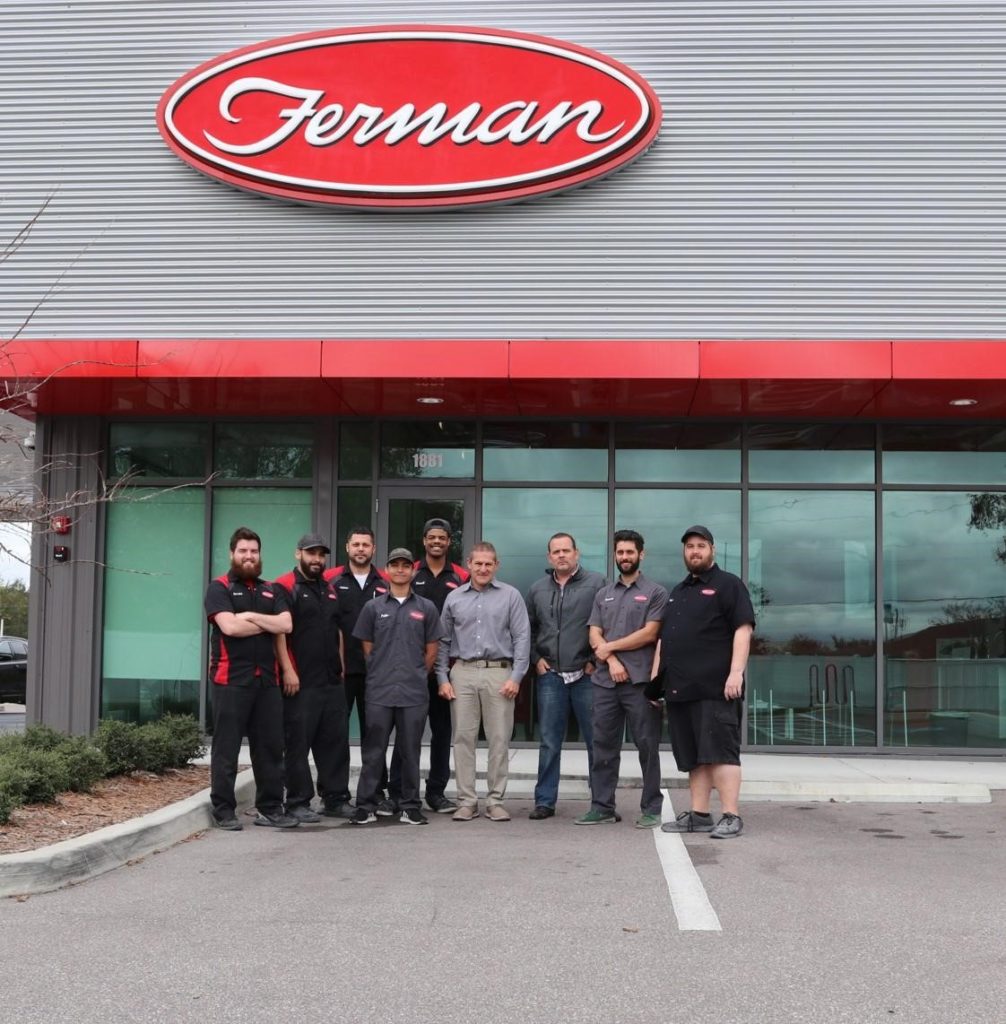 Scholarship recipient: 'I can consider myself … a true success story'
Danya Jean, who received a 2012 scholarship from CREF and AkzoNobel, tells the following story:
"In 2012 I received a scholarship, awarded to me by CREF and funded by AkzoNobel. I put this scholarship directly towards my tuition to attend the Pennsylvania College of Technology, majoring in the brand new the Automotive Restoration program.
"My high school courses in collision repair and co-op work experiences prepared me to excel in my college level courses. At Penn College, the mix of hands on technical work in the lab, as well as academic courses, exposed me to the wide range of opportunities that this industry has.
"After two years of study I received my Associates Degree. Straight out of school I took on a technician role at a local collision repair shop. It was here that I was truly able to dive into the industry and hone my skills. Within my first 6 months I was able to build the confidence I needed to become a start-to-finish collision tech. Every day I faced new problems, and soaked up as much knowledge as I could from fellow technicians. They welcomed my desire to learn with open arms and pushed me to be the best I could be.
"After 2 years back in the world of collision, I decided it was time to step back into my passion for restoration and custom work. For the past 5 years I've been employed at a restoration shop where getting to do 'a little bit of everything' is an understatement.
"Here I've been able to bounce around from body work and paint, custom fabrication, show quality detailing, mechanics, and even learn state of the art CNC engine machining. Every week I walk into a new surprise, and find myself learning new skills around the clock. Some days I feel more like an engineer, solving problems never before encountered.
"If there's one thing I've learned in this industry, it's that we are desperate for new, skilled technicians. I feel so fortunate that I've been given the opportunity to jump into this industry and explore all that it has to offer. The stresses of learning a skilled trade can be demanding, and at times we all question 'Will I ever be good enough?'. But through the help of incredible teachers, colleagues, managers, and mentors, I can consider myself to be a true success story."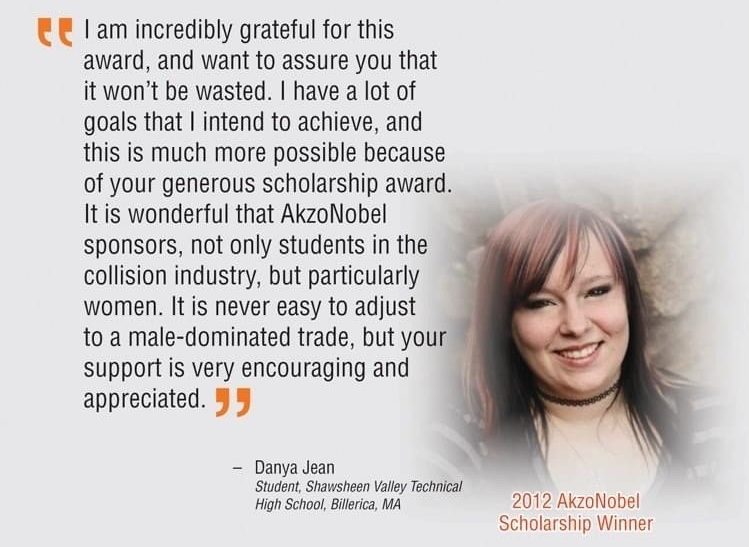 Technician tool support
Brian Shanley has recently completed the 16-month collision repair program with the Tennessee College of Applied Technology.
With help from our very own operations director, Melissa Marscin, Brian had an opportunity to interview with three great collision repair facilities. The result is what we all cheer for — a job offer.
He will now be the new body technician at Eddie's Body Shop in Harriman, Tenn. When talking about his experience interviewing, he contributes having tools as setting him apart from other candidates.
Although not all of the interviews resulted in a job offer, Brian has this to say about the experience: "I did gain a lot of insight and I made a friend and possible mentor in Jerry Dalton who I will keep in touch with throughout my career."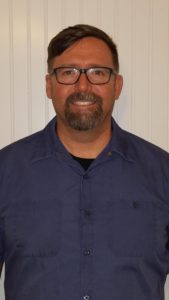 Due to 3M, BASF, and Craftsman's generous support to the CREF Mission, Brian was able to purchase all of the tools necessary to obtain what he calls his "unicorn job."
What is a unicorn job? According to Brian, it is a job with good company culture, an above-average wage, and is close to home.
Safety equipment, uniforms
Instructors face limiting program budgets; however, the industry expects that properly trained, productive entry-level staff are graduating from their programs. CREF works to help these instructors by reaching out to industry partners to secure donated tools, equipment, supplies, and even items as basic as safety glasses to help instructors. Each year, CREF is able to distribute on average over $10 million in donated products to instructors nationwide.
Each year, MCR Safety donates 20,000+ pairs of safety glasses annually to CREF which are then distributed to collision programs across the country. MCR recently reached out to CREF, and a year-end donation will include eight pallets of ear-plugs, mechanics gloves, and other safety items to help instructors.
"We protect people and are proud to contribute our safety eyewear in an effort to support the efforts of the Collision Repair Education Foundation. MCR Safety globally manufactures and distributes safety gear marketed as MCR Safety, Memphis Glove, Crews, River City, and US Safety. We are hopeful our contributions to the students will foster safety awareness throughout their careers," MCR Safety Chief Operating Officer Glen Herald stated.
Another investment opportunity is for businesses to sponsor new work uniforms to give students professional appearance.
Many instructors tell CREF that of the $250+ million in support that has been distributed to collision programs/students since 2009, the Cintas work uniforms have made the biggest impact on their programs. The students are treated with a new level of respect, and it helps provide a professional appearance for their program. For $50 per student, companies help provide each student with a new work shirt, work pants, safety glasses and ear plugs.
Materials for Mo. school
A large part of the way CREF is able to support collision programs is through distributing in-kind donations to qualifying collision repair programs. Donations range from state-of-the-art tools, equipment, technology and materials. The collision industry is a "hands-on" trade and to succeed students need to practice what they've learned, using up-to-date equipment and the most advanced materials. These donations go a long way to giving students the ability to learn and gain repetition in the skills needed for an entry level technician.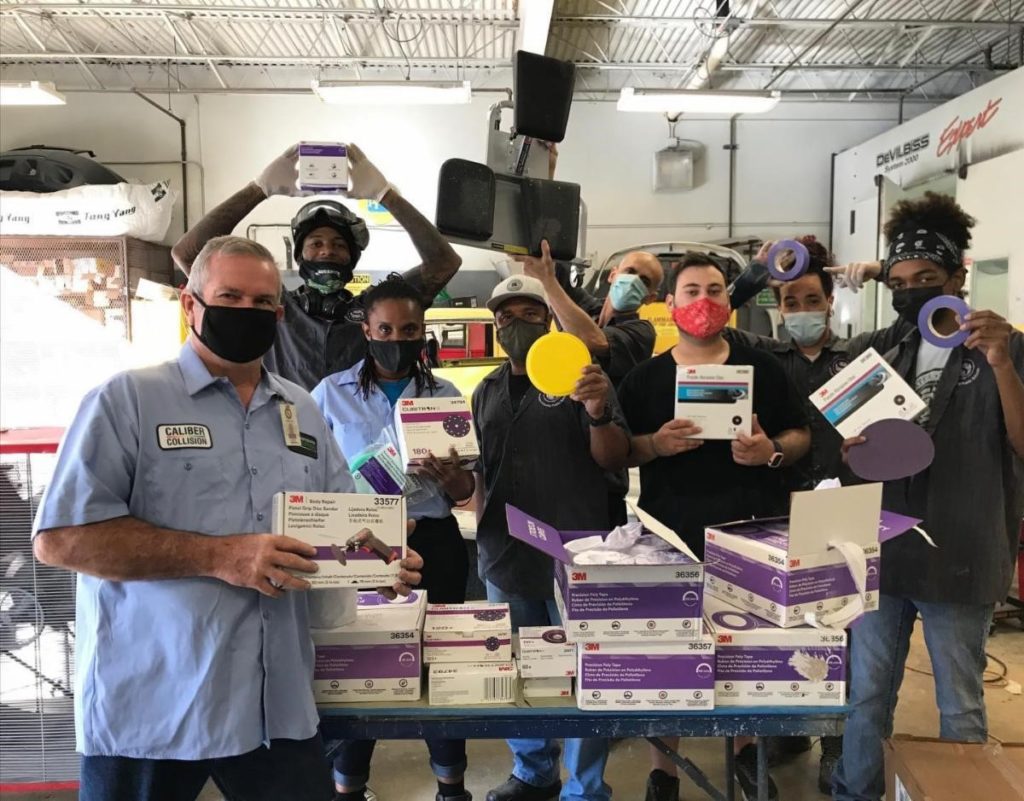 Lake Career and Technical Center has a Collision Repair Technology Program in Camdenton, Mo., led by Garry Briscoe. Lake Career and Technical Center has a school district that has always been supportive of the collision program, in regards to equipment purchases but they struggle financially when it comes to the purchase of products and or consumables for the students to learn with. In 2020, they were awarded a grant through CREF to receive donated materials from 3M.
The donation of materials to Lake Career and Technical Center has allowed students the ability to learn, make mistakes, and improve in their skills. 3M provides donated materials to hundreds of schools nationally. Access to the latest advanced materials provided by 3M allows programs to stay current with the needs of the industry.
"We want to thank you, 3M, and CREF for all of the 3M product donations that we have been receiving," Briscoe said. "Especially now, these items are very valuable for our students to learn with."
Meet Anthony
The Collision Repair Education Foundation consistently strives to break down barriers allowing individuals to thrive in our industry.
Anthony Boyce was raised by his grandparents and is also autistic. At one point, he was considered for Norwalk High School's most restrictive program. Mathematically, Anthony should have failed a long time ago. Anthony is proof that through support, hard work, and perseverance barriers can be eliminated.
Anthony successfully completed the High School Collision Program at Norwalk High School and went on to complete his post-secondary certificate at Cerritos College.
The relationship between instructor and student can be felt between Anthony and former High School Collision Repair Instructor Ken Cook at Norwalk High School. Ken has this to say about Anthony: "much of his success is the direct result of the support that he's received. CREF has really changed Anthony's life, and I will be forever grateful. In 2017 he completed the Cerritos College Automotive Collision Repair Program. Anthony has struggled his entire life, just to keep up with everybody, and now he is pulling ahead."
Anthony received the 3M Hire our Heroes Veteran Family Scholarship his senior year in high school. Since 2013, the 3M Hire Our Heroes program has raised nearly $1.5 million and served nearly 330 military veterans and their families through scholarships and tool grants.
The scholarship allowed him to purchase tools utilized during his collision repair training at Cerritos College. Through the 3M Hire our Heroes Scholarship and the ongoing support he has received from his instructors, Anthony has been given the tools and the knowledge to succeed.
Anthony's story, in the words of instructor Ken Cook:
"If I ever became relevant enough for somebody to write my biography, Anthony will definitely get his own chapter. I'll give you some background, just to bring everybody up to speed. I met him in 2011, which was also my first year of being a SkillsUSA advisor. Anthony is Autistic, and I could just tell there was something cool about him, from the moment that we met. As a 9th grader, it was obvious that he had a huge interest in my program, but he refused to work in groups. He liked to stay busy, so he spent half of our class time cleaning up our shop. He has a major case of OCD, and hates clutter, so he cleaned everything spotless.
"I asked him if he wanted to join our new SkillsUSA team, because he wasn't growing socially. He was scared about being around other students, and being timed, so he declined. Keep in mind, this was during a time when our site was considering Anthony for our most restrictive class offered through special education. Coming up with ways to connect with Anthony was challenging, so after a little brainstorming, I asked him if he wanted to be my advisor's assistant. He was told that he would attend the events with myself, and would be responsible for safeguarding the contest gear. He agreed to the promotion, and even joked about being a boss, which I got a huge kick out of. He would end up attending the SkillsUSA CA. Regional and State contests, that year. His grandfather transported him just in case things didn't go well. He slept in his grandfather's room, and woke up early each morning, to help our team prepare. The kids really liked Anthony, but he wasn't too sure about them.
"His 10th grade year is when Anthony experienced the largest amount of growth. He as a photographic memory, and knows where everything is, inside of our shop. One time, I called him out of one of his special ed classes, to help us find some missing parts. As he walked through the door, he told my group: 'Can't you guys do anything without me?' One of the students responded with: 'Shut the hell up, and just help us!' Although their language was inappropriate, it was the first time that I observed them treating Anthony just like anybody else. At that moment, he was accepted, and became a member of our team. He would soon tell me that he wanted to compete in a SkillsUSA contest, which was exciting! He was entered into the Auto Collision Repair Contest, but ultimately finished in last place.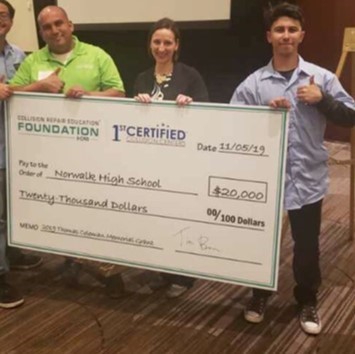 "During his 11th grade year, Anthony was an official member of the NHS Race Team, and he became '2nd in Command', which gave him some leadership experience. Not only was he attending my courses at Norwalk High School, but he was also attending my after-school program, at Cerritos Community College. This was a program geared towards 11th and 12th graders, and Anthony fit right in. He was able to develop relationships with their faculty members, which would help him after graduation. He also remained actively involved in SkillsUSA, but partnered up with one of his new friends, Justin, to enter their Sustainability Solutions contest. Between Justin's academic strengths and Anthony's technical skills, they built a solar powered go-kart, which earned them 2nd place at the state level. It was an exciting moment for everybody involved.
"Anthony finally made it to his senior year, and he continued attending classes at Cerritos Community College, after school. Again, he participated in SkillsUSA. I was pleased to see the growth of his technical skills as evidenced by the fact that he didn't come in last place. He finished in about the bottom 30 percentile, but his growth was still worth celebrating. His grandparents held a really nice graduation party, which my entire family attended. That same year, Anthony secured the 3M Hire our Heroes Family Grant, through the CREF, in the amount of $2,500. This money would play a huge role in his post secondary goals.
"Anthony wasted no time in enrolling at Cerritos Community College. In fact, we had the paperwork completed, prior to him graduating from Norwalk High School. Anthony would spend the next 5 years there, earning 3 certificates in: Auto Collision Repair, Auto Service Technology, and Welding. During this period, Anthony also completed an internship at Keystone Collision Center, and became a seasonal employee at Lowe's. I attended Anthony's graduation from Cerritos College, and it represented my greatest professional achievement. While Anthony was enrolled at Cerritos College, he competed in SkillsUSA, and earned 1st place for their Post Secondary Collision Repair California State Contest, and advanced to compete at the 2018 SkillsUSA National Leadership and Skills Conference. At the national level, Anthony placed in about the bottom 20 percentile, but I could not have been any prouder!
"In addition to being an amazing student and worker, Anthony is an awesome human being! He has volunteered at over 50 of our community service events. Ironically, he is outside of my shop at this very moment, helping me clear out some old cabinets.
"Anthony visited both of my newborn sons in the hospital, and has attended all of their birthday parties since. I always pick him up the afternoon before, so we can clean up the yards and decorate. Whenever I need help, He is one of the first people who I call. Anthony's family even attended my mom's funeral, earlier this year. Over the past 10 years, we've become brothers to each other.
"Anthony was raised by his grandparents, and he still lives with them. Between their ages and Anthony's medical conditions, he really cannot seek employment until Covid is contained. I'm not complaining though, because he helps me facilitate my online instruction about 4 days a week. His strength is in: welding, grinding, and sanding. He lacks the ability to critically think, but he is able to solve basic problems. I could see him working on some form of assembly line/ customizing environment. Although he'll never become a Master Collision Tech, he definitely has a huge future, within the Collision Repair Industry. I cannot thank everybody enough, especially the donors and staff members of the Collision Repair Education Foundation. Anthony had defied the odds in endless ways, and he could not have done it alone. Your support means the world to us!!!"
More information:
Collision Repair Education Foundation website
"12 Days of CREF-mas Winter Giving Campaign"
Collision Repair Education Foundation, Dec. 11, 2020
Images:
From left, Norwalk High School Collision Instructor Ken Cook, CREF operations and administration director Melissa Marscin and Anthony Boyce are shown. (Provided by CREF)
The Ferman Auto Group has hired more than 12 employees at 2019 and 2020 Collision Repair Education Foundation career fairs. (Provided by CREF)
Danya Jean received a 2012 scholarship funded by AkzoNobel and issued by the Collision Repair Education Foundation. (Provided by CREF)
Brian Shanley is a body technician at Eddie's Body Shop in Harriman, Tenn. (Provided by CREF)
A trade school with a donation of items from 3M. (Provided by CREF)
Share This: