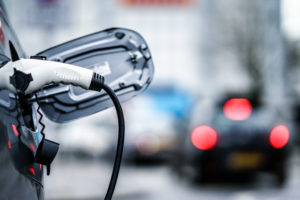 Mitchell last month reported that electric vehicle estimates were more likely to include the replacement of four staple collision parts when compared to estimates for gas-powered models.
The EV repair process was also likely to require more labor hours and take a day longer from intake to delivery, Mitchell said in a Dec. 16, 2020, Industry Trends Report article that also described a larger number of EV diagnostic trouble codes.
"Clearly the difference between EVs and ICE-powered automobiles extends beyond method of propulsion," study author and Mitchell performance consulting director Ryan Mandell wrote in the article. "EVs truly are a different breed—one that comes with a unique set of requirements and exemplifies the changes in vehicle complexity seen over the past decade. For this reason, it's imperative to appreciate such differences in order to prepare the most accurate repair plan, set appropriate expectations for vehicle owners and fully understand the impact of the growing EV car parc on an insurer's financial future.
Lower percentages of electric vehicle ("EV") door shells, decklids and quarter panels were associated with repair operations than such parts on vehicles with an internal combustion engine ("ICE"), according to research published Dec. 16 in Mitchell's latest Industry Trends Report. Fenders were relatively consistent between both powertrain classes, but electric vehicle fenders were still replaced slightly more frequently (0.4 percentage points.) than ICE ones.
The largest declines in repairability between ICE and EV models involved decklids and quarter panels. The competing powertrain classes saw close to a 10 percentage-point difference in the proportion of parts repaired.
Mitchell found 83.2 percent of ICE quarter panels repaired, compared to 74.6 percent of EV quarter panels. Less than half (43.8 percent) of decklids were repaired if the vehicle was electric, compared to 52.6 percent of ICE decklids.
Door shells also showed notably higher odds of replacement on electric vehicles. Only 51 percent of EV door shells were written for repair, compared to 56.7 percent of ICE doors.
Only hoods saw a higher repair percentage for EVs in Mitchell's five-part analysis. 56.5 percent of EV hoods were replaced, compared to 60 percent of ICE hoods.
Mitchell suggested the differences were due to OEMs' need to lightweight electric vehicles to offset battery mass.
"These results emphasize how important it is for collision repairers to understand the composition of EV parts and review the associated OEM repair procedures to help deliver proper, safe repairs," study author and Mitchell performance consulting director Ryan Mandell wrote. "Insurers, on the other hand, must appreciate the construction differences between EVs and ICE-powered cars when setting reserves for such claims and take these differences into consideration during the estimate review process."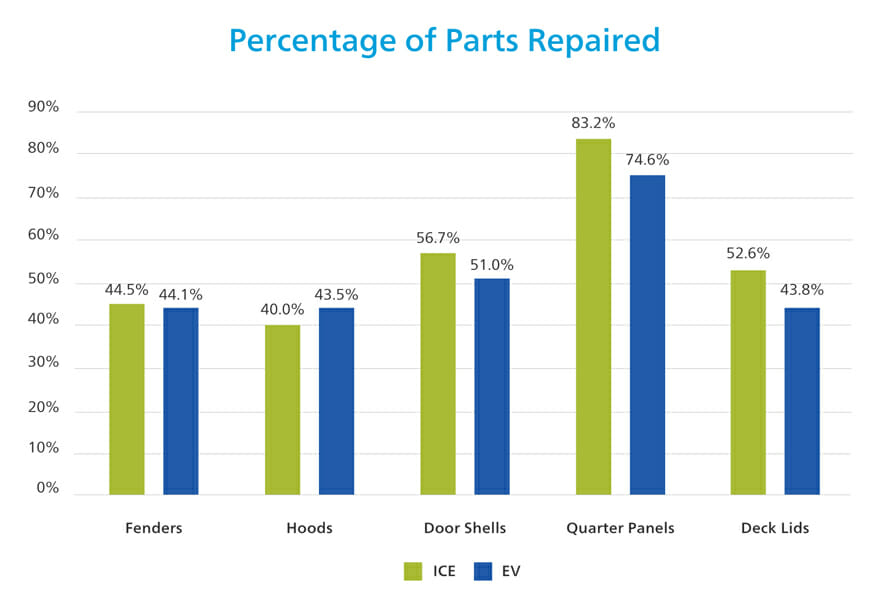 Cycle time
Insurers and repairers also should be aware of the longer cycle times Mitchell found associated with electric vehicles.
"In 2020, the average EV repair estimate contained 4.04 more (combined body and refinish) labor hours than the average ICE repair estimate," Mandell wrote. "But when we examine keys-to-keys cycle time, we find a striking difference between EVs and ICE automobiles. The 2020 year-to-date average for EVs is 10.7 days and for ICE cars, it's 9.5 days."
Even if you're looking at relatively minor repairs, electric vehicles still demand an extra day of cycle time, according to Mandell. Vehicles with final bills of less than $2,000 took 5.5 days from intake to delivery, he wrote. For sub-$2,000 EVs repair orders, keys-to-keys time ran 1.1 days longer.
More information:
"EV vs. ICE: The Impact on Collision Repair"
Mitchell Industry Trends Report, Dec. 16, 2020
Images:
Mitchell found electric vehicles average more than a day longer in cycle time. (nrqemi/iStock)
Mitchell last month reported that electric vehicle estimates were more likely to include the replacement of four staple collision parts when compared to estimates for gas-powered models. (Provided by Mitchell)
Share This: