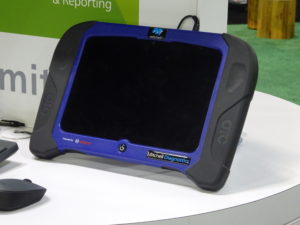 Electric vehicles average four more more diagnostic trouble codes per scan than traditional internal combustion engine models, a Mitchell review of 2.2 million vehicle scans this year revealed.
Mitchell performance consulting director Ryan Mandell, who discussed the results in a Thursday Industry Trends Report article, suggested this was a sign of greater complexity among EVs.
Unfortunately, repairers are only scanning electric vehicles about half the time, based on estimates reviewed by Mitchell in another analysis.
Mitchell evaluated calendar-year 2020 diagnostic results of "EV" and "ICE" vehicles scanned with the information provider's own Mitchell Diagnostics scan tool.
Electric vehicles averaged 12.58 diagnostic trouble codes on every scan — compared to just 8.51 for internal combustion engine models, Mandell wrote. Even when one throws out all vehicles prior to the 2015 model year, the trend still holds steady.
Gas-powered vehicles posted 8.83 fault codes, while electric ones averaged 13.26, he wrote.
Mandell confirmed that the Mitchell Diagnostics scan tool and the analysis exclude Tesla scan results. We'd suggested this might leave the data skewed, but Mandell argued that the omission of such an outlier OEM actually provided a more accurate sense of the market.
"In my opinion, this actually adds some credibility to the results as the EV's produced by the legacy auto manufacturers are more akin to a variant of an ICE model that is concurrently in production," Mandel wrote. "Tesla data can often skew the results because they are such outliers in the industry when it comes to some of their operations and repair policies."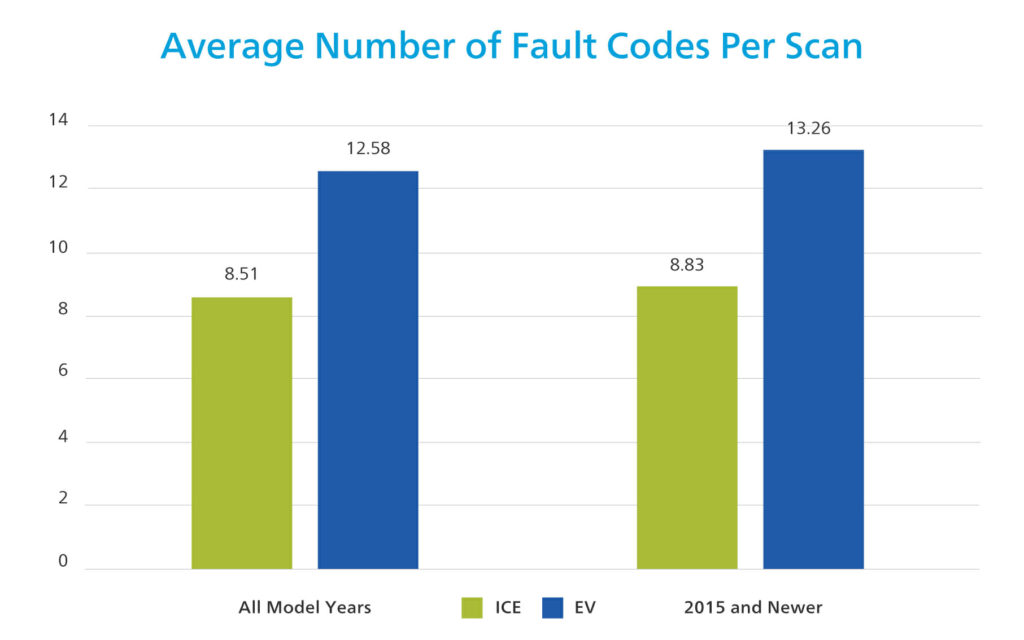 Tesla isn't a signatory to the 2014 national Right to Repair memorandum of understanding requiring it to license scan tool software to manufacturers like Mitchell and make that software available for shops to run on a PC. Massachusetts has possessed a similar Right to Repair law on the books since 2013 (and voters approved expanding it this year), but the Auto Care Association said Thursday Tesla had viewed itself exempt.
"The original right to repair law enacted in 2013 was structured such that the manufacturers only had to provide the same information, tools and software that they made available to their franchised dealers," association regulatory and government affairs Senior Vice President Aaron Lowe wrote in an email Thursday. "Since Tesla does not have any franchised dealers, they felt that they could avoid complying with most of the requirements.  The new law approved by voters this year does not limit access to telematics data to only what the dealer receives, but any mechanical data that they obtain from vehicles.  Therefore, Tesla will not longer be able to avoid compliance based on their dealer structure."
Scans still not universal
Mitchell said the additional fault codes it found on EVs reinforces the need to scan them.
"While pre- and post-scanning is recommended for all vehicle types, this data reveals just how critical it is to EVs, since scanning these cars results in 50% more fault codes," Mandell wrote.
Estimates prepared using Mitchell describe electric vehicle scanning an average of 49.57 percent of the time. Scanning only appears on sheets for 38.6 percent of ICE vehicles.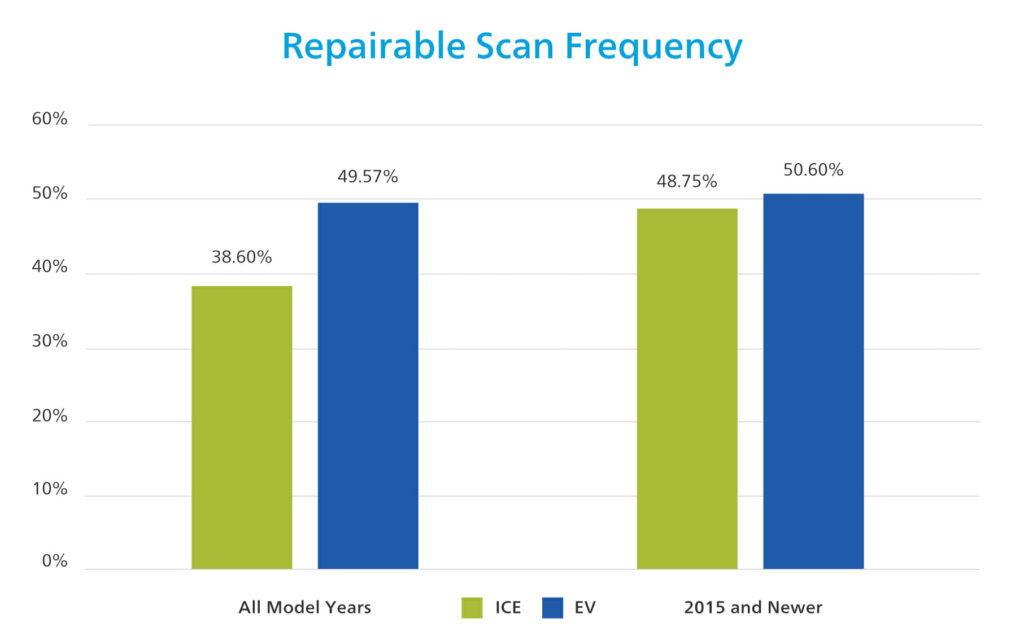 "That said, the margin shrinks significantly when we look at diagnostic scanning for model years 2015 and newer, highlighting a difference of less than 2%," Mandell wrote.
The estimate subset called for repairers to scan 48.75 percent of 2015-present ICE vehicles compared to 50.6 percent of electric vehicles.
As Mandell noted, shops ought to be scanning all vehicles, and the need to do so seems even greater on electric vehicles. Given that, it seems problematic for consumers if body shops are only scanning half of such vehicles.
We asked about the possibility repairers were outsourcing EV scans to a dealer and not recording it on estimates. Perhaps the true percentage of EV scans was higher?
"The query used to identify scans is a text based query using terms such as scan-, diag-, astech, airpro, etc.," Mandell wrote. "While it is possible that a sublet line could be overlooked if the shop is not using any of the aforementioned terminology, it seems much more likely that the sublet line on the estimate would include a description of the (fact) that it was for a diagnostic.  I believe the impact of this on our results would be fairly negligible."
More information:
"EV vs. ICE: The Impact on Collision Repair"
Mitchell Industry Trends Report, Dec. 16, 2020
Images:
A Mitchell scan tool sits at the information provider's NACE 2018 booth. (John Huetter/Repairer Driven News)
Electric vehicles throw about four more fault codes than the average internal combustion engine vehicle, according to a Mitchell analysis of its 2020 Mitchell Diagnostics scan results. (Provided by Mitchell)
Collision repair estimates are far more likely to contain a scan operation if the vehicle is electric, according to Mitchell. However, this spread falls when one examines 2015-present EV and internal combustion engine estimates, Mitchell said in December 2020. (Provided by Mitchell)
Share This: