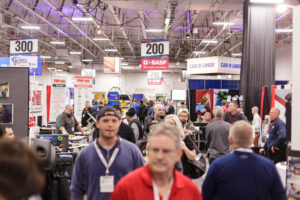 Predicting it would still represent "the first industry show of the year," the Alliance of Automotive Service Providers of New Jersey on Thursday announced it would reschedule NORTHEAST to Sept. 10-12, 2021.
The show will remain at the Secaucus, N.J., Meadowlands Exposition Center. It had originally been scheduled for March 19-21.
"As the COVID-19 vaccines begin their rollout and the light at the end of the tunnel starts becoming clearer, AASP/NJ has decided – out of concern for everyone's safety as well as taking into consideration current government restrictions and limitations on large gatherings and travel – to reschedule," AASP-NJ President Jerry McNee (Ultimate Collision Repair) said in a statement. "AASP/NJ is focused on serving our industry and working with our community to provide the necessary support and information to prepare them for a successful 2021 event."
Citing conversations with vendors and members, the trade group called itself "confident" that the September time slot would "provide the automotive repair community with the time to effectively plan their participation."
The postponement seems to make sense giving what Travel Again reported to be an uneasiness among some business travelers, though it's unclear if the data only refers to air travel.
Travel Again last month reported its business travel confidence index fell from 2.97 in October to 2.59 in November, further below the 4.0 threshold of "Willing to travel" and the 3.0 threshold of merely "Concerned." Only 27.2 percent of an unspecified number of business travelers contacted called themselves either "Ready to Travel" or "Willing to Travel."
"Mandatory masks and frequent cleaning are the most important confidence building elements for both business and leisure travelers," Travel Again wrote. "Three-quarters of all travelers would be willing to take multiple COVID tests before and during travel and share their results to resume traveling without restrictions. Additionally, nearly 80% of business travelers and 70% of leisure travelers say empty middle seats would increase their confidence in traveling."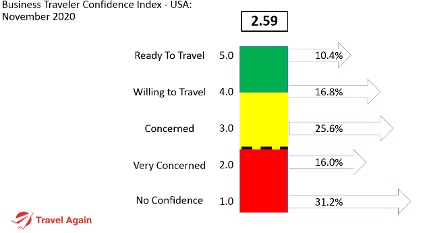 Even Conference Board polling this summer and early fall — back before a significant uptick in cases arose — saw companies planning to wait a while or unsure of when to bring workers back to physical jobsites.
An Aug. 19-26 survey of executives and managers found 16 percent planned to recall employees in the first quarter of 2021, and 3 percent anticipated workers returning in the second quarter of 2021. Only 5 percent said they would wait for widespread vaccine availability. 35 percent called the timing unknown, and only 13 percent said their workplaces had remained open.
Sept. 16-25, 2020, polling of employees found only 8 percent had workplaces which stayed open during the pandemic. 38 percent expected to return to their physical offices in 2021, with 30 percent stating their organization planned this return between January and March 2021. Only 7 percent felt this recall would wait until a vaccine existed. 27 percent gave "Other" responses.
Only 17 percent of employees in September called themselves very comfortable with or wanting to return when their employer reopened. 39 percent called themselves moderately comfortable.
But 51 percent of employees called the prospect of contracting COVID-19 a concern about returning to work physically, and 49 percent were worried about the COVID-19 risk to family or dependents at their home should they cease working remotely. (Workers could select multiple answers on this one.)
The AASP-NJ said it was working with the Meadowlands Exposition Center on safety, and it promised that the "show will follow every prescribed health and safety protocol."
Anyone who had registered for the 2020 NORTHEAST live show which was ultimately cancelled or the virtual 2020 NORTHEAST which took its place will see their registrations automatically applied to badges for the September show. There's no need to re-register for NORTHEAST 2021.
"It looks like we will still be the first industry show of the year in September," McNee said in a statement. "I know that everyone is anxious to get out and start getting back on the road to normalcy. NORTHEAST will be the first opportunity in over a year for our industry to gather, and we think it will be a very inspiring event for everyone involved. We expect NORTHEAST 2021 to be bigger and better than ever."
More information:
"NORTHEAST 2021 Rescheduled to September 10-12"
Alliance of Automotive Service Providers of New Jersey, Jan. 7, 2021
"Business Traveler Confidence Plummets Amid Another Coronavirus Surge"
Travel Again, Dec. 1, 2020
"Employee Readiness Reopening Survey: Only 28 Percent of Workers Expect Return to Workplace by End of 2020"
Conference Board, Oct. 8, 2020
Images:
The floor of NORTHEAST 2019 is shown. (Provided by Thomas Greco Publishing)
The Travel Again business travel index saw less confidence in business travel in November 2020 than travelers displayed in October 2020. (Provided by Travel Again)
Share This: